Personalized Photo Gifts Show You Put Thought Into Making Someone Feel Special
More than 100+ Customized Products

When you are looking for a memorable and unique photo gift browse our impressive array of ideas.

24166+ Customer Reviews

Our customers have rated us 4.5 out of 5, and more than 94 percent of our fans recommend us.

More Than 2,000,000 Prints Sold

And they were all backed by a 100 Percent Happiness Guarantee. We want our photo gifts products to be loved forever!

Hand-Crafted by Experienced Artisans

From hand-laminated, hand-wrapped canvas to handmade frames, we put quality into every detail.
Personalised Photo Gifts – Handmade With Love!
Take a look at our huge range of products. Each unique photo gift is made out of only the highest quality material only.
Based on mass media and popular culture, pop art began in the 1950s and 60s and used famous icons (movies, advertising, and people) to create fun and colorful art pieces. Using your pictures, we can create amazing customized gifts for you or someone you know. Each canvas is carefully handcrafted from the photos you provide into high-quality mixed media and digital illustrations. Each canvas we make is a unique piece of artwork you will be proud to own or give to someone special. This style is a perfect way to capture people and pets while being a bit avant-garde. Our personalized photo pop art canvases take inspiration from Warhol, Lichtenstein, and Glo Portrait styles to create a piece that will POP off your walls.

A timeless look for your timeless memories. Reminiscent of schoolroom maps and calendars of yesteryear, hanging canvas prints provide an understated enhancement to your personalized photo gifts. Proving the maxim "less is more," the twine and wooden rail construction has a clean look that blends with any décor, making it ideal for gift giving. Hung alone or in groups, these hanging prints make your photos the focal point. Powerful rare earth magnets keep your canvas safely secured, and displaying your customized gifts is as easy as placing a nail. A simple, elegant way to show your custom art… your imagination is your only limit!

Our canvas is where all the magic happens. Printed on a poly-cotton blend with optional satin finish, our rolled canvas prints are unique photo gifts ready for stretching or framing. They are UV- and water-resistant, which means you and your loved ones will enjoy your personalized photo gifts for years to come. The only difference between our rolled canvases and our mounted ones are the lack of a stretching frame. Rolled canvas prints are perfect for shipping, especially internationally; after all, it.s what museums do! They are also the choice for when you already have the ideal frame picked out. Our rolled canvas prints are a versatile, classy, and creative gift idea for any occasion.
Have a photo that is larger than life? Help it live to its fullest with a large canvas photo print on your walls! As experts in large format canvas printing, CanvasChamp can lend its expertise in creating works of art to keep or to give as personalized photo gifts. Large canvas prints are particularly striking on large spaces or corporate installations. Say goodbye to boring office walls and decorate them with epic office art. Combine subtle and thought-provoking with your company's logo or motivational quotes for a look that is both professional and aesthetically pleasing. Large canvas prints work best with your high-resolution photos to produce beautiful art pieces and photo gifts. Call us to discuss all the necessary aspects of these magnificent prints.

Relive that trip-of-a-lifetime every day! A panorama is a perfect way to capture those jaw-dropping vistas and skylines. Our variety of sizes and aspect ratios allows you to create the ideal personalized photo gifts for your travel buddy. Keep one for yourself and fill your home with color, beauty, and style while showcasing your talent. Every time you glance at it, you'll be transported back to that special time and place. Ready to hang, these versatile customized gifts create stunning visual accents in any room of the house – equally striking over the sofa, fireplace, or bed. Explore the endless possibilities with panoramic canvas prints.
Unique Personalized Photo Gifts With Top-notch Quality
Turn your own photos into personalized and unique photo gifts perfect for any recipient & occasion. Handmade with love!
Wood printing is just what it sounds like – photos printed on wood. In creating your custom photo gifts, our process actually prints the picture directly onto the wood surface rather than transferring or gluing a paper-printed image onto the wood's surface. Your personalized photo gifts are printed on premium quality wood at a standard 1-inch thickness, ensuring the final product will last a lifetime, just like your memories. The permanent UV ink reflects the unique natural patterns in the wood. Choose a single print or a three- or four-piece collage to create stunning photo gifts with unmatched depth and style.

High definition is now available for your still photos. Metal photo printing produces an image in what can only be described as high def – sharper details, richer colors, and enhanced depth. Impervious to water, sunlight, tearing, and adhesives, your personalized photo gifts will remain bright and vibrant for a lifetime. Pair your custom photo gifts with any décor—modern, traditional, minimalist. Even use it in Victorian designs with the help of sepia or gray scales and our variety of framing options. When you want your unique photo gifts to last as long as your memories, metal prints are the obvious choice.

Do you want to give your print that wow factor that will add a 3D effect to your image? Make modern art with acrylic print photo gifts. Printed in high resolution on the back side of clear plexiglass sheet then processed with a white back coating, acrylic prints are made to last for as long as your memories. This printing process resultsin a contemporary look with a vibrant color payoff that will make a stunning focal point anywhere in your home. Acrylic printing is an ideal treatment for flower photography, fall landscapes, or anything where color is the star. Give personalized photo gifts that leap off the canvas with acrylic prints.

Feel like a chef in a five-star restaurant every time you prepare a meal! Customized glass cutting boards make the perfect personalized photo gift for any foodie on your list. Glass cutting boards are easy to clean, sanitary, and give your kitchen a professional look and feel. Combine culinary and visual arts by choosing an image to match your décor, or highlight a holiday scene to make an exceptional piece of usable art. To preserve the beauty of this breathtaking item, hand-wash only, please. Enjoy this unusual and vibrant personalized photo gift every time you grab a knife. Chop chop!

Glass Cutting Boards

The perfect mat and frame are the finishing touch to enhance your personalized photo gifts. The ideal colors and textures can bring elements of your photo to the forefront of your art. When you want to give the complete package, custom picture frames are just that. With over 300 choices of colors, finishes, and scrollwork available in frames alone, that match could be overwhelming. But our dynamic design tool makes it as simple as a few mouse clicks to see what your finished product will look like. Pictures in framed prints are printed on high-quality paper and protected by your choice of glass—from plexiglass to UV to low-reflective museum glass. You have the perfect photograph; show it off with the perfect frame.

Engraved wooden plaques make truly unique photo gifts. The highest quality steamed beech timber coupled with our laser engraving process produces spectacular results. Choose from over 90 designs; or upload your ownpicture and work with our design team to devise one-of-a-kind photo gifts. Backgrounds are dropped out of your image to capture the most essential part of your photo to render your custom plaque. Then choose from four sizes, seven fonts, and four border options to create perfect photo gifts for any occasion. Engravings can also be done on marble or granite for a genuinely classy finished product.

Engage your audience – whether customers or loved ones – with a custom poster print. Poster prints are a smart, economical way to promote your business, showcase your photography, or enhance your décor.They are alsofantastic for commemorating special events including birthdays, baby showers, and weddings. Plus they make the best photo gifts. Draw attention to your images with high-gloss paper. Add lamination or foam board mounting to add durability and portability. Choose a framed poster with crystal clear, low-glare glass for that touch of professionalism to your custom photo gifts or promotional materials. Our fade-resistant, photo-quality prints fit every budget and look. Whether you need one or 100, our custom posters provide a high-quality, classic way to make your memories come alive!

Display your fun – or should we say moody – side with emoji canvas prints! If you wear your emotions on your sleeve, these bright, bold photo gifts are an amusing way to tell your guests what your current mood is; switching up the canvas prints each time you have guests over to convey your current outlook. Paint an entire story, propose to a loved one, or pair several for a colorful wall display. The possibilities are endless, and these prints make charming, trendy personalized photo gifts for your friends and loved ones. With over 70 images to choose from, express what's really on your mind with this popular emoji canvas art.
Custom peel and stick decal photo gifts are the latest way to add creativity, fun, and beauty to your home, office, or school. With our custom wall decals, you can combine graphics and sayings to create a stunning mural on your wall. Easy to install and repositionable, these decals adhere firmly to walls but won't leave unwanted marks on surfaces, should you decide to change your look. Choose from over 150 stock images or use your own photos to create truly custom photo gifts. Highlight life events, trips, or any other memorable moment in any size you want; peel and stick wall decals can be made up to 48 inches wide and 1,000 inches long. Turn your wall into a masterpiece!

If you want your printed images to be the talk of the town and truly stand out amongst the others, mounted photo boards are an ideal choice for displaying your personalized photo gifts. Mounted on ¼-inch dense foam-core board, your favorite photos will feature sharp, crisp details and vibrant colors with a smooth finish. Add an optional sepia or gray tone for a vintage look. Photo boards are a great way to make your image the center of attention, and they make lovely photo gifts. Available in a variety of sizes, with or without a frame, your photo board will look eye-popping either way. Enjoy brilliant contemporary art in any room of your house.
Turn Your Photos Into Creative Photo Gifts
Personalize photo gifts such as photo mugs, pillows, ornaments, and much more. Each photo gift is made out of only the best material.
Start the day off right with a customized photo mug. A dish-washer safe ceramic mug becomes a treasured keepsake with your photo, logo, or personalized message printed on it. Choose from eight solid color options as a base for your wrap-around panoramic, collage, or two-sided image mug. Ideal for business sweepstakes and giveaways. They also provide a uniform look while serving clients during meetings. These high-quality photo gifts are perfect for commemorating important milestones and memories. Guaranteed to provide an instant dose of humor and positivity when you need it the most—right when you roll out of bed! Mug capacity is 11 oz. with a height of 3.75 inches and a width of 4.5 inches.

What seems at first glance to be a plain, black mug transforms to reveal the photo, message, or customized image of your choice just by filling it with hot liquid. Surprise your loved ones by hiding a silly photo or funny message in plain sight. A clever joke printed on a magic mug will make a grumpy night owl into a morning person (with the help of a little caffeine anyway). These delightful and unique photo gifts are perfect for the devoted coffee aficionado in your life. Just don't forget to catch their amazed reactions on camera to chuckle at later! Dish-washer safe 11-oz. ceramic mug features a black, heat-activated coating.

Commuters rejoice! Custom photo gift travel mugs are a fun way to keep your beverage the right temperature while getting from one activity to the next. The durable aluminum travel mug is capable of taking a beating while hustling the team to soccer practice. And the personalized image, message, or photo will give you a smile after a stressful day at the office. Keep your world-traveler from getting homesick with a picture from home, and inspire your sport or gym enthusiast to stay motivated and hydrated. Taking a moment to enjoy a special memory with your favorite drink is a pleasant way to slow down in this busy world of ours.

Travel Mugs

Drinking games and chugging contests aren't the same without custom photo gift beer mugs. Support your beloved team by sporting their logo. Or rule the kingdom with your favorite house sigil. The white ceramic mug crowned with a subtle gold trim can hold up to 22 oz. of frothy, foamy goodness. Proclaim your disdain for girlie drinks at the next cocktail party. Or give the best personalized photo gift simply to display a special memory with just an extra touch of swagger. Flaunt your Oktoberfest spirit year-round and look good doing it? We'll drink to that!

Beer Mugs

Decorate your tree with special moments from throughout the year and enjoy them in the future with custom-printed metal ornaments. The solid base is durable and easy to clean if needed. And being 100 percent post-consumer recycled aluminum, these gifts benefit the environment too. Start a yearly tradition for new parents or a married couple and add a new special photo gift each year. A wide variety of shape options and your choice of one-sided or double-sided allow you to create a custom photo gift that will be treasured for a lifetime.

Even the Grinch would get a smile from these custom photo gift acrylic ornaments. A gorgeous white acrylic base 2.75 inches wide comes in four festive shapes: circle, star, heart, and snowflake. Preserve a child's best artwork, mark a treasured milestone, or memorialize a lost love one who can only be there in spirit. Choose from one-sided or two-sided options. A red satin ribbon loop completes the look. Also makes an awesome office Christmas party or Secret Santa gift. Every family member likes to have their yearly moment of glory – even furbabies deserve their spot on the tree.

Reinvent country Christmas charm with these personalized photo gift wooden ornaments. The 4- x4-inch rounded square base creates a delightful window into the past with a photo of your choice. Printed on quarter-inch birch wood with sustainable water-based inks, these keepsakes utilize modern technology to invoke vintage nostalgia. White ink will not be printed to allow the natural wood grain to show through. Each wood grain will vary, meaning no two ornaments will ever be the same! Water- and heat-resistant coating helps protect your treasured memories for Christmases to come. Use a wet cloth to clean as necessary. Made with pride in the United States.

Give the gift that keeps on giving with a personalized photo gift wall calendar. Delight parents or grandparents with a wall calendar featuring corresponding seasonal photos for each month, or brighten a gloomy office with monthly displays of your beloved pet. Personalize special dates for those who always need extra reminding and add custom personal messages for those who need a little extra motivation. Choose from dozens of pleasing background themes to complement your photo selections. Our online design wizard makes putting it all together a snap. Select from two available size options: 11x8 inches or 17x12 inches. Finally, a reason for seasonal photo shoots!

Brighten an office, kitchen, or bedside table with a unique photo gift desk calendar. Smaller 6 x 4 inch or 4 x 8 inch calendars are perfect for small work areas where desk space is at a premium, and larger 5 x 10 inch calendars are great for display. Custom-make your calendar with special photos for long-distance loved ones to enjoy each day, and personalize dates so everyone is always on the same page. Add fun or inspiring personal messages for encouragement during stressful times of the year. Our online design wizard offers an array of charming background themes to complement your photos and makes the whole process smooth and easy. Printed on high-quality rich-matte paper for a smooth, classic look that you can treasure even after the year has passed.

Personalized photo gift poster calendars are a handy way to dress up a bare wall with joy all year round. In dimensions of 17x12 inches or 11x8 inches, poster calendars are great for the office to help track important monthly team goals, and a smiling group photo is sure to boost morale. Help young children learn the months and help patiently track long-awaited events by hanging one in the bedroom or nursery. Having all the months at a glance is also a good option for busy planners who hate flipping back and forth between months when jotting down times and dates.

Durable canvas has long been the fine artist's material of choice due to its strength and texture. And we continue the tradition today with custom photo gift canvas banners. Make a bold statement about your business by hanging one above a store entrance. Ideal for schools and churches to promote fundraising events, fairs, festivals, and socials. Typically for indoor use, but tough enough to stand up to the elements outdoors, thanks to a protective semi-gloss coating. An unlimited choice of colors and a fully customizable size (up to 58 inches wide and 100 feet long) allows you to get the exact look you envisioned.
Stunning and amazing, our framed 3D pictures are a whimsical addition to any décor. Unforgettable and practically unbreakable, these unique photo gifts are washable and water-proof and can last up to 50 years or longer! Made of high-quality PET sheet material, the lenticular printing on a Heidelberg offset printer provides the extraordinary 3D illusion with a viewing angle of 75-80 degrees. The 3.5mm thick frame with edge band protector provides additional security, while the solid black color gives a classic modern touch. The customizable size of up to 24 inches height and width allows your imagination to run wild.

Honeybees will be the first to tell you that the hexagon is the most space-efficient shape found in nature. No wonder it's become the trendiest new format for custom photo prints! Our ingenious hexagon photo canvases can connect using collage clips to form an impressive and unique installation – up to 10 hexagons! They are printed on high-quality prestretched canvas using the latest printing technology to render your personalized photos into long-lasting canvas masterpieces. Our online customization program will help you achieve the effects you want – such as sepia or gray-tone filters – and eliminate what you don't like – such as red-eye, faded colors, or scratches. Hexagon canvases measure 10 inches from corner to corner or 8.75 inches from side to side with your choice of two different wraps and three different borders. Ideal for rooms with unusual wall shapes or slanted ceilings.
Create Custom Photo Gifts Online - One-of-a-kind Gifts
Create custom photo gifts online with CanvasChamp. Personalize photo gifts such as water bottles, notebooks, acrylic blocks, phone cases, and much more
Stay motivated and hydrated while never missing a step with these custom photo gift water bottles. Get into the right mindset for workouts with an inspirational message or sport your team's logo at practice. The sturdy aluminum bottle is capable of taking a beating in your choice of silver or white. Each bottle comes with two lid options for preventing leaks while crammed at the bottom of a backpack or for quick sips on the go. These water bottles make great photo gifts for students, joggers, hikers, and world-travelers. Also an ideal choice for summer-themed grab bags and contests.

Water Bottles

A blank page is only the beginning with a personalized photo gift notebook. A fully customizable printed cover gets the creative process started before you even open it. Decorate your cover with a print of your own artwork to keep the ball rolling or start the school year off right by allowing your child to design their own school supplies. Set the right mood for a private diary or journal, and conveniently jot down notes for stories or poems. Easily keep track of lists, plans, or classes with customized covers by subject. The quintessential companion for writers and dreamers alike.

Notebooks

Renters rejoice! Custom photo acrylic blocks create a fanciful way to display personalized images without putting holes in the walls or purchasing additional hardware. Solid acrylic blocks in thickness options of ¾ inch or 1 inch can stand up anywhere—no wall required! In addition to being long-lasting and durable, the 3D aspect provides appealing artistic visual interest to any room. Size options of 4x6 inches, 5x5 inches, and 5x7 inches size allows you to decorate to your heart's content—without losing the security deposit. Archival quality can last well over 100 years. Wipe clean with a damp cloth as needed.

At a glance, a beautiful phone case tells us more about a person than the actual phone itself. Show off your interests and style while protecting your valuable, fragile device with a unique photo gift phone case. We offer a slew of different case options from slim (1.2mm -1.6mm) to sturdy (1.6mm) or clear (1mm-1.2 mm) and can accommodate any phone from a long list of possible models. Your choice of color, graphics, or text in a glossy or matte finish is incomparable to any store-bought case on the market today. BakPak or Wallet cases are a lifesaver for city dwellers while a Snap case helps protect screens from crowded purses or backpacks. A clear case is best for displaying a gorgeous phone color that might otherwise be covered up.

Phone Cases
Infuse a dreary work station with a little personality by giving a unique photo gift mousepad. The best gift to give for freelance writers, IT personnel, or even PC gamers who want to personalize their desktop with a bit more flair. The stain-resistant material is easy to clean in case of spills, and the generous 7.79- x 9.25-inch size allows for easy mouse movement. A practical way to display a photo without the effort of hanging or the fear of breaking. Customize it with your company's logo for an effortless giveaway item that customers will look at day-in and day-out for years to come.

Mousepads

Create customized photo gifts while keeping special moments close at hand with our desk calendars. Spotlight one amazing photo or choose to collage up to four images each month, then use our online design wizard to select from our variety of themes, fonts, sizes, and orientations. Add quotes and highlight special days to complete a truly unique photo gift. The upright design of these colorful calendars provides a big impact with a small footprint, while the durable matte finish ensures long-lasting beauty. Our desk calendars are works of art that your loved ones will look at fondly every day, and they will become keepsakes long after the year is over.
The treasured memories you choose to display will be seen and appreciated every day by both your household and your guests, so displaying them to their full effect is an effort worth investing in! We at CanvasChamp are committed to utilizing top-quality printing techniques with archival-grade, UV-resistant waterproof canvases to transform your personal photos into stunning works of art. Our gallery-wrapped canvases come preinstalled with hardware, ready to hang out of the box. And our online customization software will help you achieve the exact look you're going for. We offer any size canvas from 5 x 7 inches to 54 x 54 inches, with custom sizes available, plus a vast array of options and effects to suit your needs.

Frames add depth to the story their picture or photo is trying to convey, so whether it's a rustic, barnwood frame to portray country charm or a flamboyant gold frame to add a little drama, CanvasChamp has you covered. We'll print your personalized photo or image on high-resolution premium satin or matte paper and protect it with five different glass options. Once you've selected your frame style, choose any standard size from 3 x 3 inches to 32 x 42 inches. We even provide custom sizes to make your vision become reality. Choose from matte and hardware options to complete your custom framed print down to the smallest detail.

Bring your personalized photo gifts to life with our framed 3D pictures! By offset printing your photo and mounting it behind a high-quality lenticular PET surface, your static image takes on movement and depth, appearing to float within the frame. The natural variations of light and viewpoint make your images live and breathe. Enhance the depth in a landscape, highlight visual perspective, or bring new life to old photos while creating a mind-blowing conversation piece. The classic black framing is comfortable in either office or home settings, focusing the attention on your photo, not the frame. These unique photo gifts, available in sizes up to 24 inches square, are washable, waterproof, and designed to last for decades! Use our design tool to create your own framed 3D picture today!

Throw away the Styrofoam cups! Start the day off right with our customized ceramic photo mugs. Whether you choose a stunning panoramic photo or a collage of up to four images, your unique photo gifts can be accented with matching background colors, clip art, or text to convey any mood you choose. These photo gifts are perfect for commemorating important milestones and memories or creating brand awareness for your company. The 11 oz. capacity promises that your cup won't run over, and our high-quality construction assures your mugs won't fade in the dishwasher. Whether alone or in matching sets, photo mugs make fantastic personalized photo gifts for anyone on your list.
Personalized Picture Gifts - Make It The Way You Love It
Offer your family and friends a best photo gift to share your most precious memories with them.
Astound your Instagram followers with the perfect summer selfie while posing on a custom photo gift beach towel to perfectly complement your suit. These full-size 36- x 72-inch microfiber towels can be imprinted with any photo, image, or text to help them stand out at the pool or waterpark. Send the kids off to camp in style and include their names in the design to prevent loss and confusion. Or just keep the bathroom looking sharp and uniform with a matching set. Your summer vacation just got hotter! Wash/dry on gentle cycle. Avoid bleach or other whiteners.

Beach Towel

A personalized photo gift hand towel is a stunning finishing touch to a newly refurbished kitchen or bathroom. Custom print hand towels to tie together a theme or replicate a difficult-to-find pattern. Soft microfiber material makes these hand towels suitable to impress your guests, while remaining durable enough for everyday use. A beautiful photo or cleverly printed message on a hand towel just might make washing and drying the dishes a little more fun. These hand towels also make great housewarming gifts! Wash/dry on gentle cycle. Avoid bleach or other whiteners.

Hand Towel

Custom photo printed aprons are the best gift for the aspiring chef in your life – experienced or beginner! Custom print full-color photos or images to inspire the Julia Child-wannabe or write a hilarious slogan for the BBQ fanatic. The 100 percent polyester helps resist stains. Each string tie measures 33 inches long to fit a variety of sizes. Excellent gifts for the Pinterest Mom or Food Network fan. Remember that keeping your cook happy now pays off in sweet or savory treats in the future! Cold wash only, solid white reverse.

Apron

Saving the planet never looked so good with unique photo gift tote bags. Strut your stuff at the store or farmers market, and never worry about your bag tearing again with black cotton web handles. The spun poly material shell can be custom printed with your choice of photo, image, or message while the black nonwoven laminate lining makes any leaks or spills easy to wipe out. Three size options: 13 x 13 inch, 16 x 16 inch, or 18 x 18 inch mean you can have the right bag for the office, store, and beach. Machine wash separately in cold water; use delicate cycle only. Tumble dry on low. Do not bleach, iron, press with heat, or dry clean.

Tote Bag

The crowning glory of any bathroom is undeniably the shower curtain, so give your shower the royal treatment with a personalized photo gift shower curtain. Give a drab apartment bathroom an instant makeover with a 71- x 41-inch custom full print image or collage together several images to create your own pattern. Match a bathroom theme or offer as a show-stopping housewarming gift. Your revamped bathroom will have you singing in no time! Made from polyester with 12 buttonholes for hook placement. Optional PVC liner. Machine wash in cold water, use gentle cycle only. Do not bleach. Dry flat only.

Shower Curtain

Say farewell to icy bathroom tiles with a unique photo gift bath mat. Custom print photos, images, or text on the soft microfiber face to complete an existing bathroom theme or give as a darling baby shower or charming housewarming gift. Wet, slippery tiles can be dangerous to little ones especially, so the polyester nonskid bottom prevents accidents while the top makes a bold statement at the same time. Two size options available (24 x 17 inches and 34 x 21 inches) for your ideal layout. Your bathroom floor has never been cozier.

Bath Mat

No-nonsense hoodies are ubiquitous in the fashion world today for their laid-back comfort and effortless style. Personalized photo gift pullover hoodies can be printed with any photo, image, or text for a great way to express yourself on the go. Design a comfortable store uniform everyone will appreciate or print with your company logo for eye-catching advertising. Display your best artwork on a canvas that can go anywhere or get laughs with a funny phrase. A variety of color and size options allow you to get exactly the look you want. Safe to machine wash and tumble dry on low.

Hoodies (No-Zip/Pullover)

Kids will love expressing themselves with personalized photo gift pullover hoodies. Custom print photos, images, or text on these versatile, cozy garments. Ideal for imprinting team or company logos to use as prizes in sweepstakes and contests. Encourage creativity with printed artwork and provide whimsy with clever phrases. A kangaroo-style pouch on the front is handy for kids on the go. Perfect for color-coordinated family photo shoots. A variety of color and size options allow you to get exactly the look you want. Safe to machine wash and tumble dry on low.

Hoodie (Youth Size)
The garment of choice for couch potatoes to fashionistas alike, a comfy hoodie pairs with jeans better than almost anything else. Custom-print photos, images, or text on these warm, versatile garments. With the zip-up design, you won't even have to mess up your hair. Declare your team spirit at sporting events. Or unify your company with logo-imprinted zip-up hoodies for everyone to wear at informal company outings or team-building retreats. Exhibit your best artwork for the world to see, or break the ice with a clever joke. Safe to machine wash and tumble dry on low.

Hoodies (Zip-Up)

The classic look that's always in style, t-shirts are the most common clothing item for expressing your ideas and style simultaneously. Now you can be the designer by custom-printing photos, images, or text on these unique photo gifts. Perfect for sports teams, color-coordinated family photo shoots, and company logos for effortless advertising. Flaunt your best artwork or flourish your wit with a clever phrase. A variety of color, size, and style options allow you to get exactly the look you want. Safe to machine wash and tumble dry on low.

T-Shirts

Take your training gear to the next level with a unique photo gift sweatshirt. Set the right mood for a jog or workout session with a motivational slogan. Complete the perfect retro look with an eye-catching neon graphic. Ideal for sports teams, color-coordinated photo shoots, and company logos. Have fun designing themed sweatshirts for different holidays. Custom printing photos, images, or text allows you to demonstrate your creativity to the world. A variety of color and size options allows you to get exactly the look you want. Safe to machine wash and tumble dry on low.

Sweatshirts
Personalized Photo Gifts For Him & Her
Photo Gifts for any occasion. Your Photo on Canvas Wall Display!
Instead of just making a statement, let your wall tell a story. Don't limit yourself to a single piece of art, when you can create new depth and share special memories with a canvas wall display. Highlight your favorite family portraits, vacation pictures, or memories from college. Wall displays of all the kids make lovely personalized photo gifts for grandparents. Wall displays encourage the eye to become more engaged with the space, making it a subtle way to accent room features like nooks, cubbies, and window seats. With 11 designs to choose from, it's easy to create crisp, professional displays and photo gifts from everyone's new favorite artist – you!

Whether highlighting a single subject or creating a montage of related images, the 3 panel wall display lets your creative side show. Share not one, but three, of your treasured memories in a beautiful grouping. Our display options are designed to complement one large image with two smaller canvases that create unique photo gifts with maximum visual impact. A perfect addition to any room in your home, these photo arrays also make the best photo gifts. There are three standard arrangement options to choose from or contact our design team to create photo gifts that perfectly fits your vision and talent.

If you're a fan of structure, these 4 panel wall displays combine elegance and creativity to produce unique photo gifts for yourself or loved ones. Groups of four naturally lend themselves to clean lines and organized space, bringing a contemporary feel to your personalized photo gifts. The eye is naturally soothed by a sense of completeness, helping bring your subject matter into clear focus. Whether your choice is four canvases of the same size or of differing dimensions, the result is a grouping that is modern with a hint of tradition. The 4 panel wall display comes in three standard arrangement options. Or contact our design team to help bring your vision to life.

Create visual interest with a 5 panel wall display. Smaller accent canvases complement the larger centerpiece in these personalized photo gifts. Create a sense of movement by placing your canvases to direct the natural flow of the viewer's eye from one piece to the next for an impactful and striking wall display. Your imagination is the only limit when composing arrangements for sporting teams, family pets, children's milestones, and so much more. These displays make the best photo gifts for your loved ones but are equally stunning on your walls. Choose either of the two standard options, or work with our design team to create custom photo gifts that all are uniquely yours.

Give a sense of movement to your photos with a dynamic 7 panel wall display. The two standard arrangements create an ideal expression of your creativity in unique photo gifts everyone will love. Whether you choose a more traditional mounting or one that is a bit more avant-garde, these groupings create a vibrant focal point in any room. Or work with our design team to create an arrangement that is as individual as you are. The 7 panel wall display is an ideal choice when you have too many great photos to choose from. Whatever you decide, these custom photo gifts will give long-lasting enjoyment for years to come.

Graphic design rules say even numbers are for balance and odd numbers show movement. The 10 Panel Wall Display challenges this, creating an arrangement that maximizes flow and visual interest in your custom photo gifts. Make a bold, vibrant statement in your home while highlighting your subject matter with not a few, but 10, photos. Our standard arrangement perfectly showcases your wedding, or holiday photos in eight canvas sizes, bringing balance back into play. This configuration is well-suited for large extended-family collages and produces unique photo gifts that your loved ones will cherish. Contact our design team if you'd like to create personalized photo gifts with canvases sizes that differ from our template.

Have you heard the saying "two bodies, one soul"? That's a concept that perfectly describes diptych or 2-panel canvas prints. The 2-panel canvas prints are undisputed examples of flawless creativity, where you use the canvases to create outstanding custom photo gifts that say precisely what you want to convey. Split a single picture into two to highlight a focal point. Or use two different images to dramatically convey a message with your personalized photo gift. With a variety of sizes and orientations available, let your art speak to everyone who sees it. If one is good, two is better!

Use your photograph to tell a story in an exciting and dynamic way using a 3-panel split canvas grouping. By merely splitting your single image into three panels, you can create a beginning, middle, and end to the story your single photo wants to tell. Experiment with canvas sizes and split points to create genuinely custom photo gifts, leading the viewer through a journey or story through movement. Triptych canvas prints are also a fantastic way to display beautiful landscape wide-shots on your wall. Creating drama and impact with your unique photo gifts is as easy as One, Two, Three!

Just like your love for art, canvas prints are unconfined and give you endless ways to create personalized photo gifts that showcase your thoughts and ideas. Let your walls convey the emotions and expressions hiding inside your single image through the 4-panel split canvas. Quadtych canvas pieces are ideal for gallery display or sharing life's special events and are some of the best photo gifts you can share with your loved ones. The 4-panel configuration provides visual interest whether placed horizontal, vertical, staggered, or square. If we don't have what's in your mind's eye, contact our design team to bring your ideas to life!
Transform your wall into a splendid, creative display by printing your favorite picture across multiple panels. The 5-panel split canvas grouping is an excellent way to showcase landscapes and large-scale photographs, creating unique photo gifts for anyone on your list. You not only decide the dimensions you want for your canvas, but you also define how the arrangement will be mounted on the wall. Use a variety of aspects to create movement through a photo or to highlight the subject of the main panel. Use our templates or design your own with the help of our team. Create one-of-a-kind photo gifts that will be cherished for years to come.

Draw your viewer in with an impressive 7-panel split canvas display! These custom photo gifts give a contemporary feel to any wall and turn a great photo into a masterpiece. Experiment with holiday, landscape, or cityscape photography over a choice of multiple panels to give your image the illusion of depth. Interested, but want a different layout? Our design team can bring your vision out of your head and onto your wall for the best photo gifts available … a gift that is uniquely you from beginning to end. This grouping will be the focal point of any room, turning any home into an exclusive art gallery.
Create The Best Photo Gifts | Premium Affordable Products
Memorable personalized photo gifts. Free shipping today on orders ₹199.00+! Easy to make.
Jump onto the newest trend in home decorating with custom tapestries! Craft a bohemian-inspired custom wall hanging or the ultimate bedroom accessory with our woven, printed tapestries. These custom photo gifts come in two styles: microfiber material without grommets for indoor applications and poly-canvas with grommets to stand up to what Mother Nature has to offer. A range of sizes means you can craft personalized photo gifts suitable to hang on a wall or drape over a king-sized bed. Add your own images, artwork, and graphics and create an individually tailored piece to match your décor, highlight your artwork, or capture a fond memory.

Tapestries

People aren't the only ones who appreciate our unique photo gifts! Our dog beds provide your best friend with something comfortable and personal. Add an image of your choice – a picture of your pet would be adorable – to create truly custom photo gifts. Outdoor beds have a waterproof cotton duck bottom and a water-resistant polyester top to keep your friend dry. Or bring it inside with a cotton duck topped by a soft fleece. The sleeves are fully machine washable and are filled with a polyester bun insert. Whether you have a Pomeranian or a Great Pyrenees, we have a size to please the discriminating canine in your life.

Dog Beds

Take the stress out of losing your beverage at the party with a custom koozie! These drink coolers can be printed with the image of your choice and make the best photo gifts. Give each member of your family one with their photo, create a set for your wedding party, or use a variety of your photos to make sure you're never drinking out of the wrong can again! Use your company logo to create personalized photo gifts for corporate giving. There is a koozie perfect for a bottle, standard can koozie (with a bottom) and a Velcro can-wrap. You'll wonder how you ever got along without them!

Koozies

If you are going to post notes, do it in style with our personalized metal magnets. Throw away those boring old disks for vibrant, unique photo gifts. Choose your favorite photos of loved ones or inspirational quotes to create a one-of-a-kind set. These are the perfect size to highlight your photos of flowers, butterflies, or other small subjects. Our two-inch square magnets are coated with a Mylar film and wipe clean with a damp cloth. Whether you buy them singly or in packs of five, these custom photo gifts are an excellent way to showcase your photographic artwork on a small scale. After all, what refrigerator doesn't need a magnet?
It is said we eat with our eyes first and a pleasing presentation enhances enjoyment… at least for humans. That said, the wrong pet dishes can ruin the look of a perfectly designed interior. With our custom photo gifts, complete your kitchen theme with pet bowls of any size, print, color, and text. These 100 percent ceramic pet bowls are dishwasher-safe, making them easy to clean and a more sanitary option than some other materials. Have multiple pets? Create custom pet bowls with your furry friends, photos and names. These personalized photo gifts won't keep Abby from eating out of Sadie's bowl, but at least you will know which one belongs to whom.

Pet Bowls

Create the best photo gifts for the avid puzzle-solver in your life with our custom photo puzzles! Use your very own photography to create an interactive pastime that is fun for the entire family. Puzzles keep the brain active and make great personalized photo gifts for children and adults. Highlight landscapes, colorful images, or favorite photos of loved ones in a 4x6-inch puzzle. Our 6-piece puzzle (for now, we mean to increase the puzzle piece soon) comes in a tin storage box with the finished piece on the cover, which is stunning in and of itself. Of course, once it's solved, you may not bear to take it apart again!

When you want your precious photos to look their very best, choose our professional photo prints. Advanced printing technology on the finest paper will provide you with incredible prints so vivid they nearly come to life. Professional prints are wonderful personalized photo gifts that you know will stay vivid and clear for years to come. Professional prints are available in gloss, lustre, and semi-gloss finishes on Kodak ENDURA professional photo paper. Or choose our metallic finish. Its unique metallic appearance provides greater interest and depth to your photos that will make them the best photo gifts. You've taken a spectacular photo, doesn't it deserve the professional treatment?
Personalized Photo Gifts: The Possibilities Are Endless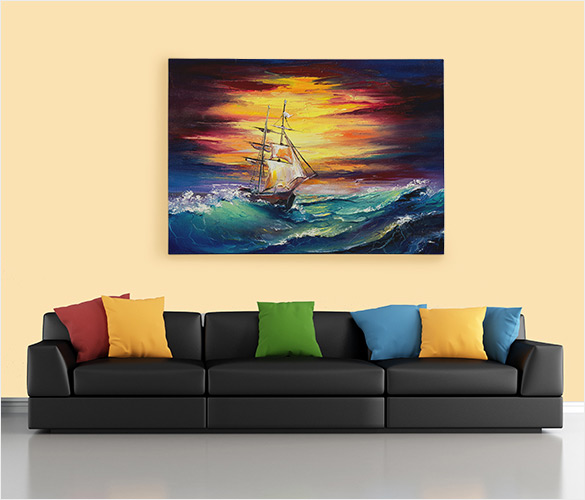 Canvas photos have become mainstream
There was a time when archival- quality photos on canvas were reserved for very special occasions, such as weddings. And because they were costly, these keepsake canvas photos were a luxury enjoyed by only a few. But because we have invested in the best technology and are able to offer the lowest prices in the industry due to our huge volume of business, we have made museum-quality photos available to virtually anyone who wants them.
That means when you take pictures of the milestones in life, you can afford to give them the special treatment they deserve for a lifetime of enjoyment. But now there's nothing stopping you from making canvas prints of everyday moments that you were lucky enough to capture in awesome photos. They'll enhance the décor of your home or office. And with our discount prices, you can change them up as often as you want.
With so many reasons to transform your favorite photos into one-of-kind canvas prints, it only makes sense that you would also want to share your fun and memorable times with others by giving them unique photo gifts.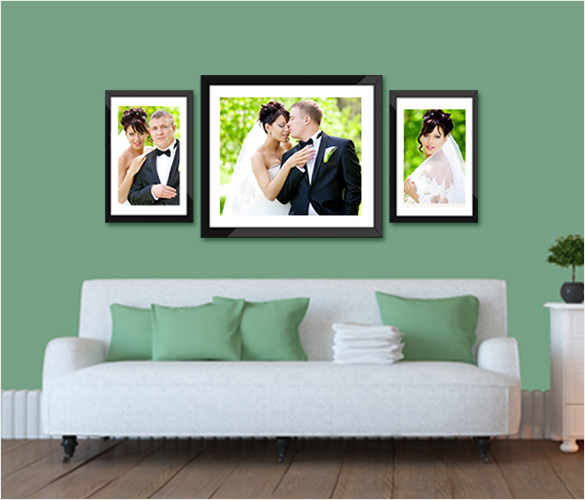 Share the joy with a customized photo gift
Remember the extended family photo that was taken at your daughter's wedding? Or how about the casual shot of Dad, Mom, and their adult kids that someone snapped at the Fourth of July picnic. Imagine how much it will mean to your parents or grandparents to take that picture, enlarge it, and create a photo gift on canvas. Or how about a collage that includes all the grandchildren?
The best photo gifts include subject matter that brings joy to the recipient. So along with custom picture gifts of loved ones, don't forget to consider photos that highlight the recipient's pastimes and hobbies. Does your buddy race boats? Wouldn't he love a photo gift of him in his boat with the wind racing through his hair and the wake of the waves creating a spectacular pattern in the background? Your photo gift could include your niece cuddling with her beloved cat. Or give your master gardener college friend a personalized photo gift showing her surrounded by her vibrant flowers.
Customized Canvas Prints Are Only The Beginning
As memorable and extraordinary as a canvas prints are, there are so many other personalized photo gifts we offer – to give you the best ideas for any person, on any occasion, at any budget.
Photo Mugs

Photo Calendars

Personalized Wearables
Promote Your Brand With Customized Giveaways
If you are looking for functional personalized gifts, we've got 'em – water bottles, koozies, notebooks, phone cases, mousepads, tote bags, beach towels, and more! Perfect for trade shows, sales incentives, and contest prizes.
Photo gifts for the home
We offer some of the best photo gift ideas you can imagine for the home. Hand towels, bath mats, shower curtains, and tapestries. These personalized gifts are perfect for giving at bridal showers and weddings. We've even got photo gifts for your pets. Doesn't Fluffy deserve a food bowl with her name on it? And you can show your love for Buster with a cozy dog bed sporting the design of your choice.
Some of the best photo gifts come in small packages
Some of the most treasured and unique photo gifts are ornaments that bring back happy memories every time they are displayed. Customize canvas, metal, acrylic, or wooden ornaments with a name, photo, or other design.
You can also create a photo gift by transforming an interesting photo into a puzzle. How fun is it to see the completed puzzle featuring the person putting it together? Or a place he or she has visited?
And don't overlook magnets as an affordable personalized gift to customers featuring your phone number. They also make unique photo gifts to announce a new baby or give guests as a reminder to save the date for a wedding.
The Best Photo Gifts Start Here
And the list goes on! With the multitude of products we offer and the wide variety of options you have for customization, your options for personalized photo gifts are as limitless as the joy they will give.