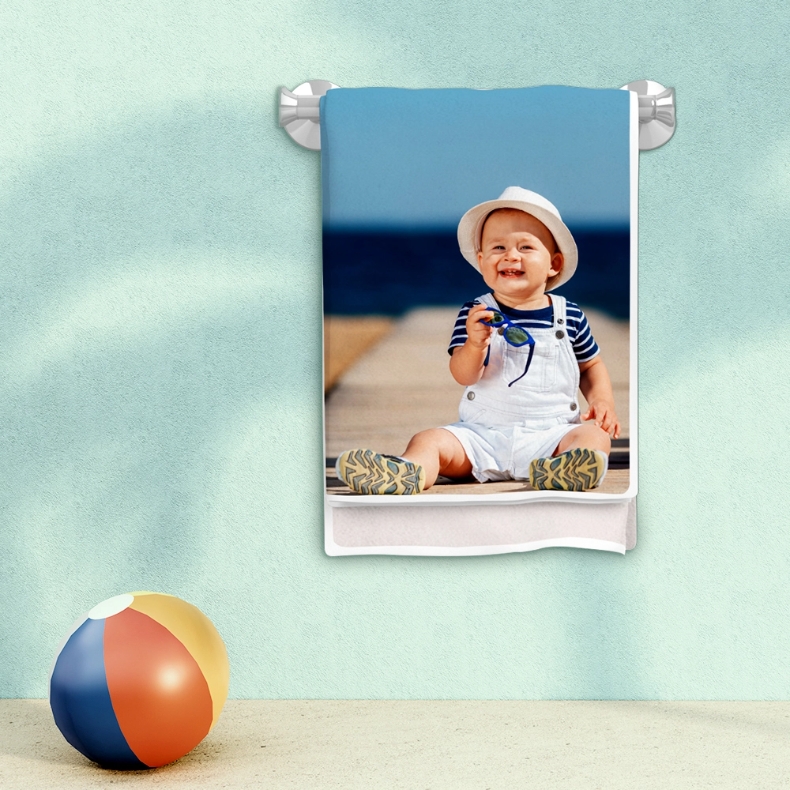 Custom Beach Towels Basics & Product Details
Offering an assortment of beach towels in a variety of sizes to accommodate everyone's needs, CanvasChamp's line is crafted from 100% polyester. You can select from sizes like 32 x 63, 40 x 60, 30 x 70, and the kid-friendly 27 x 55. Add a personal touch to your beach towel by choosing from an array of seven colours: blue, green, pink, purple, red, white, and yellow. Make your beach towel stand out as uniquely yours with CanvasChamp.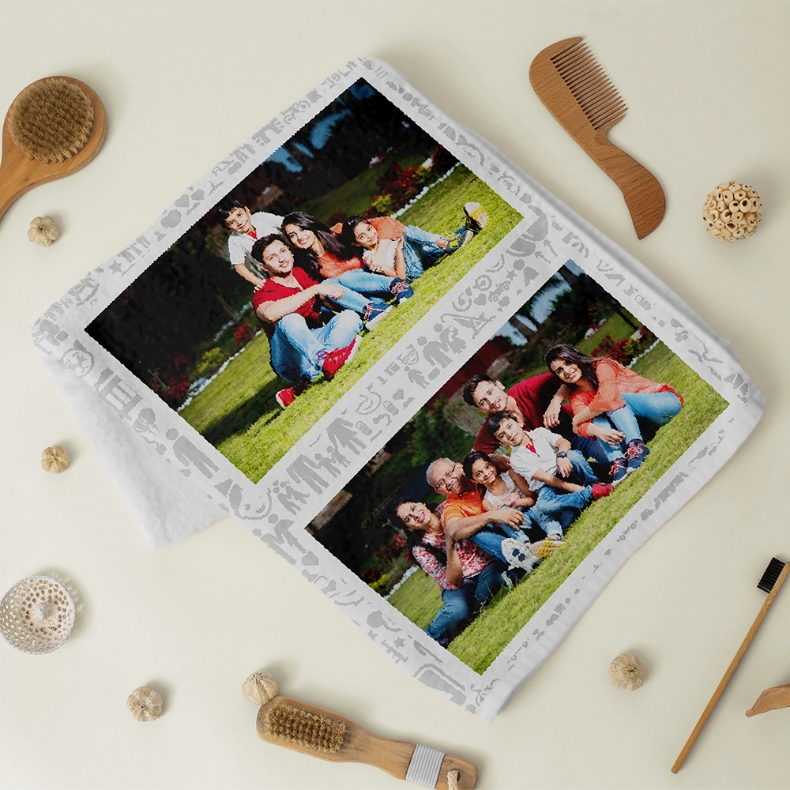 Custom Beach Towel Ideas For Your Next Family Beach Picnic
Create a family crest or emblem: Design a custom beach towel with a family emblem or crest. It is a great way to celebrate your family and make your towels easily identifiable on a crowded beach.
Personalise with family members' names:
Consider adding each family member's name to their custom beach towel. This will make it easy to keep track of everyone's belongings and ensure that each person has their towel.
Use for family photos:
Custom beach towels can make a great prop for family photos. Take a picture of your family lounging on your personalised towels, or use them as a backdrop for a beach photoshoot.
Coordinate colours and designs:
Coordinate the colours and designs of your family's beach towels for a cohesive look. You can choose a standard colour scheme or have each family member choose their design.
Make them a gift:
Custom beach towels can make a great gift for family members. Give them a gift for a special occasion, such as a family reunion or vacation.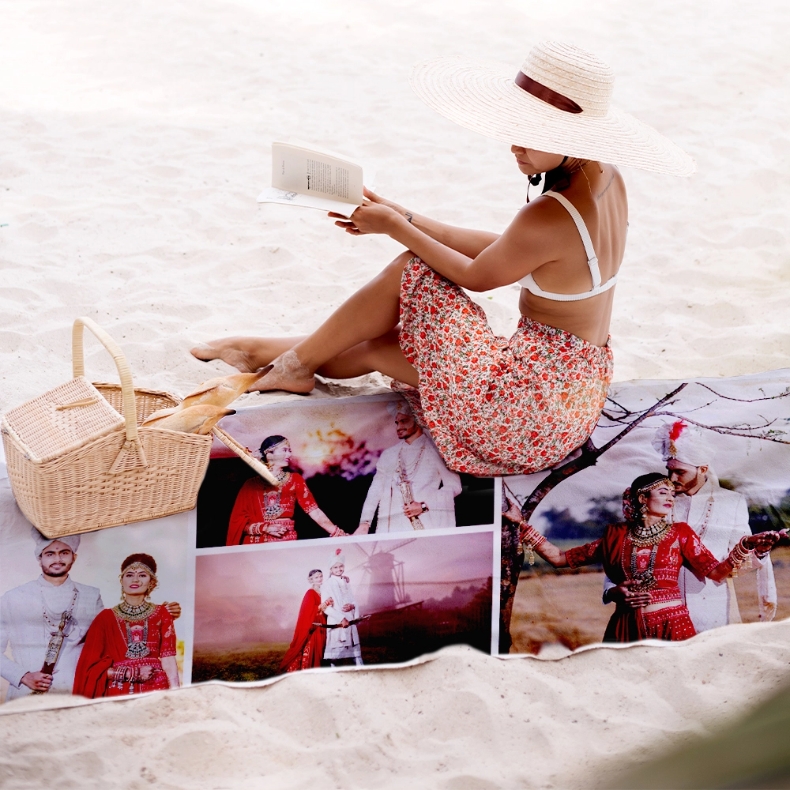 Personalised Beach Towels - The Gift That Keeps On Giving
Whether for a birthday, graduation, wedding, or any other special event, a custom beach towel can be tailored to suit the recipient's interests and preferences, making it a thoughtful and personalised gift they will cherish for years.
Personalisation:
Custom beach towels can be personalised with a name, message, photo, or design.
Practicality:
Beach towels are a practical gift that can be used repeatedly.
Versatility:
Custom beach towels are versatile and can be used by people of all ages.
Uniqueness:
A custom beach towel is a unique gift the recipient will likely receive from someone else.
Branding:
Custom beach towels can also be used as promotional items for businesses or organisations.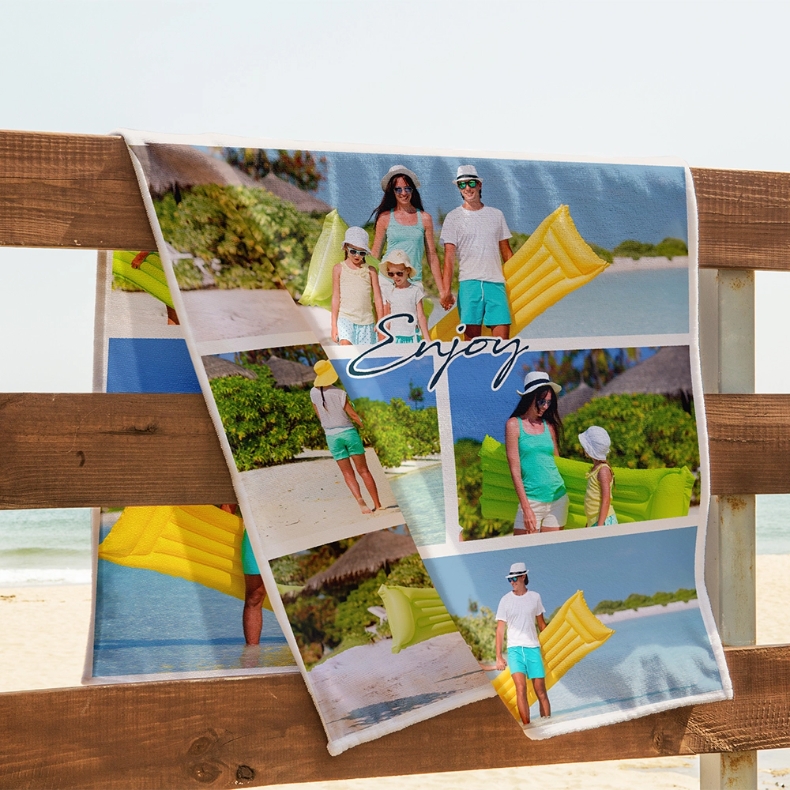 High Quality Custom Beach Towels At CanvasChamp
At CanvasChamp, we offer premium quality custom beach towels made from 100% polyester, ensuring optimal comfort and durability. Our beach towels are available in various sizes, colours, and designs to suit any taste and preference. With fast turnaround times and a 100% customer satisfaction guarantee, you can trust us to deliver high-quality custom beach towels that exceed your expectations.
Crafted from premium 100% polyester material, offering superior softness and absorbency.
Generously sized at 30" x 70" to provide ample space for lounging.
Available in various colours, patterns, and designs for a unique and personalised look.
Customisable with your name, monogram, or a special message to make it memorable.
Printed with fade-resistant ink, ensuring long-lasting vibrancy and style.
Lightweight and compact, making it convenient to carry and pack for any occasion.
Equipped with quick-drying technology, you can return to your water activities faster.
Perfect for beach outings, pool parties, picnics, or as a thoughtful gift for someone special.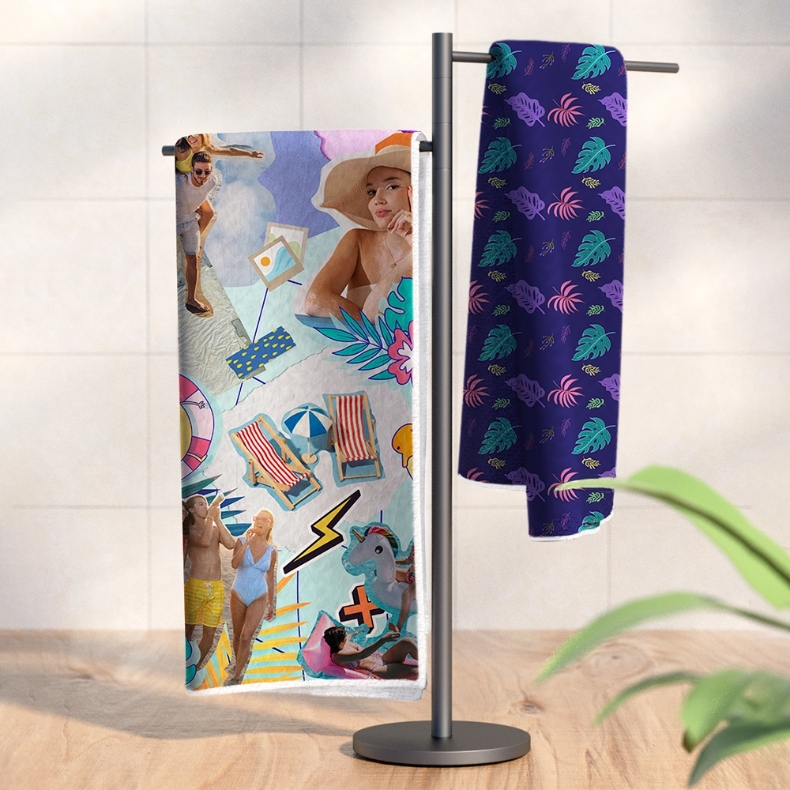 Personalised Beach Towels At Wholesale
Personalised beach towels in bulk can be an excellent way to promote your business or organisation while providing a practical and valuable gift to your customers or employees. Whether planning a company picnic, sponsoring a beach event, or attending a trade show, custom beach towels can be a unique and memorable way to showcase your brand. With bulk orders, you can save money and order large quantities, ensuring enough towels for your needs.
At CanvasChamp, we offer personalised beach towels in bulk at competitive prices, with fast turnaround times and a 100% satisfaction guarantee. Our towels are made from high-quality materials, ensuring that they are soft, durable, and absorbent, while our customisation options allow you to add your company logo, slogan, or design for maximum brand exposure. So order your personalised beach towels in bulk today and take your business or organisation to the next level.
FAQs
What customisation options are available for personalised beach towels wholesale?
How long does it take to receive my custom beach towels?
How do I order custom beach towels?
Are custom beach towels machine washable?