Express Your Style with Personalised Bolster Pillows
Transform your living space with our personalised Bolster pillow. Made from the finest polyester fabric, this bolster-shaped pillow is pleasing to the eyes and provides unrivalled comfort. In addition, our state-of-the-art sublimation printing technology ensures your chosen designs are imprinted in bright, fade-resistant colours, giving your home that special personalised touch.
Available in three versatile sizes - Small (5x18 Inch), Medium (7x20 Inch), and Large (9x23 Inch), this custom bolster pillow is perfect for the drawing room, the bedroom, or your favourite reading nook. Add a splash of your personality to your home with our cylindrical pillow - a beautiful blend of tradition and modern style, just like India.
Know More About Bolster Pillow
Let yourself experience the luxury of unparalleled comfort in a personalised style as you explore the world of CanvasChamp's custom bolster pillows, where your style meets superior comfort.
Cost: Custom Bolster Pillows At the Best Price
Quality and cost-efficiency go hand in hand at CanvasChamp. Our bolster-shaped pillows are the epitome of this ethos. Each bolster pillow is thoughtfully designed to reflect your style and provide maximum comfort without burning a hole in your pocket. Unravel a world where comfort meets style and affordability meets quality. Experience the CanvasChamp difference, where all bolster cushions are a delightful fusion of excellent craftsmanship, superior comfort, and unmatched value for money.
Material: Explore the Polyester Plush of Our Bolster Pillows
At CanvasChamp, a suitable fabric makes all the difference. We meticulously craft our custom bolster pillows using premium polyester fabric. This fabric not only lends a soft, inviting touch to each bolster pillow but also boasts exceptional durability, standing the test of time. So when you choose our personalised bolster pillows, you select a product that embodies comfort, style and the trusted quality of polyester fabric.
Shipping: Discover Our Shipping Options
CanvasChamp understands that you can't wait to receive your custom bolster cushions. That's why we offer three flexible shipping options, getting your personalised comfort delivered right to your doorstep on your schedule.
Priority shipping – Delivery in 3 to 5 business days*
Express shipping – Delivery in 5 to 6 business days*
Standard shipping – Delivery in 6 to 8 business days*
Sizes: Custom Bolster Pillows for All
CanvasChamp's bolster-shaped pillows are tailored to your comfort and come in three distinct sizes. The small size at 5x18 inches is perfect for those who prefer compact and cosy support, while the 7x20 inch medium size offers more relaxation space. Finally, the 9x23-inch large bolster pillow is an ideal choice for those who enjoy indulging in extra plush comfort. With CanvasChamp, you'll find the perfect size to suit your comfort and style preferences, transforming your living space into a haven of relaxation.
Wholesale: B2B Opportunities with Custom Bolster Pillows
Step into the world of B2B opportunities with CanvasChamp's wholesale programme. When you order our custom bolster pillows in bulk, you select a streamlined, supportive process. All you must do is share your requirements with our dedicated customer support team. They'll respond promptly with all the details you need for bolster cushions at wholesale rates, making your wholesale journey smooth and effortless. With CanvasChamp, successful B2B partnerships are just a call away.
Design tool: Creating Your Perfect Custom Bolster
Imagine a tool that puts the power of design in your hands, allowing you to create your own personalised bolster pillows. That's what CanvasChamp offers with our interactive design tool. It enables you to translate your creative ideas into reality, whether it's a cherished photograph, a unique design, or a corporate logo. It's simple, intuitive, and designed to bring out the best of your creativity. With CanvasChamp's design tool, create bolster pillows online that reflect your personal style or brand image like never before.
Steps to Customise Bolster Pillows
CanvasChamp is delighted to present the opportunity to design your own custom bolster pillow. Our easy-to-follow process lets you put a personal touch on your home or office decor, reflecting our incredible country's rich colours and vibrant diversity. So whether you're in the bustling cities or peaceful countryside, let's begin this exciting journey of creating a one-of-a-kind bolster-shaped pillow!
Select the Size

Choose the right size for your bolster pillow from our diverse options.

Upload the Photo

Personalise your bolster pillow online by uploading the image or design that speaks to your style.

Add the Clipart & Text

Add flair to your cylindrical pillow with our selection of clipart, or express yourself with personalised text.

Make Payment and Checkout

After perfecting your bolster pillow design, proceed to payment and let us take care of the rest.
Unique Design Ideas for Custom Bolster Pillows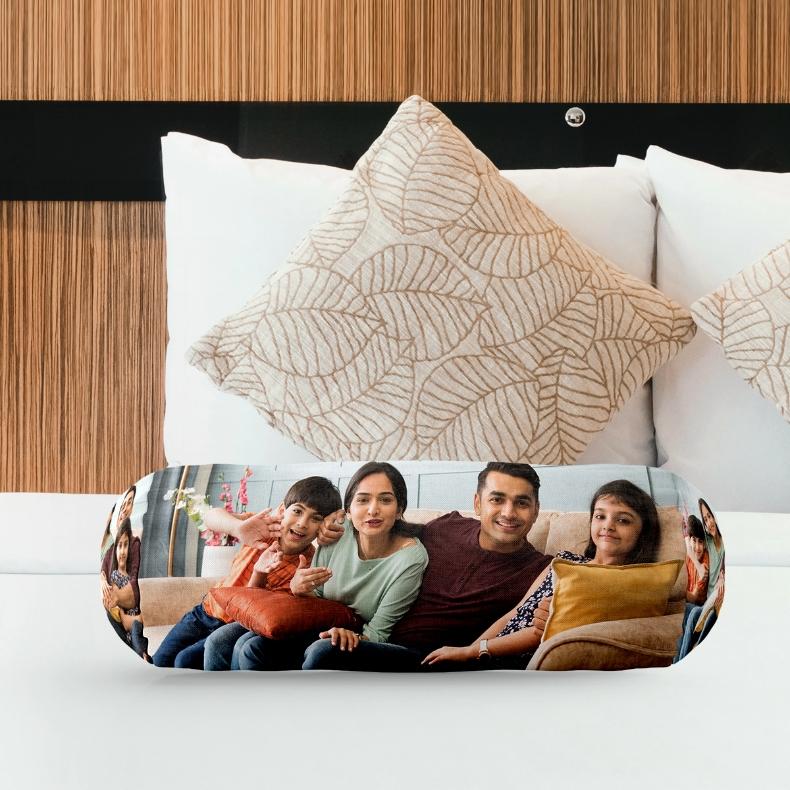 CanvasChamp invites you to celebrate our nation's vibrant culture and diversity with our personalised bolster pillows. So, our design tool makes it possible whether you're drawing inspiration from the colourful festivities, rich heritage of arts and crafts, or iconic Bollywood moments. Design a bolster pillow that not only enhances your decor but also reflects the soul of India.
Doodles or Sketches:
If you love to doodle or sketch, why not convert your artwork into your custom bolster pillow design?
Scientific Themes:
Be it a beautiful depiction of a DNA strand, a mathematical equation, or the periodic table, science-themed designs can be educational and stylish.
Yoga and Meditation:
Given India's rich history in promoting yoga and meditation, designs featuring various yoga poses or symbols on your bolster pillow for yoga could be meaningful and aesthetically pleasing.
Indian Textile Patterns:
Incorporate patterns inspired by traditional Indian textiles like bandhani, ikat, paisley or block prints.
Bollywood Themes:
Bring the glitz and glamour of Bollywood to your home with bolster pillow designs inspired by famous movie scenes, songs, or actors.
FAQ For Custom Bolster Pillows
What is a bolster pillow?
Where to buy a custom bolster pillow in India?
What is the cost of a bolster pillow?
How to design a custom bolster pillow?
Why Buy Custom Bolster Pillows from CanvasChamp?
Ship within 24 Hours

Lowest Price in India

Best Quality Assured

Custom Design Options