Personalised Photo Calendars in Just 5 Steps
All one needs is an attractive photo, photographed well, with a good frame, and you are all set to make your interior look attractive.
Choose your photo calendar type

Our design tool is simple to use. You can decorate your desk, office wall or even your living room with a custom calendar. Get on with the customisation by firstly choosing the style of calendar you want.

Choose from

Personalised Desk Calendars
Personalised Wall Calendars
Personalised Poster Calendars


Upload your photos

You can upload photos as many as you like from your computer, laptop, phone or even social media accounts like Instagram and Facebook. We provide FREE secure storage space to keep your photos in front of you while personalising!

Choose a Theme

Select from dozens of exciting designing themes to match and blend with your room.

Add Personal Inspiration

What inspires you every day? Customise your calendar with personal messages or motivational quotes.
Review and Add to Cart

Once done, just review your final design and click on 'Add to Cart' to move to the payment page. It's that easy!

Add Special Dates

Put up special dates on your personalised calendar to never again forget to surprise your loved ones! Birthdays, anniversaries, holidays or even family festivals!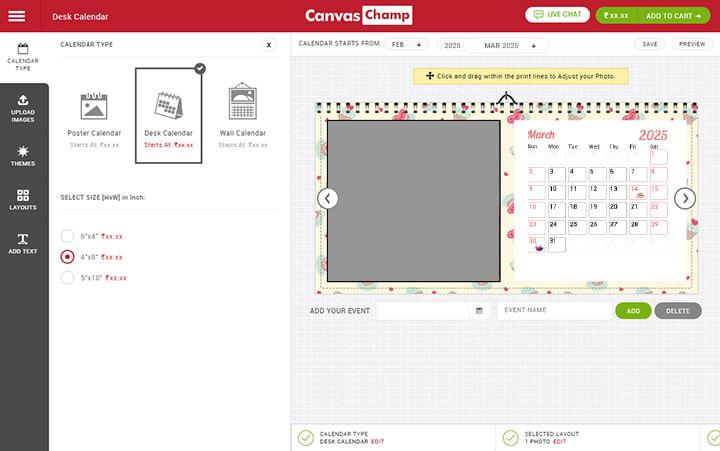 Custom Calendars for Every Room
At CanvasChamp, we can help you design a personalised calendar for any space, be it large or small!
Choose Your Photo Calendar Type
Desk Calendars
Wall Calendars
Poster calendars
Make Your Desk Happening for This Year
A personal touch can never go wrong for your desk! Make a theme-based 2022 calendar for your desk. Add pictures, quotes and special messages to help you start your day better!
Keep Your Special Memories Closer to You With a Personalised Desk Calendar
Have your loved ones near to you while you work at your desk, be it your office or home!
Design Your Very Own Custom Calendar With Photos
Keep every birthday, anniversary and festival close to your view!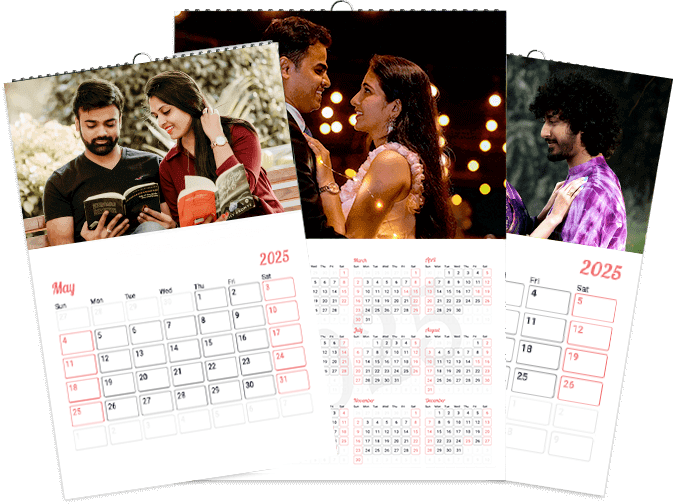 Special Dates Have a Whole New Way to Stay Remembered!
Customised calendars with important dates, photos and special messages.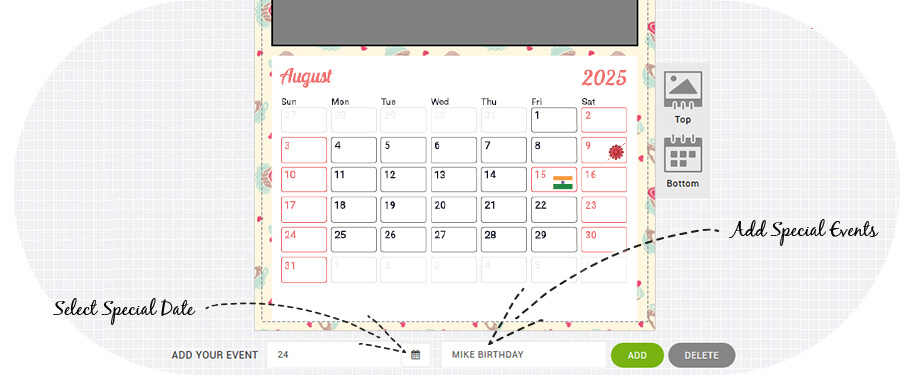 Choose From Different Background Themes, Patterns and Colours
We have tons of ideas ready to pick for you! You'll never run out of options to try out different creative ideas with your custom calendar.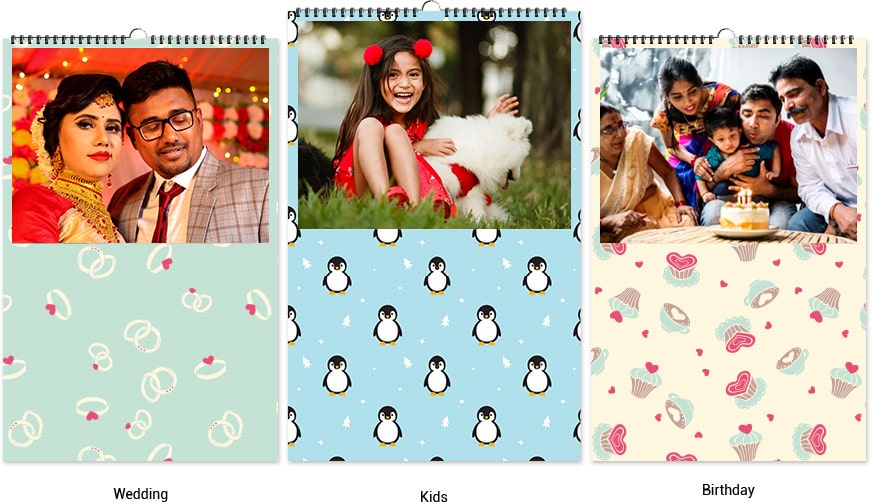 Start Order
CanvasChamp: 100% Satisfaction
Your photo calendars come with a 100% guarantee of happiness and satisfaction. Or else, your money will be refunded!
Low Prices, Best Quality

Fast Processing and Shipping

Gift Wrapping Available

Free Infinite Secure Photo Storage
Your Idea, Your Design, Your Choice Gets Fulfilled at CanvasChamp
Every creation you ever wanted to decorate your space or to gift, we will help deliver it.
Design Your Own Personalised Calendars
Looking for that gift for that person who has everything? How about a great gift for Mom or Dad? A custom calendar is personal, beautiful, and useful. It's the perfect gift for practically anyone! Need gift wrapping? No problem. A personalised calendar is the easy solution for your gift-giving needs.
The Perfect Photos for Your Custom Calendar
Your options are endless when looking for the right photos to give your calendar that personal touch. You can upload pictures from your laptop or desktop, and even from your Facebook or Instagram accounts. Or just snap a photo with your Smartphone and transfer it directly to us. Finding the perfect memories is easy with CanvasChamp.
Design your unique Photo calendar
Designing the perfect calendar is easy with our online design tool. You can choose the orientation and layout of your calendar and select from dozens of design themes. Choose any size from 4"x8", 5"x 10", 6"x4", 11"x8", 17"x12" and more to fit any space.
At CanvasChamp, we want your calendar to be a unique reflection of your and your loved ones. The perfect calendar is just a few clicks away!
Great Personalised Photo gifts from CanvasChamp
At CanvasChamp, we know the people in your life are your most precious gifts. We work hard to create personalised photo products that remind you every moment of the special people and moments that make your days complete.
Check our main page for a variety of custom photo gifts including inexpensive canvas prints, wood prints, photo pillow, custom picture frames & more that fit almost any occasion. The best gift is always a personalized gift.
Custom photo calendars are beautiful additions to any home or office. It's a gift that's always with you!
Printed on rich matte paper, custom photo calendars from CanvasChamp add a unique touch to every day. Let our expert designers help you enjoy your cherished memories all year long. Simply share your photographs, personalize your photo calendar design with our online tool, and leave the rest to us. We use only the best materials to create your one-of-a-kind unique photo calendar.
×
SIGN UP & GET
ON YOUR FIRST ORDER