Why Choose CanvasChamp for Custom Neon Signs
Energy & Cost Efficient

Free Delivery

3 Years Warranty

Easy Returns

Buy Now, Pay Later
Best Places to Hang Custom Neon Signs
The best places to hang neon signs in India are places where they can be seen and appreciated by many people. Whether you're using them for commercial or personal purposes, neon signs can add a bright and energetic vibe to any space.
Neon Signs for Bar

Neon Signs for Restaurant

Neon Signs for Logo

Neon Signs for Rooms

Neon Signs for Hotels

Neon Signs for Wedding

Neon Signs for Business

Neon Signs for Party Décor

Neon Bar Signs for Home

Neon Signs for Bedroom

Gaming Neon Signs

Neon Signs for Garage

Name Neon Signs
Steps to Customize Neon Signs
Select your size & text

Select the font style of your choice. You will have choices likes Aerolite, Roboto, Pseudo and so much more. Also select the size of neon sign from the options - small, medium, large, X-large, XX-large and supersized.

Select your colour

Apart from size and text, CanvasChamp also lets you customize your colour option. You can choose from 30+ colours, including green, warm white, purple, green, green, white, orange, lemon yellow, hot pink, blue, and others.

Select your backboard

Now, it's time to choose the backboard. You can select any from the four options-Cut Around Acrylic, Rectangle Acrylic, Cut to Letter, and Open Box. We also give you the option to customize your neon sign as per country adapter. If you are gifting it to your family or friends that lives in another country, this option will help you customize it. Currently, we have USA / CANADA (120V), UK / IRELAND (230V), EUROPE (230V), AUSTRALIA / NZ (230V), JAPAN (100V).

Select hardware options

You can choose the respective hardware if you want to mount or hang your neon sign. We also provide remote controller to change the intensity and colour of the neon light.

Make payment and checkout

Congratulation. You have successfully customized your neon sign. Now it's time to check out and wait for the order to arrive at your doorstep.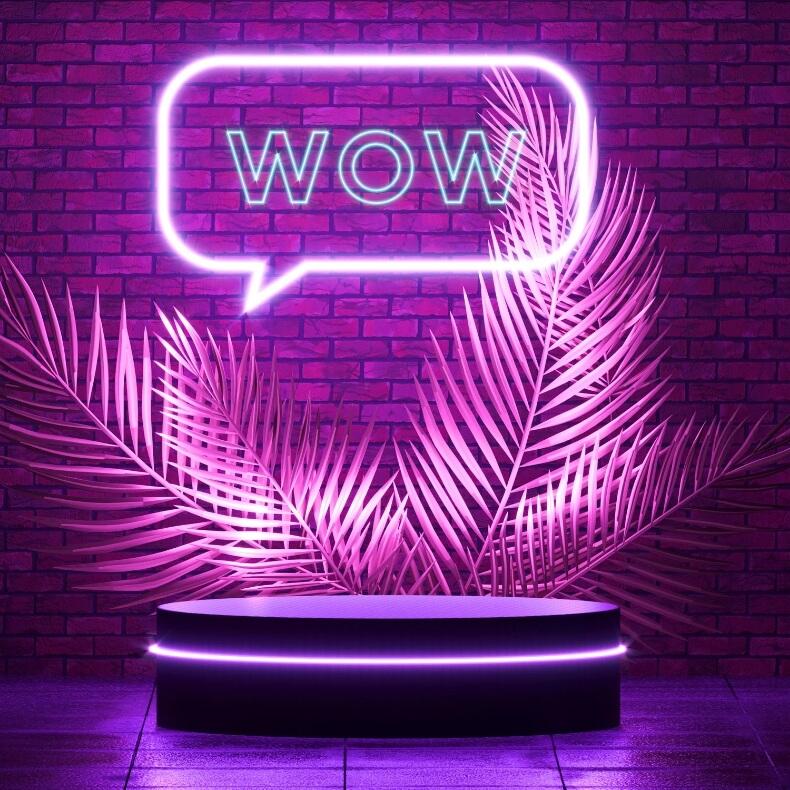 Reasons to Buy Custom Neon Signs in Wholesale
The wholesale shopping experience with CanvasChamp is simple and easy. Customers can browse through the large selection of canvas prints, custom prints, photo prints and now LED neon signs, select a size and style, and customize it to their specifications. Customers can choose text to be printed on the custom neon signs and buy in bulk.
When it comes to quality, CanvasChamp offers top-notch products that are made from high-grade materials. As a result, the products are durable and long-lasting, ensuring that customers get the best value for their money.
Whether customers are looking for custom neon signs in bulk for their home or office, a gift, or a business, CanvasChamp offers a wide variety of options for wholesale shopping. With its high-quality products, convenient ordering process, and affordable prices, CanvasChamp is an excellent choice for anyone looking for custom prints, canvases, or LED neon signs indoors for the best-personalized experience.
Learn More About Custom Neon Signs
Cost: Get Custom Neon Signs at Best Price
Looking for custom neon signs? Look no further! With us, you don't have to overpay for custom neon signs. Our business offers high-quality, custom designs at a price you'll love. The small size custom neon sign cost starts from Rs. 1615 and you get all the features like custom designed, 3-year warranty card free and easy return policy.
If you are into event management or party organiser and need custom neon signs in bulk, we offer that to as we are India's leading custom neon sign manufacturer. So, our bulk neon sign prices are the best prices around in the market.
Colours: Every Neon Sign Colour Represents Uniqueness
Are you confused about which colour neon sign to choose from, you can decide that with our Neon colour ring which comes in with original shade neon colours. Every neon sign colour can be used to represent uniqueness and has a specific meaning or symbolism depending on the context, usage, and culture.
If you are still not sure, here are few colour meanings which will make your choice easy.
Red colour neon sign is often associated with passion, love, and energy,
Blue colour neon sign can represent calmness, stability, and professionalism
Yellow colour neon sign is often associated with happiness, optimism, and creativity,
Green colour neon sign can represent growth, nature, and tranquillity.
Purple colour neon sign is often associated with luxury, royalty, and creativity,
Pink colour neon sign can represent femininity, youthfulness, and sweetness.
It's up to the individual or business using the sign to decide which colour best represents their uniqueness or message. Also, if buying indoor neon signs for home or office décor, try to pick a colour and quote complimenting your furniture and existing décor.
What else to look for when deciding the colours for neon sign?
Research colour options: Before deciding, research the different colour options available for neon signs.
Consider your brand or message: If you're using a neon sign for your business or brand, consider the colours that best represent your brand message or values.
Think about lighting conditions: Consider the lighting conditions in the space where the personalized LED sign will be displayed.
Remember, choosing the right colour for your neon sign is important, as it will impact the overall look and feel of the sign.
And with CanvasChamp, we understand how important it is to buy custom neon sign in the right colour that you love or will help represent your brand or message clearly.
That's why in our design tool, you can see the play around with different colours before ordering and see how it looks on different décor places too.
Start personalizing custom LED neon signs with CanvasChamp now.
Material: High-Quality Neon Signs: Crafted with the Best Materials
LED lights: Our neon sign use LED lights that reduce environmental impact and keep your sign safe from overheating.
PVC backing: PVC backing keeps your neon sign sturdy and safe.
Acrylic cover: Our neon sign comes with an acrylic cover over lights that protects them from external damage and helps diffuse light evenly.
Control box: To give you complete control over your neon sign, we provide a control box through which you can regulate the electrical current and brightness of the lights. Some special signs also have a programmable control box to control animation and lighting effects.
Power supply: We understand that countries have different power supplies and provide options to customize the adapter. Some of the options that we have are - USA / CANADA (120V), UK / IRELAND (230V), EUROPE (230V), AUSTRALIA / NZ (230V), and JAPAN (100V).
Mounting hardware: If you would like to mount or hang your neon sign, Canvaschamp gives you custom hardware options. Currently, we have a wall-hanging kit that comes with screws and hooks, a mounting kit, and a remote controller.
Sizes: Choosing the Perfect Size for Your Custom Neon Sign: Why Size Matters?
Custom neon flex sign size will impact its overall impact and visibility so getting the right size is important. A sign that is too small may not be noticeable enough, while a sign that is too large may overpower the space and be difficult to read.
Not just the impact, but a custom text neon sign size can also impact the clarity of the message. A smaller sign may not be able to accommodate a complex message or detailed design, while a larger sign can provide more space for a clear and effective message.
Here are 3 important things to check to finalize the size of custom led flex sign
Location: Think about where the neon sign will be displayed and how much space is available. A sign that is too large for the space may overpower the area, while a sign that is too small may not be visible enough.
Message: Ensure that your sign is easily readable and impactful, and that it effectively communicates your intended message to your target audience.
Design: It's important to consider the design of the sign in relation to its intended purpose and location, as this can help determine the appropriate size needed to achieve your desired look and impact.
Weight: How Much Does Neon Signs Weigh?
The specific weight of the sign will depend on its size, design, and materials used, and the installation requirements will also vary accordingly.
Shipping:
We know that shipping the neon signs in India requires proper care and attention to ensure that they arrive at your destination safely and without any damage. And so, right from packaging to picking the best shipping partners, our team works out everything once you place your order for neon signs.
We also give varied shipping options:
Fast shipping – 3-4 business days
Standard shipping – 5-7 business days
International shipping – less than 14 days (about 2 weeks) depending upon the location
Wholesale Custom Neon Signs – A Deal of Lifetime
If you are looking out for the best supplier to buy custom neon signs in bulk, CanvasChamp is the place for you. In India, we have helped several event companies, wedding organizers, hotel chains, business owners to get custom and pre-made designs in bulk.
Design Tool Makes Customizing Neon Sign Easy
Not one design fits all and the same goes with neon signs too. That's why we bring you an easy-to-use neon sign tool on which you can easily customise your own neon signs. Right from text, size, colours, to material and hanging kit; you can choose all at one place. Here's how you can start designing your neon signs online:
Visit our design tool
Enter your text/brand name or upload your logo
Choose colours and fonts
Choose hardware options
Pay and wait for delivery
FAQs
What is the best way to make custom neon signs?
The best way to create custom neon sign is with CanvasChamp. So, if you are looking to get one neon LED flex sign for your shop, or planning to decorate your business space, buy personalized neon signs online from CanvasChamp in India.
What's the normal Custom Neon Signs Cost? (In INR)
At Canvaschamp, neon signs start at 1615 INR, and we deliver neon signs to your doorstep which you can install easily on your own. The price may vary depending on the size and hardware options you opt for.
What's the way to order Custom Neon Sign?
The most effortless way to order custom neon sign is from CanvasChamp. We take of everything for you, you must place the order and customize your sign as per you needs.
Where To Buy Custom Neon Signs?
Canvaschamp is one stop shop to buy custom neon sign. Thousands of people trust us to deliver the highest-quality non signs to their doorstep in India.
Are Neon Custom Signs 100% Eco-friendly?
Yes. Absolutely. Canvaschamp uses LED lights which are environmentally friendly and uses less power.
What colour options are available for my custom neon sign?
Yes. With our custom neon signs tool, you can choose your preferred colour options and try different shades as well including lime yellow, dim white, Blue, Green, hot pink etc.
How to select the right colour neon sign as per mood?
Depending on mood you can select neon signs like you can go for yellow to create cheerful environment, green for gothic vibes, hot pink for soothing touch etc. If you are planning to buy Neon signs for your business, you can choose colours complimenting your brand.
Do custom light-up neon signs generate a lot of heat?
No. We use special LED lights which do not heat up as they consume very low power.
How long can I expect my LED neon sign to last?
You can expect your LED sign to last for years to come.
Are custom neon signs expensive?
No. Not at all. Custom neon signs from Canvaschamp starts at 1615 INR.
Are neon signs easy to install?
Yes. Neon sign from Canvaschamp comes with mounting options like wall mounting and hanging.
What is the return policy for customized neon signs?
We have a return policy where you are eligible for refund if the product is damaged when shipped to you. Although that will rarely happen as our team double checks every product.