Matchless quality of acrylic photo blocks from us

Polished the best way for gleaming edges

Reflective mirror along with a classy black acrylic base

Gratification from our product is 100% assured
Find the Best Option in Acrylic Block Size
We offer various size options for you to decide how to fit your fantastic moments in A4 acrylic photo blocks. From portraits to couple photos to a huge family photo, choose a size from a rectangle or square shape.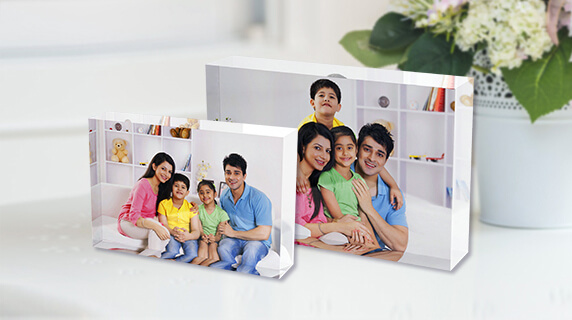 Features
Your photo will be changed into a laser engraved format to give the best vibrancy to all the colours in the photo. The glass would be polished in such a way as to give a clear see-through of your photo from any angle.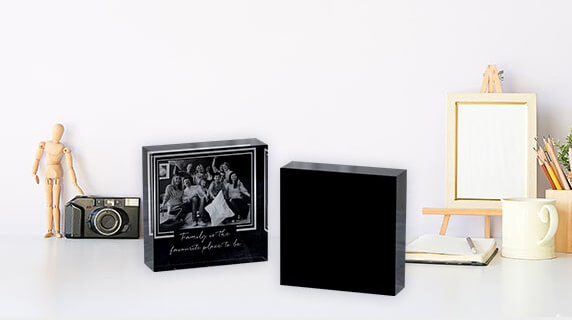 Backing
Background of the photo will be kept and not engraved so as to give it a base to your photo. It will help the photo to not shine from any angles of light and stay marvellous for years.
Canvaschamp Brings You Custom Acrylic Photo Block Prints of Best Quality
With keeping in mind to deliver supreme quality, these are things we always hold onto while making acrylic blocks for you:
Photo paper of premium quality

Speedy delivery with safe packaging

Bright colours infused with UV inks

Amazing gift for friends and family

Feather-light and freestanding

Indestructible and non-opaque glass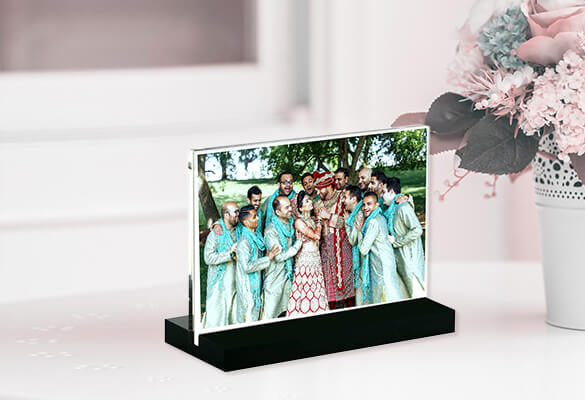 Acrylic Photo Block with an Acrylic Stand
Usually, the glass of the acrylic block is thick enough to stand and display a photo on its own. But if you want to give more significance to it in decor, one can opt for an additional and optional black base to the photo to make the image pop out from the block.
All the Info on Acrylic Photo Blocks
Acrylic photo block is a great way to give a 3D effect to your photo
One of the best features of an acrylic block is that it gives a 3D appearance of a photo. The glass creates reflections in a way to create a striking depth in the photo.
Photo is laminated at one side of the block for a view from any angle
The photo you wish to out in the acrylic photo block is printed and laminated at one side of the glass so that it can be view from the other clear and polished sides of the glass.
An online design tool that gives you an opportunity to create your own acrylic glass photo blocks
Our editing tool lets you personalize your choices of options in sizes, paper type and base.
CanvasChamp makes personalised acrylic blocks at a cheap price without sacrificing the quality
We are known for our photo products to be of the best quality and at the cheapest price in the market at the same time. Hence, this makes us more dedicated to all our customers to give the best services and delivery.
High resolutions and colour impact on your image thanks to our printing technology
Your digitally printed photo will have a high resolution and impressive colour depth due to our modern colour printing technology.
Don't only print photos, but even add custom text and clip art
We not only have options on sizes and paper type but also in background colour, custom text and clip art to help you create a perfect picture for your acrylic photo block.