A BLANKET YOU AND YOUR KIDS WILL LOVE
Don't let your legs out of the blanket; get the blanket that suits your size.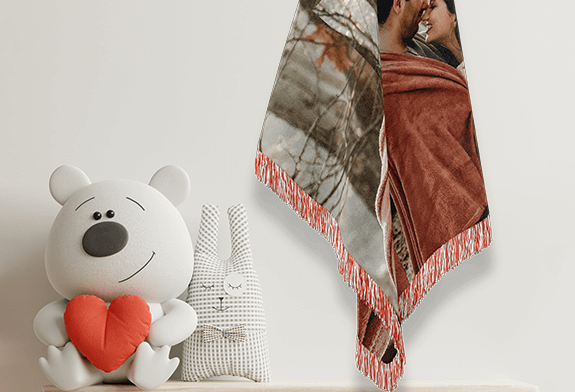 Get a clean-edged woven photo blanket and print your high-resolution images on the front and reverse sides. These woven blankets are perfect for all seasons and will amuse your husband, wife, partner, and spouse when designed with a picture close to their heart.
WHAT SETS OUR CUSTOMIZATION STAND OUT FROM THE CROWD?
Known for our quality products customisation, never let you down in any condition.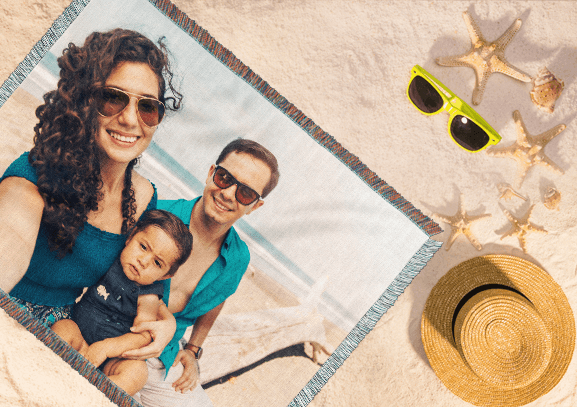 A Woven Throw Blanket With Your Favorite Photos
A gift perfect for an occasion close to your heart
Share a feeling of love with a woven photo blanket, a practical gift that the recipient would cherish. This one-of-a-kind hand-woven cotton-poly blend blanket looks elegant and classic and will keep safe your memories close to your heart and soul.
GET A WOVEN BLANKET STRAIGHT TO YOUR DOORSTEP WITH 3 EASY STEPS.
SEARCHING MORE! FOR THE EXACT FEEL
Want to try something unique with the same feel of cosiness as woven blankets? Check out here
How will I wash these woven photo blankets?
You can clean this woven blanket in the washing machine. But do not use any harsh detergent or bleach; keep your machine in a gentle mode filled with cold water.
Can I Customize the background and the back of the blanket?
Yes, you can print anything on the background of this woven photo blanket. But you can't customise the back because your preferred image will be reversed on the back of this woven blanket.
What kind of material did you use in woven blankets?
We use premium quality and durable 100% cotton weaved material for woven blankets. It gives your photo a sharp and high-definition quality that looks real after printing.
How do I customise woven photo blankets at home?
You can customise this woven blanket from anywhere. Just follow some steps on our easy-to-operate designing tool, and add your picture, text, background, and process to checkout.
How long does my woven photo blanket take to ship?
As soon as your requirements are with us, our designing teams starts their work on it. We understand your curiosity on knowing when your order will reach you. We typically ship your order within 48-72 hours from the day your order was placed.