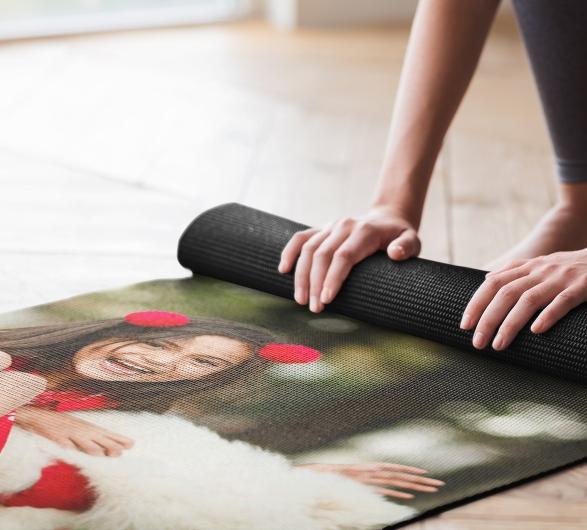 Custom Photo Yoga Mat
Confused about what to gift your loved ones on anniversaries and birthdays? Chocolates? No, too predictable. Coffee Mug? Too common. Well, we have the perfect gift idea for you. Any guesses? It's custom-printed yoga mats! You can never go wrong with yoga mats!
You especially get only the premium quality custom printed yoga mat from CanvasChamp. You'll fall in love with yoga or simple stretching with these non-slip, durable, custom printed yoga mats. These mats will bring a smile to anyone's face every time they see a quote or picture designed by you. Still in doubt? Well, try it first. There's no going back once you see them.
Get Custom Yoga Mats from CanvasChamp for Almost Any Occasion
Gift it to your yoga lover friend
Use it in business promotions
Birthdays
Anniversarie
Health Awareness Day
Yoga Day
For health freaks
To your pet?
Custom Printed Yoga Mat For Every Relationship
Family Photo

United we stand, divided we fall. Get every member of your family in a single frame with our photo mat.

Father Photo

Fathers are the most underrated human beings on the planet. Let them know how much you appreciate his presence in your life with a custom photo mats.

Mother Photo

Get your mom a meaningful gift that she will adore forever. Print her most loved photos on a photo yoga mats and gift her!

Sibling Photo

Dear sibling, we fight every day, but we cannot live without each other. Get your siblings a cool printed yoga mat with rare memories.

Sister Photo

Rekindle the rare childhood memories with your sister with your most cherish photos together.

Brother Photo

Brothers are the strongest and dearest companions in your life. Show your love with custom photo mats.

Wife Photo

Frame your special dates and occasions in yoga mat with your wife to let her know you still remember them.

Husband Photo

Gift your husband these heart-warming yoga mats with your most cherished photos printed. He will fall in love with you again.

Daughter Photo

Daughters are precious. Let your daughter know how much you love her with a custom photo mat for yoga.

Son Photo

Get your handsome hunk a perfect mat for his healthy habits and watch that precious smile grows.

Girlfriend Photo

Let your beautiful girlfriend soak in the rays of the sun every morning. Gift her the custom yoga mats today.

Boyfriend Photo

Embark on the spiritual journey with your boyfriend with our custom yoga mats for couples.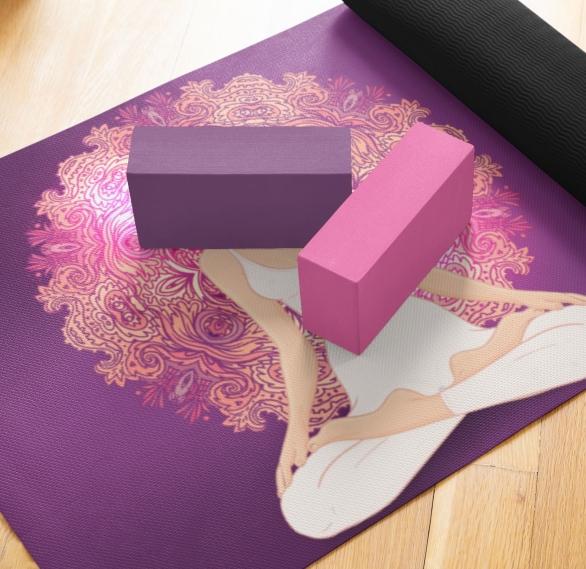 Custom Yoga Mat Designs That Will Add a Spark to Any Mat
A Song lyric that motivates you
Got a set of lyrics that make you happy? Print in on your yoga mat and sing it along as you perform yoga!
A quote to take inspiration from
There is at least one person in your life who is your inspiration. Add their quote of your yoga mats and get daily inspiration!
Your favourite Yoga Asana
Do you constantly forget that one yoga asana? If yes, then print it on your mat as a reminder!
Your brand's logo
Etch your brand image in people's mind by printing it on yoga mats!
A "space" mat combing tribal print
Honor the tribal communities across the world by printing tribal art on your yoga mat!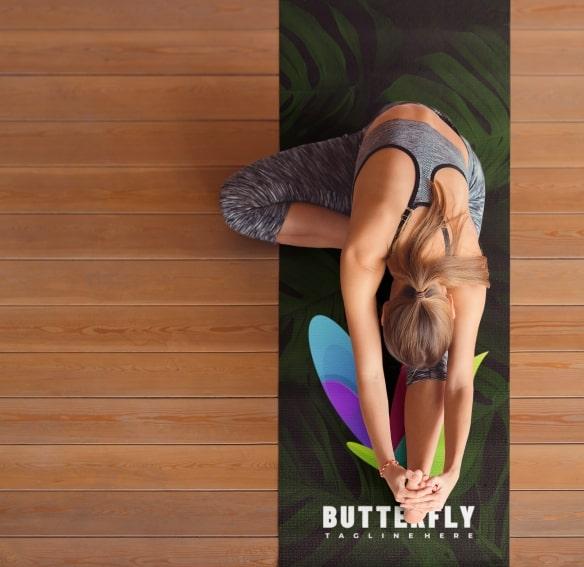 Custom Yoga Mats for Businesses
Promoting your brand can be challenging in this noisy world. You need to do something unique, something that will catch your target audience's eye and get them talking. Luckily for you, we might just have the perfect promotional gifts for your brand. Any guesses? It's a custom-printed yoga mat! Never thought yoga mats would be used in promotions? Now you can!
Get people talking about your brand by giving away custom yoga mats. With our customized yoga mats, you can reach your branding goals in the blink of an eye. Add a logo, a quote, or something that closely depicts your brand and itch your brand image in people's minds forever.
FAQs on Custom Yoga Mat
What Is the Best Thickness for a Yoga Mat?
The best thickness for a firm grip yoga mat is 4mm to 5 mm.
Can I Make My Yoga Mat?
Yes, CanvasChamp is a leading custom yoga mats manufacturer. Simply visit our website and follow a few steps to get your own printed yoga mat.
Is A 4 mm or 5 mm Yoga Mat Better?
If you want a soft-landing yoga mat, you can go for a size between 4 mm to 5 mm
How To Print Yoga Mats?
To get your printed yoga mat, you need to upload your picture using the design tool on the CanvasChamp yoga mat website.
How to customize your yoga mat.
You can customize your yoga mat by uploading a photo on our website.