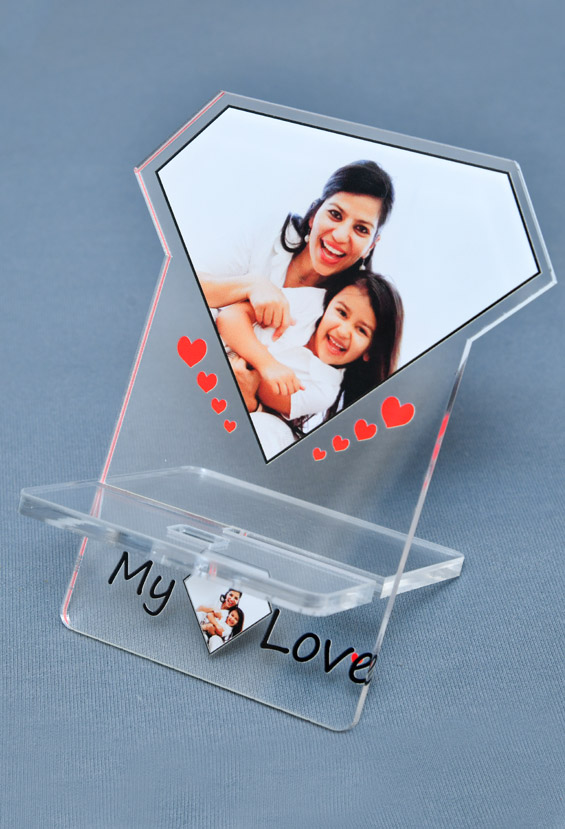 Convenient and portable custom phone stand
Whether you are baking your favourite brownie by watching a video on YouTube or streaming your preferred web series on Netflix, holding a mobile phone in hand is troublesome.
Now that's it! Here we have a sturdy, practical, and universal smartphone holder with a sleek and classic design. It provides solid support to your device wherever you want, such as an office desk, living room table or kitchen top.
It's not over yet!
Now, you can add extra essence to your office desk by customising your acrylic mobile stand with your most-loved picture. You can use it for yourself or gift it to anyone.
Customised Smartphone Holder Specifications
Customised acrylic mobile stand best in design, perfect in quality!
Material:
Clear Acrylic
Thickness:
6 MM
Printing Technology:
UV Printing
Shapes:
Diamond , Heart , Portrait(6" x 3.6")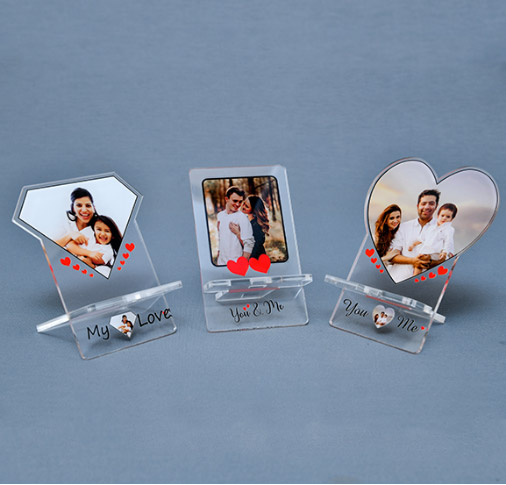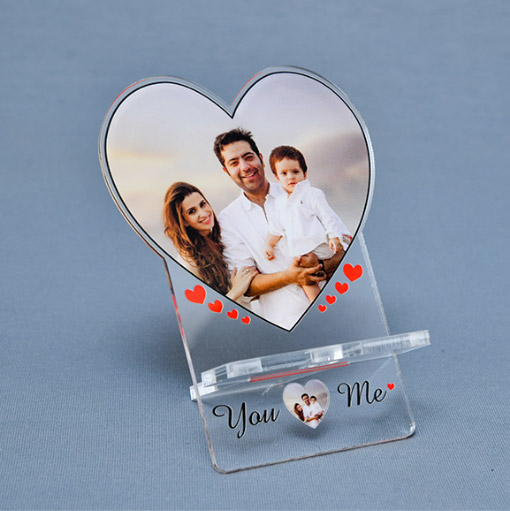 Get a Personalised Mobile Stand and Use it As Per Your Requirements
Use this custom mobile stand with photo for self-usage, gifting, or promotion of your business
Cherish your moment by gifting this customised smartphone holder to your loved one. This photo imprinted mobile stand is the perfect pickup for giving it to your mother, father, and other beloved people on their birthday, anniversary and any other special occasions.
You can retain your memories for a more extended period and revive your school-age memories by inserting them into this photo imprinted mobile holder.
Not only for the gifting, but you can also use it to promote your business. It provides a short message with long-term effect to your valued customer. Simply choose it as a secured space for advertising your business. Also, if you are thinking about gifting something to your valued clients or working employees, this customised mobile stand is perfect for you.
You can also print a photo on this mobile stand that depicts your precious moments with your clients, employees and other people to whom you are presenting it.
No matter the purpose of buying this stable, elegant, durable and customised mobile stand, it will go beyond your expectations.
So what are you waiting for? Pick your best photo and get it imprinted on the customised mobile holder with our easy-to-use designing tool.