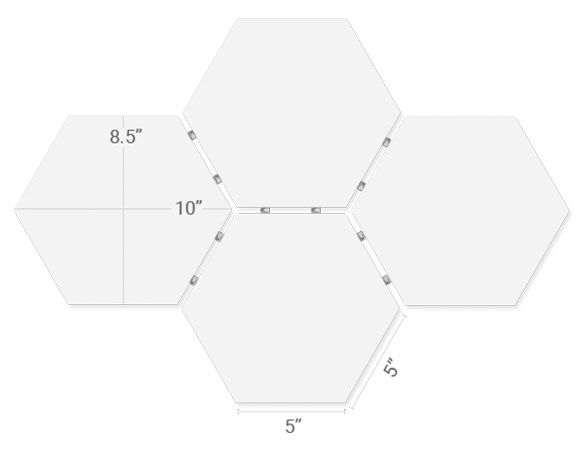 About Hexagon Canvases
We are well acquainted with the customization options you can avail with photo prints on hexagonal canvas. To avail you more creative ways to print photos on hexagonal canvas, we would like to introduce our all new product Hexagon canvas prints. As the name suggests these are hexagon shaped canvas prints and can be mounted in a range of design patterns.
Get creative and build unique hexagon canvas prints
With CanvasChamp you always have ample amount of space to show your creativity and shower some extra love. Printed on high-quality canvas using certified latex inks, which is being splatter through certified HP printers the hexagon wall art look simply gorgeous. Every custom hexagonal canvas print is hand wrapped by expert artisans, which helps us ensure that you get best quality hexagon wall décor which is away from flaws.
Still, have questions?
Well, a renowned scholar said, having questions is a sign of a smart and active brain. Shoot them to us and our experts will leave no stone unturned to guide you about hexagon shaped canvas and numerous ways to creatively display the all-new hexagonal canvas prints at your home or office.
Hexagon Canvas Prints
Connect Them, Arrange Them or Hang Them On Their Own!
Three honeycomb photo Canvases can give you different looks
Four prints Provide a Balanced layout
Grouping five prints Presents some Unique Patterns
Get Seven, Eight, or Ten to give a Special touch to large walls
Ordering Hexagon Photo Canvas is Easy
Step 1

Upload images from your computer or device, or from FaceBook or Instagram.

Step 2

Crop and Move your picture to get the perfect hexagon photo canvas.

Step 3

Choose your wrap and border.

Step 4

Choose any additional options such as color finishing or retouching

Step 5

Print several at a time for a honeycomb display or add to your hexagon canvas art slowly.
Lovely Hexagon wraps and borders
The process and the technical resources involved in crafting your hexagon canvas prints ensures that the final print features your special moments in the best possible way.
If you really want to have the best experience with Hexagon canvas prints, we recommend you to go with 0.5" Canvas lite wrap, a 0.75" thin gallery wrap or a 1.5" thick wrap for your prints.
Also, you can customize and make them more loveable using our dedicated design tool and the range of customization options.
Additional customizing options for you
With CanvasChamp you never run short of customizing options. Our core team of analysts and designers have ensured that your final print looks simply gorgeous and unique.
Original Effect

Gray Scale

Sepia
Besides the regular customizing options you can also request our experts to give a little extra attention to your picture and fix scratches, red eye, issues related to exposure or faded color etc.