Refer a Friend
If you've loved the Canvas Champ experience, we'll be happy with an intro to your friends. When you will refer your friend, you and your friend both will get a coupon of Rs200. Let help them to get started and get benefit.
Get Rewarded
In return! We will give you the Coupon code of Rs200. You can use your coupon code whenever and however you'd like to place order next time.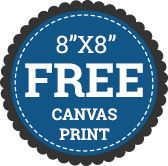 Get your Unique Code
Not a member? Sign up here!