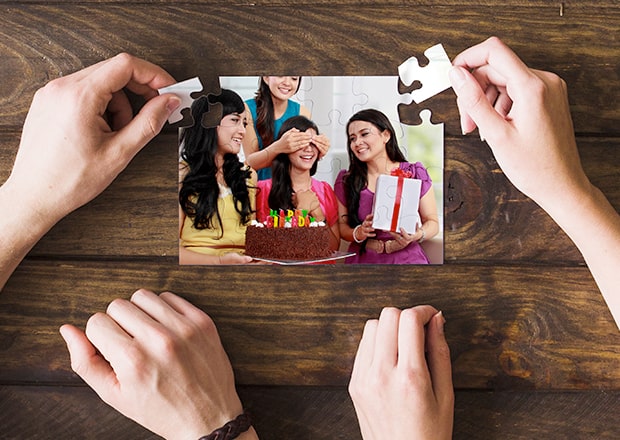 Quick to Design and Fun to Compile
With freedom given to you to make your picture puzzles in any way, make them for any special occasions like announcements of birthdays, marriage or even pregnancy! Celebrate an event differently with persoanlized picture puzzles.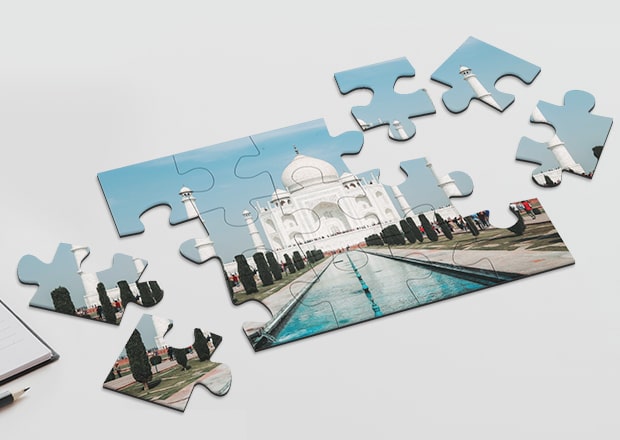 Create a Photo Puzzle in your Style
Make your favourite memories get cherished by designing them into a personalised jigsaw puzzle! Let your family enjoy a fun activity of puzzles over and over again.
Your photos will get printed on high quality acrylic that shows out the vibrant colours of your picture. The robust backing ensures that the pieces will stay in shape for years to come to keep it a unique photo puzzle.
The pieces of the puzzle are about one-inch wide, accompanied by a black box showing your full-sized picture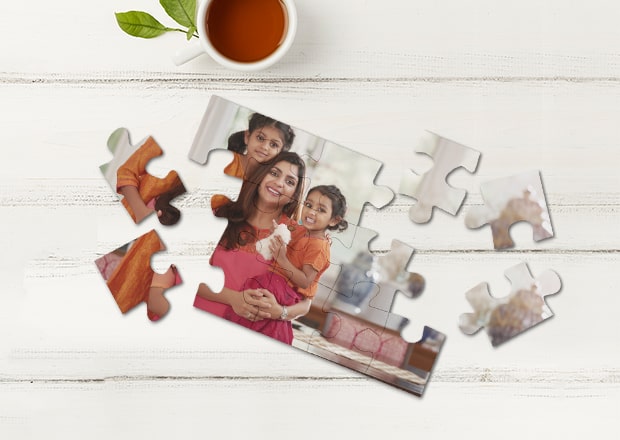 Personalised Picture Puzzles for Kids
Showcase the favorite vacations spots of your kids with custom puzzles. You can print a photo of them to Disneyland, their graduation moments, their first day at school or even moments with their school sports team.
Get to add custom text with children's names to make good photo puzzles. Make them feel special and smiling throughout their playtime while they assemble photo pieces of their very own faces. These personalised picture puzzles are about an inch wide, so they are comfortable to be held by small hands of kids.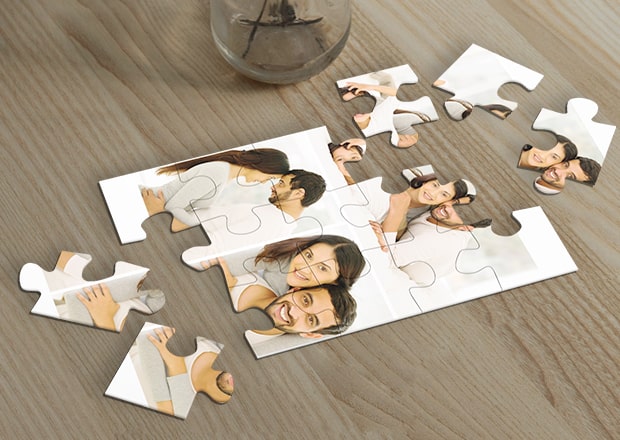 Get to Make Photo Puzzle Collage with Your Pictures!
Having many photos makes it hard to choose a single photo for the jigsaw puzzle. Hence, with us, you can get all your favorite images to showcase in one photo puzzle collage with options in different layouts. Choose to puzzle people with not one but many photos!
The amazing benefits of a Photo Puzzle Collage
Add photos up to 5 and texts on your puzzle
Different layout options for photos
From 100 to 2000 photo pieces
No extra price or software download needed
Create a puzzle design on-site
Here's How to Make Your Very Own Photo Puzzle
In 3 easy steps, a photo puzzle can become your perfect little pastime!
Choose the size

Choose the size of the puzzle pieces and number of pieces

Choose an image

Choose an image to design your photo puzzle

Get a Preview

Preview submit and pay for the design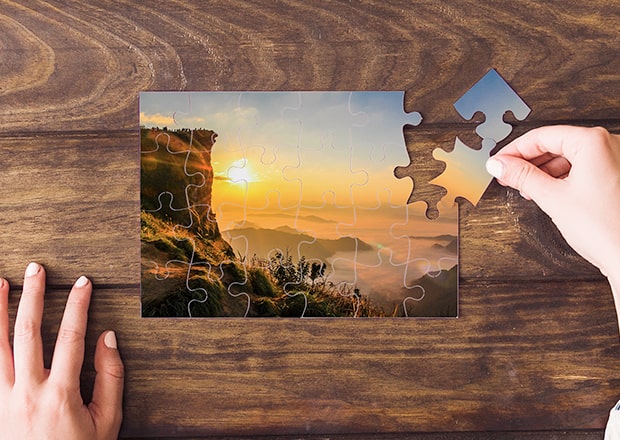 A Perfect Indoor Hobby and Here's Why:
Putting up jigsaw puzzles have been a reviving hobby since ages. It helps a person discover its ability to solve the big picture by joining the smaller pieces of it. Since it is a beautiful hobby to work out or play with, then why have an ordinary photo puzzle? Custom puzzles with a personal photo are perfect for all ages in India. A personal favourite photo can act as a great motive to get to complete a puzzle within a shorter time frame.
However, you can put even an artistic component in your custom jigsaw puzzle. You can shoot a breathtaking landscape photo or picture painted by you, scan it to turn into a photo puzzle. Custom jigsaw puzzles from photos are the best to spend your time with.
Custom Jigsaw Puzzles with Your Very Own Photos!
Exceptional Photo Puzzle for Happy Moments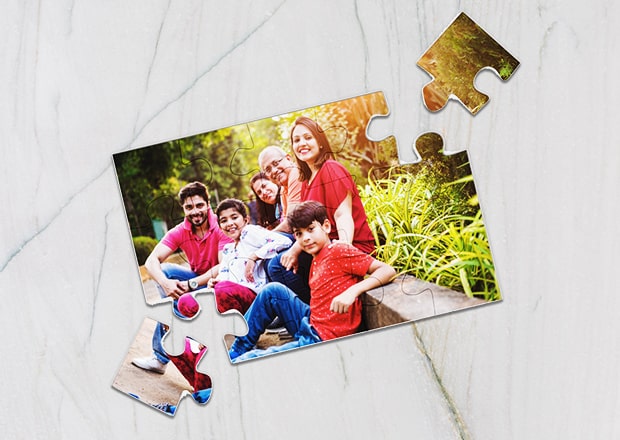 Create beautiful photo puzzles with your creative photos
Design an exceptional photo puzzle from your happy moments of family reunions, funny snapshots of kids, holidays, vacation trips, etc., in under a few minutes! Get to live all those golden moments again while you put the pieces of your photo puzzle together.
A custom jigsaw puzzle can be done into impressive gifts. And how cool it is that we can deliver your selected photos into any layouts! We also have picture puzzle options that can let you choose from 100 to 2000 pieces of your photo. With a perfect photo on the box, the puzzle comes with; you can create natural gifts out of photo puzzles online. And when it comes to gifting, we know there shouldn't be any second chances to make the first impression.
Hence, to let you uniquely surprise your particular person, we give you nothing better than a photo puzzle for it! Birthdays, Valentine's Day, Mother's or Father's Day, wedding announcement, etc., can be the special occasions where you can unveil this special gift of puzzles. Get to stand out with your gift to the recipient from others.
Knowing that we care about how you feel to be in good hands, we pay all our attention to every detail that matters to you. We pay close observations to the quality of personalised puzzles- from shaping the pieces to the coating of the parts. We make sure that you get to enjoy your jigsaw puzzle in every way even after years of its usage. Hence, we give you guarantee of our quality without any conditions to it. Since we are talking about no ordinary puzzle but your personalised photo puzzles, we make sure to give our best output.