Interior Home Decoration through Canvas Prints
Home decor is very important to make your living space more fulfilling and happy. The colours, various show pieces and their placements and the overall interior design would surely impact your psyche. It makes a powerful impact on your day to day lives and makes your home look striking too! Home decoration items can uplift your interior design and make your home look good. A picture is one of the best artifacts to own as it serves as an interior decor item as well as a personal memoir. A photo products are the best for this multipurpose. You can get your favourite pictures on canvas or photo collage or wall display and hang them on the walls in your home.
Be it the living room, the bedroom or the dining room or the study, a canvas photo products like canvas prints, framed prints, canvas wall display and much more with different pictures is one home decor item that can fit-in well in all different rooms in your homes. If you are confused about room decor ideas, getting a photos on canvas is your best bet.
Canvas Prints: one of the best way to use the Canvas products
For your living room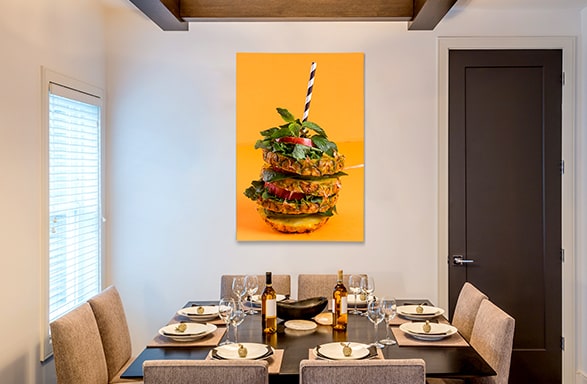 Liven up your drawing room with this wonderful piece of art. A beautiful landscape, an abstract painting or your own pictures canvas printed is a great way to showcase your love for decor. Canvas Champ offers the best and the cheapest home decor items with the best quality.
For your dining space
A dining space is the most ideal to relax with your family and catch up with each others lives and also entertain guests with dinner parties. No wonder, one needs an equally enticing decor. A food item picture, a fruit or a canvas photo products showing a winery or a brewery is a very good idea for a canvas print in the dining space.
For the study/library
A canvas photos with a caption or a quote or a photo with a family member reading their favourite book is a good idea for a canvas photo products to be put up in your study.
Canvas Champ offers the best quality of canvas prints, framed prints, photo collage, canvas wall display, pop-art, photo mosaic etc. at the most competitive prices. Get one today and you will love the way your interior looks because of it!
Here's What Makes Us Champions Than the Rest
CanvasChamp is competitive when it comes to giving the best service to its customers!
Lighting Fast Shipping

Top Notch Customer Services

Lowest Prices Guaranteed!

High Quality Materials
Get in Touch
Let us know how to get in touch and we'll get back to you with fantastic pricing for your Home Interior Art.
Wall Decals

Adorn your walls with the best artistic designs you like through custom wall decals.

Framed Prints

Highlight your best moments with framed prints to decorate your living space.

Photo Collage

Make all your best memories stand together in a photo collage displaying your happy life.
Transform The Way Your Office Space Appears!
Corporate art for your office walls that display your culture and brand values. A corporate space needs a touch of creativity, playfulness, and fun. At Canvas Champ, we offer corporate clients the perfect solution to turning their office spaces into productive workplaces where employees get motivation from the environment that they are working in.
Your office space should also speak volumes of your company's beliefs and ideology, which our artwork can help achieve. Whether it is an image that you want added to your entrance wall or you simply want to beautify the entire space with colorful prints, we offer all kinds of contemporary art for office.
Inspire Employees To Get Productive With Corporate Art!
At Canvas Champ, we offer the most interesting and appealing commercial artwork for offices. We can make your office spaces standout and give you a chance to showcase your company culture in a unique and creative way. Our commercial artwork services will not only keep your employees feeling great coming to work every day, but will also help entice and impress clients.