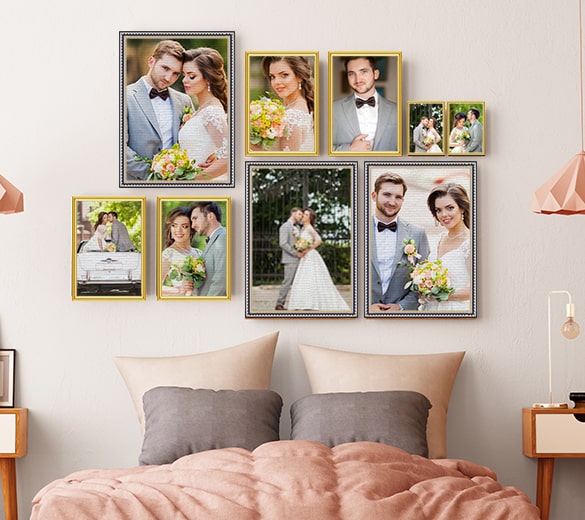 A Snapshot Becomes a Showstopper as a Framed Photo Print on Canvas
Your once-in-a-lifetime perfect photo can now last just as long in glorious full color with CanvasChamp custom-framed canvas prints. Our archival-grade, poly-cotton canvas is printed using UV-resistant ink and treated with waterproof coating to protect your framed canvas from the march of time.
Product Details
Choose from more than 300 frame styles and 60 mat colors to complement your photo and décor.
Archival-grade poly-cotton canvas, UV-resistant inks, waterproof coating, and a variety of protective glass options keep your framed canvas as bright as the day you snapped the photo.
Custom sizes and hanging hardware options allow you to complete your vision to perfection—without any unpleasant surprises.
Framed Canvas Prints Take It Up a Notch
A well-chosen accent takes a great canvas print and turns it into the best framed canvas. Use our design tool to see what a difference a frame makes.
Black

Brown Golden

Black Floating Frame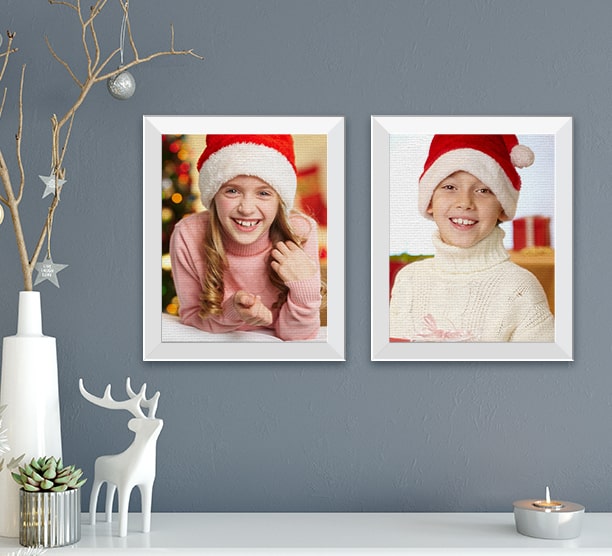 Premium Frames Create the Finishing Touch for a Canvas Print
A stylish designer frame will create the perfect accompaniment to your photo on canvas. CanvasChamp offers minimal-style frames of wood or synthetic material that are fully customizable in a variety of size, color, and finish options. Or select from our antique, artisan-engraved frames for fanciful shapes, designs, and colors. You can also start from scratch in creating the perfect canvas frame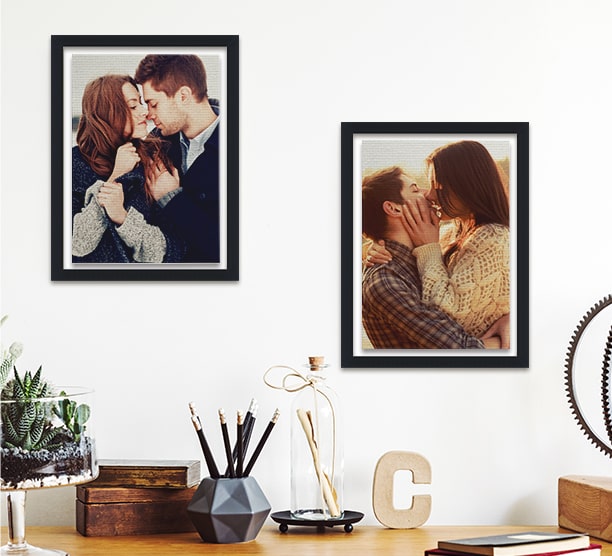 Add a Professional Finish with Floating Frames
Give your gallery wrap canvas added movement and life with our stylish floating frames. Floating frames recreate the ambiance of an art gallery in any room of your home. We have some basic and advanced options for you when it comes to providing finishing options. Check out what suits your photos the best as the right filter always makes it more attention-grabbing and appealing than the original one.
Why Choose a Framed Canvas Print over a Traditional Photo Print?
When creating your unique photo gifts, it's important to be aware of which application will bring out the best in your treasured images. A few things to consider when deciding on canvas versus paper for your custom prints:
Appearance
For a traditional look with fine details, framed photo prints are ideal. Black and white photos are especially stunning when printed on high-quality paper. The overall look of a photo print, however, can feel a bit flat. Best framed canvas prints deliver a depth and texture to your photos that engage viewers and draw them into your image.
Venue
If you predict glare or reflection may be an issue in your print's chosen spot, framed canvas prints are a splendid choice. They inherently reflect less light than the same images printed on paper – even paper with a matte finish. Displaying your photograph in a bathroom or kitchen? Custom framed canvas prints are more resistant to fading and ambient moisture than traditional photo prints, making them the clear choice in those areas.
Size
Going large scale? Framed canvas prints are well-suited for large-sized applications. A finished canvas piece weighs significantly less than a photo print of the same size. The canvas frames are also designed to accent without overwhelming the overall image.
Longevity
While traditional photo prints are easily reframed and refreshed, if you are looking for a piece of artwork that will last a lifetime, our custom framed canvas prints are the only choice. Designed to retain their beauty for decades while resisting fading or warping, canvas prints create heirlooms your loved ones will treasure.
At CanvasChamp, we also deliver the best canvas photo prints designed to turn your photographs into long-lasting works of art!
How To Design Framed Canvas?
Upload your photos or images and easily choose size, material, border, and hardware details. Our photo template will change with your selections to give you a clear idea of the final product.
Step 1: Upload Images

Import photos from your computer, mobile gallery, Facebook, or Instagram.

Step 2: Pick a Size

Standard sizes for a wide range of framing effects as well as a custom-size bar.

Step 3: Choose Frame

Different framing and border options to help you decide on the perfect finishing touch.

Step 4: Hardware & Options

Find the right hardware, along with customizing options in retouching your photo.