60+ Best Diwali Gift Ideas Guide for 2022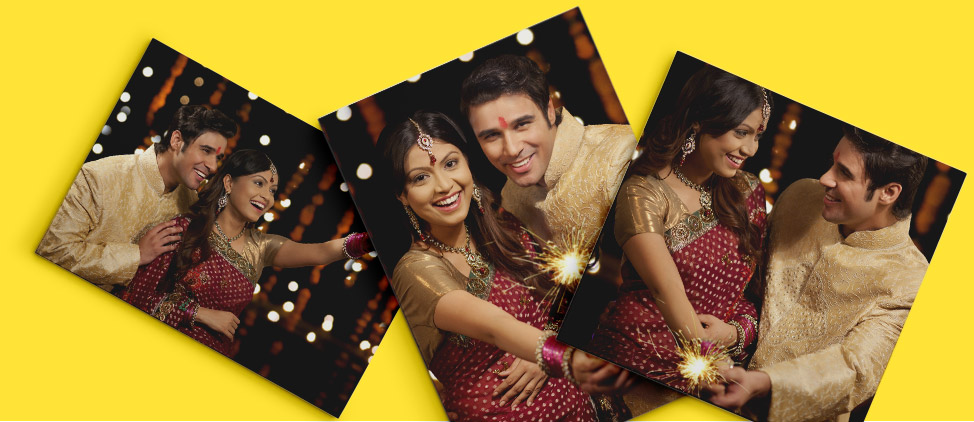 Yes, Diwali is the occasion for spreading happiness and sharing gifts, so why give plain and boring gifts during the Diwali festival? This Diwali let's give something which tells them that you care! 
Check Out the List of Best Diwali Gift Ideas:  
These are some of the lists of gift ideas based on the prices. You can pick the one you love without causing a hole in your pockets. Let's get started:
Do you know someone who travels a lot? Get these luggage tags for them as a Diwali gift this year. This will make it easy for them to identify their luggage from everybody else's.  
This Diwali, help your friends decorate their walls by gifting them these customisable poster prints. Available in different sizes and colours, they are an affordable option for a Diwali gift.  
A reader wouldn't want anything other than a photo bookmark for a Diwali gift. They will smile when they flip the pages and see a custom-made personalised photo bookmark. 
Photos always make for the best gifts to give somebody, as they help you remember pleasant moments. So, cherish memories with your loved ones by giving them photo prints on Diwali.  
Gift these fantastic table mats to your friends to protect the surface from spilling all the sweets and delicious food you will have together during Diwali.  
How are mousepads for a Diwali gift? Quirky and creative, right? Someone who uses their PCs a lot would think so too. Mouse pads can smoothen the surface below the mouse and, as gifts, smooth your friendships. 
Photo ornaments are all over the Internet as they are becoming the first choice of people to give to their dear ones. Anybody would love to see their photo printed on some ornament.  
These customised photo coasters are available in different shapes and sizes. Get your cherished moments printed on these photo coasters, and they will make a perfect gift for Diwali.  
Everybody likes to dress up their desk, fridge, or wall, so help your friend do that by gifting these customised photo calendars to them this Diwali.  
Don't confuse these modern photo books with old-school photo albums, as these are new and trendy. Your friends will know that you have put in a great effort if you choose this as a Diwali gift.  
Are you surprised that photo umbrellas are a thing? Because we were. You can print your favourite pictures on an umbrella and give them as a Diwali gift to your beloved.  
We have another superb Diwali gift for your PC-loving friends. Imagine a flash drive with customised text or pictures; how cool will that look? Very cool if you ask us. 
Photo wall tiles can be a memorable gift for this Diwali and look very exciting as a piece of art. Decorate walls with them without damaging walls because of nails.  
  
How does the idea of 3D photos sound to you? It at least blew our minds. Choose from various templates and custom options to create an acrylic photo block and surprise your friend with it this Diwali.  
Print personalised magic mugs and amaze your best friend with this exciting Diwali gift. Magic photo mugs change their colour when they are filled with hot liquid. How innovative is that?  
You can't go wrong with photo frames as a gift. Everybody loves them. Available in different colours, sizes, and patterns, it makes for a lovely Diwali gift.
A mobile stand will be a handy Diwali gift for a friend who is always on their mobile phone. Click pictures on Diwali while saving your mobile from falling with ease.
Canvas Prints are personal images printed onto a canvas, which are used for displaying memorable moments on walls. Buy canvas prints at affordable prices and gift them to give memories a lifetime edge.
Yes, you heard (instead read) that right. Photo socks are a more popular gift than you think. Select a photo and give the order; the designer will handle the rest.
Have a kid who loves puzzling challenges? Gift them a personalised Rubik's cube, and they will be busy solving it and sharpening their minds simultaneously.
Any recipient would be happy to receive a photo magnet gift to decorate their house on Diwali. Favourite photos can be turned into adorable photo magnets stuck to the fridge and cupboards.  
Choose a mug of your liking and give it a personalised touch with a text, quote, or photo, and it will be a great gift idea for Diwali.  
The Hexagon canvas wall art will look great in your friends' drawing room hall and can add an artistic touch to all the decorations this Diwali. 
Everybody on the internet knows how helpful journaling is. Give your friend this practical advice by gifting them a customised diary with their photo or name printed.  
Do you know a newlywed couple? A photo blanket will be a very romantic gift for them, and they will thank you whenever they see their favourite photo every morning. 
This most exciting gift will add more magic to the Diwali lights. Customise it online, and your friends will ask for this as a gift.  
Your Diwali rummy nights will be more enjoyable if you gift these custom playing cards to your dear ones. Get their photo printed on the back of the deck of cards.  
Spotify love plaques are the trendiest gift you can give your girlfriend or boyfriend. It is a heavy glass with a printed URL of your favourite track, which is scannable from any smartphone.  
Custom Pillow covers are another gift suggestion for newlywed couples who want to add some character to their room. Get two of these, with each having the name of the couple.  
If your loved one is not in pictures or has too many of them already, it's okay. Make a list of words that express your feelings best and get them printed on a canvas.  
Get a tabletop and help your friend decorate their house this Diwali. Choose the design, colour, and size from a massive range and get them custom-made.  
Another creative way to gift photos is by getting them printed on acrylic. These scratch-free, UV printed will appear as HD masterpieces once you mount them on the wall. 
Metal prints result from your favourite photo printed on a piece of metal. Gift Metal prints to your loved ones this Diwali to solidify those memories and enrich your bonds with them.  
Personalised bedding feels even more comfortable when gifted by someone special. Gift these custom photo pillows to them during the day and have a pillow fight with them at night.  
Wish them good luck on Diwali by getting them a personalised wall clock with their photo or quote. They will be reminded that their time has come.  
If you are having difficulty deciding on a Diwali gift for kids, then a Didactic memory game can be a perfect choice. It will sharpen your kids' human psychology skills.  
Fight all the stereotypes by gifting your male friends a custom apron with their name or photo. Available in different sizes and colours, they would make any recipient happy. 
Make a goofy caricature of their funniest picture and get it printed on a photo stand. You will have the quirkiest gift ever in the entire Diwali party.  
Canvases have left the art galleries and are now entering the houses for decoration. Gather all the photos that fit your sentiments and purpose and present them to your dear ones in a collage this Diwali.  
Anybody would love a beautiful custom photo mosaic for a Diwali gift. Turn their perfect picture into a mosaic and get it framed to make it look perfect.  
Many people have that one song in their relationship and friendship, which tells their stories. Get the lyrics of that song printed on a canvas to unleash your feelings. 
Pick a picture and get it converted into a photo puzzle for surprising someone this Diwali. Look at their smiling faces as they place every piece in a suitable space to complete the picture. 
Moon lamps are a Diwali-appropriate gift, as they also make the environment more comfortable and romantic. They are made by 3D printing technology to restore the natural appearance of the moon. 
  
Chuck the oldie photo frames and get your hands on these clear acrylic frames for gifts and decorate everybody's house with custom acrylic frames and the memories they contain.  
Why gift them just a photo when you can get a photo board with so many images? They would find all the smiling faces in one spot in a reminiscent mood. 
Get their dearest scenery printed on a framed canvas at affordable prices. Pick a picture of a mountain, a flower, or a picture of their spirit animal to personalise your way. 
A few round canvas paintings will make for the perfect gift for someone getting into their new house and confused about the decor. You can't go wrong with such wall art pieces. 
Someone who is a fan of pop art will do anything for these pop art-inspired canvases. Get their favourite singer or actor printed on a canvas, and their Diwali will become memorable automatically.  
A single canvas print sounds boring to you? Get a custom multi-panel split canvas print to make the wall art look more aesthetic. Let them have a puzzle moment as they put the pieces together of your Diwali gift. 
Give your friend a large canvas print that encapsulates the significant happy moments of your friendship and watch their reaction as they uncover it at Diwali dinner.  
Order a custom canvas banner and unleash your creativity while experimenting with texts, prints, and photos. You will have a perfect Diwali gift ready for your friend. 
You are wrong if you think tote bags are only famous for women; more and more men are also using Tote bags. So, get a tote bag for someone close to them to help them be in the trend.  
A personalised heart-shaped moon lamp is a way of saying that you love them to the moon and back without actually saying it. It will shine the brightest among all the lights in Diwali decorations.    
Flip-flops as a Diwali gift? This is as quirky and creative as it can get. You will be shocked to see how excellent flip-flops have earned, and they would be a perfect pick for a Diwali gift for your best friend.  
Anyone would want a personalised magical sequin cushion that reveals their photo (or name) upon swiping. Simply brush them up and down or side to side, and voilà, they will get to see their smiley face.  
 The decoration is the most loved part when Diwali is about to come, so why not give a wall display with beautiful photographs of your last Diwali to your loved ones? They will surely love these custom wall displays.  
Buy this strong wood print crafted by expert artisans to gift to a friend to make your friendship even stronger with them.  
Stop with 2D photos and gift your friend 3D prints, a super trend these days. The cherry on the cake is that you can personalise them to make them unique.
Is your friend a nature photography enthusiast? Help him show off his skills by getting his clicks converted into canvases. Landscape and cityscape photos look the best in panoramic canvas prints.  
3D Crystal Cube   


Are they bored with the traditional style of gifting photos? Get their favourite pictures transformed into a 3D crystal cube and present it on Diwali. Don't worry; they don't break.
Photo 3D Lamp


Nothing can be a more appropriate Diwali gift than a photo 3D lamp. Professionals get your chosen photo printed on a night lamp, which can be the perfect night light for anyone's bedroom. 

 
Triangle Canvas


Ditch the old-styled photo frames and this Diwali customised triangle canvas print with photos of your choice. This will be the most loved gift your friends will receive, this Diwali.