60+ Best Diwali Gift Ideas Guide for 2022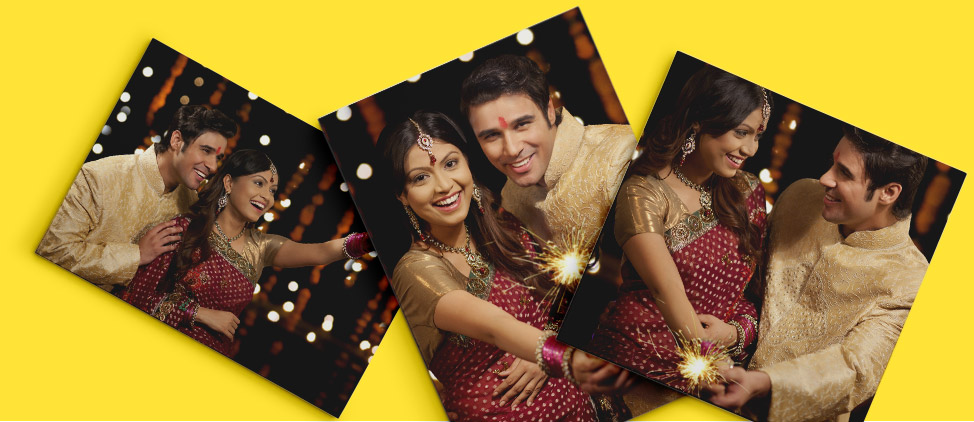 Yes, Diwali is the occasion for spreading happiness and sharing gifts, so why give plain and boring gifts during the Diwali festival? This Diwali let's give something which tells them that you care! 
Check Out the List of Best Diwali Gift Ideas:  
These are some of the lists of gift ideas based on the prices. You can pick the one you love without causing a hole in your pockets. Let's get started:
Do you know someone who travels a lot? Get these luggage tags for them as a Diwali gift this year. This will make it easy for them to identify their luggage from everybody else's.  
This Diwali, help your friends decorate their walls by gifting them these customisable poster prints. Available in different sizes and colours, they are an affordable option for a Diwali gift.  
A reader wouldn't want anything other than a photo bookmark for a Diwali gift. They will smile when they flip the pages and see a custom-made personalised photo bookmark. 
Photos always make for the best gifts to give somebody, as they help you remember pleasant moments. So, cherish memories with your loved ones by giving them photo prints on Diwali.  
Gift these fantastic table mats to your friends to protect the surface from spilling all the sweets and delicious food you will have together during Diwali.  
How are mousepads for a Diwali gift? Quirky and creative, right? Someone who uses their PCs a lot would think so too. Mouse pads can smoothen the surface below the mouse and, as gifts, smooth your friendships. 
Photo ornaments are all over the Internet as they are becoming the first choice of people to give to their dear ones. Anybody would love to see their photo printed on some ornament.  
These customised photo coasters are available in different shapes and sizes. Get your cherished moments printed on these photo coasters, and they will make a perfect gift for Diwali.  
Everybody likes to dress up their desk, fridge, or wall, so help your friend do that by gifting these customised photo calendars to them this Diwali.  
Don't confuse these modern photo books with old-school photo albums, as these are new and trendy. Your friends will know that you have put in a great effort if you choose this as a Diwali gift.  
Are you surprised that photo umbrellas are a thing? Because we were. You can print your favourite pictures on an umbrella and give them as a Diwali gift to your beloved.  
We have another superb Diwali gift for your PC-loving friends. Imagine a flash drive with customised text or pictures; how cool will that look? Very cool if you ask us. 
Photo wall tiles can be a memorable gift for this Diwali and look very exciting as a piece of art. Decorate walls with them without damaging walls because of nails.  
  
How does the idea of 3D photos sound to you? It at least blew our minds. Choose from various templates and custom options to create an acrylic photo block and surprise your friend with it this Diwali.  
Print personalised magic mugs and amaze your best friend with this exciting Diwali gift. Magic photo mugs change their colour when they are filled with hot liquid. How innovative is that?  
You can't go wrong with photo frames as a gift. Everybody loves them. Available in different colours, sizes, and patterns, it makes for a lovely Diwali gift.
A mobile stand will be a handy Diwali gift for a friend who is always on their mobile phone. Click pictures on Diwali while saving your mobile from falling with ease.
Canvas Prints are personal images printed onto a canvas, which are used for displaying memorable moments on walls. Buy canvas prints at affordable prices and gift them to give memories a lifetime edge.
Yes, you heard (instead read) that right. Photo socks are a more popular gift than you think. Select a photo and give the order; the designer will handle the rest.
Have a kid who loves puzzling challenges? Gift them a personalised Rubik's cube, and they will be busy solving it and sharpening their minds simultaneously.
Any recipient would be happy to receive a photo magnet gift to decorate their house on Diwali. Favourite photos can be turned into adorable photo magnets stuck to the fridge and cupboards.  
Choose a mug of your liking and give it a personalised touch with a text, quote, or photo, and it will be a great gift idea for Diwali.  
The Hexagon canvas wall art will look great in your friends' drawing room hall and can add an artistic touch to all the decorations this Diwali. 
Everybody on the internet knows how helpful journaling is. Give your friend this practical advice by gifting them a customised diary with their photo or name printed.  
Do you know a newlywed couple? A photo blanket will be a very romantic gift for them, and they will thank you whenever they see their favourite photo every morning. 
This most exciting gift will add more magic to the Diwali lights. Customise it online, and your friends will ask for this as a gift.  
Your Diwali rummy nights will be more enjoyable if you gift these custom playing cards to your dear ones. Get their photo printed on the back of the deck of cards.  
Spotify love plaques are the trendiest gift you can give your girlfriend or boyfriend. It is a heavy glass with a printed URL of your favourite track, which is scannable from any smartphone.  
Custom Pillow covers are another gift suggestion for newlywed couples who want to add some character to their room. Get two of these, with each having the name of the couple.  
If your loved one is not in pictures or has too many of them already, it's okay. Make a list of words that express your feelings best and get them printed on a canvas.  
Get a tabletop and help your friend decorate their house this Diwali. Choose the design, colour, and size from a massive range and get them custom-made.  
Another creative way to gift photos is by getting them printed on acrylic. These scratch-free, UV printed will appear as HD masterpieces once you mount them on the wall. 
Metal prints result from your favourite photo printed on a piece of metal. Gift Metal prints to your loved ones this Diwali to solidify those memories and enrich your bonds with them.  
Personalised bedding feels even more comfortable when gifted by someone special. Gift these custom photo pillows to them during the day and have a pillow fight with them at night.  
Wish them good luck on Diwali by getting them a personalised wall clock with their photo or quote. They will be reminded that their time has come.  
If you are having difficulty deciding on a Diwali gift for kids, then a Didactic memory game can be a perfect choice. It will sharpen your kids' human psychology skills.  
Fight all the stereotypes by gifting your male friends a custom apron with their name or photo. Available in different sizes and colours, they would make any recipient happy. 
Make a goofy caricature of their funniest picture and get it printed on a photo stand. You will have the quirkiest gift ever in the entire Diwali party.  
Canvases have left the art galleries and are now entering the houses for decoration. Gather all the photos that fit your sentiments and purpose and present them to your dear ones in a collage this Diwali.  
Anybody would love a beautiful custom photo mosaic for a Diwali gift. Turn their perfect picture into a mosaic and get it framed to make it look perfect.  
Many people have that one song in their relationship and friendship, which tells their stories. Get the lyrics of that song printed on a canvas to unleash your feelings. 
Pick a picture and get it converted into a photo puzzle for surprising someone this Diwali. Look at their smiling faces as they place every piece in a suitable space to complete the picture. 
Moon lamps are a Diwali-appropriate gift, as they also make the environment more comfortable and romantic. They are made by 3D printing technology to restore the natural appearance of the moon. 
  
Chuck the oldie photo frames and get your hands on these clear acrylic frames for gifts and decorate everybody's house with custom acrylic frames and the memories they contain.  
Why gift them just a photo when you can get a photo board with so many images? They would find all the smiling faces in one spot in a reminiscent mood. 
Get their dearest scenery printed on a framed canvas at affordable prices. Pick a picture of a mountain, a flower, or a picture of their spirit animal to personalise your way. 
A few round canvas paintings will make for the perfect gift for someone getting into their new house and confused about the decor. You can't go wrong with such wall art pieces. 
Someone who is a fan of pop art will do anything for these pop art-inspired canvases. Get their favourite singer or actor printed on a canvas, and their Diwali will become memorable automatically.  
A single canvas print sounds boring to you? Get a custom multi-panel split canvas print to make the wall art look more aesthetic. Let them have a puzzle moment as they put the pieces together of your Diwali gift. 
Give your friend a large canvas print that encapsulates the significant happy moments of your friendship and watch their reaction as they uncover it at Diwali dinner.  
Order a custom canvas banner and unleash your creativity while experimenting with texts, prints, and photos. You will have a perfect Diwali gift ready for your friend. 
You are wrong if you think tote bags are only famous for women; more and more men are also using Tote bags. So, get a tote bag for someone close to them to help them be in the trend.  
A personalised heart-shaped moon lamp is a way of saying that you love them to the moon and back without actually saying it. It will shine the brightest among all the lights in Diwali decorations.    
Flip-flops as a Diwali gift? This is as quirky and creative as it can get. You will be shocked to see how excellent flip-flops have earned, and they would be a perfect pick for a Diwali gift for your best friend.  
Anyone would want a personalised magical sequin cushion that reveals their photo (or name) upon swiping. Simply brush them up and down or side to side, and voilà, they will get to see their smiley face.  
 The decoration is the most loved part when Diwali is about to come, so why not give a wall display with beautiful photographs of your last Diwali to your loved ones? They will surely love these custom wall displays.  
Buy this strong wood print crafted by expert artisans to gift to a friend to make your friendship even stronger with them.  
Stop with 2D photos and gift your friend 3D prints, a super trend these days. The cherry on the cake is that you can personalise them to make them unique.
Is your friend a nature photography enthusiast? Help him show off his skills by getting his clicks converted into canvases. Landscape and cityscape photos look the best in panoramic canvas prints.  
3D Crystal Cube   


Are they bored with the traditional style of gifting photos? Get their favourite pictures transformed into a 3D crystal cube and present it on Diwali. Don't worry; they don't break.
Photo 3D Lamp


Nothing can be a more appropriate Diwali gift than a photo 3D lamp. Professionals get your chosen photo printed on a night lamp, which can be the perfect night light for anyone's bedroom. 

 
Triangle Canvas


Ditch the old-styled photo frames and this Diwali customised triangle canvas print with photos of your choice. This will be the most loved gift your friends will receive, this Diwali. 

 
Wall Murals 


Do you know someone who loves texture wallpaper? Now get it customised in the form of murals having your favourite photos and gift them to every Bua and Mami this Diwali. 

 
Bus Rolls 


This is one of the trendiest wall arts loved by all! So, get it personalised with some of the lovely Diwali wishes using different font styles and background colours.
Large Metal Prints 


This is a perfect Diwali gift if your friend or family have had a recent home makeover. Also, these large metal prints would be the best gift for decorating office reception space.
Panoramic Metal Prints


This Diwali, give your sister a panoramic metal print with her photo on it and don't forget to add a tag to it stating - keep smiling, sister. 

 
Woven Blanket


This Diwali, give your long-distance girlfriend a beautiful custom woven blanket with your photograph.
Digital Oil Painting


During Diwali, your neighbours will remember you forever as you give them a custom digital oil painting.
Power Bank


Not sure what to give your roommate on Diwali? Well, why not give a custom power bank with their photo, so they don't use yours?
Yoga Mat


That friend who is gaining weight by having Pizza with you needs your full attention, this Diwali. Give him/her a yoga mat with a quote printed as a Diwali gift and change your junk-eating habit with a fresh start.
Sequin Pillow 


Have you accidentally dropped a cup of coffee or tea when visiting your Bua? If yes, it's time to say sorry with a set of custom sequin pillows when visiting her next Diwali. 

 
Family Diwali Gift Ideas  
Is their family too big to fit in a photo frame? Shh, don't tell them we've got you covered. Buy this family canvas print which is big enough to fit many people.  
Family Hexagon Canvas Prints  

 
Feeling bored with the usual square shape? Get this family hexagon canvas print to spice things up. They will thank you for helping them with the Diwali decoration.  
Unlike fake friends, a family doesn't leave. So, they deserve to have permanent space on the wall. Buy these custom family photo tiles of their favourite family picture and put them on the wall. 
Family Hanging Canvas Prints  

 
Buy these beautiful hanging canvas prints for them, which are customisable. Available in modern and contemporary styles, they would make for a perfect Diwali gift.  
Everyone wants to see their family in one frame. Help your friend to see theirs by gifting them a personalised photo frame. Help them feel at home no matter where they are.  
 Family wall displays can be a very creative gift for someone like this Diwali. Available in different sizes, colours and patterns, they are way more creative than essential photo gifts.  
These soft foam family pillows aren't just comfortable but also a treat for the eyes. Get them custom-made for gifting purposes on Diwali, and your loved ones will remember you in their sleep.  
Can't you put your finger on one photo as a gift? Don't fret and get your hands on this family collage photo which is an appropriate gift for Diwali that needs to be celebrated with the family.  
Are you looking for a unique gift for Diwali? Get a family photo puzzle and let them enjoy a puzzle game with their family while they discover the actual present.  
Is your friend living alone and feeling homesick? Comfort them by getting a family photo blanket in their sleep as they cuddle with the blanket.  
Gift all your family members a photo mug with the same family picture for this year's Diwali. These family photo mugs are made of good quality material and will make the bond even stronger. 
Sometimes one photo just doesn't suffice. In such cases, tell a story by incorporating many photos of their family and show that you have put in a lot of effort.
Available in different materials and shapes, these family fridge magnets are a refreshing gift that you can surprise someone with on Diwali. A pretty picture of a family stuck to their fridge can give them a homely feel.
Family Double Layer Acrylic Frame 

 
Two-sided family double-layer acrylic frames are a way to tell your family that you love them but in a charming way. Surprise them with this gift on Diwali, and then use it to display in your drawing room.
Family photo calendars are a way of saying that you love your family, not just on Diwali but all the year. Your family members will also remember you as they flip the page each month.  
Cool and Creative Diwali Gifts Ideas    
Personalised magic photo mugs work in mysterious ways. The image you chose will appear once you pour a hot liquid into the mug. This is an amazing thing you can get at a very minimal price.  
Do you know a Rubik's cube enthusiast? Make the whole experience of solving a Rubik's cube more fun and personalised for them by getting it custom-made.  
If you don't know about photo socks, you must live under a rock. Photo socks are getting very trendy, and a quirky person will love to see their photo printed on a sock for a Diwali gift.  
Gift your employees a personalised deck of cards with your company's logo as a Diwali gift, among other things. Now, how is that for brand promotion? 
Yes, you can also personalise the light switch panels. Get a photo printed on them or the function of the particular switch; they look exciting and would make for a handy Diwali gift.  
3D lunar moon lamps can become anyone's favourite, and they look even more appealing when they are personalised. They can make anybody's Diwali home look complete when lit up.  
Photo puzzles are uniquely personalised gifts for kids, but any adult would also love to have them. Turn their favourite picture into a puzzle and enjoy seeing them struggle to find out what is the actual gift. 
Normal photos don't interest you? Pick a picture of somebody you adore and give a funny twist to the photo. Look at these caricature photo stands made of acrylic and are perfect gifts.  
Help your friends enjoy a stainless cooking experience. Add their name, picture, or a funny little quote to make the aprons personalised. With good fabric and print quality, it would be a thoughtful Diwali gift to receive.  
Buy tabletops and make them personalised, be it a few metal prints, photo prints, acrylic prints, or engraved prints. They will remember you when everybody stops appreciating them.  
 Everybody knows a friend who loves these quirky gifts. Photos and texts on flip-flops can be something that your friend enjoys. Make their Diwali happy as they take every step.  
Printed with high quality, these sequin magic pillows will be loved by everybody as a Diwali gift. Sequin work on these pillows will look the best when personalised with a photo.  
Cheap Diwali Gift Ideas  
You can't go wrong with photo mugs as gifts. Pick their favourite photo, add a little celebratory quote, and leave the rest to professionals. They will remember you with every sip of coffee.  
Custom tags will prove to be a very useful Diwali gift. Tra print your photo or name is printed on it becomes extremely easy.  
Available in different sizes and patterns, custom-made poster prints are a great way to decorate your rooms on Diwali. Choose a picture and favourite quote and get it printed on the poster to present it as a Diwali gift.  
Gifting photo prints is a traditional way of telling someone you admire them. Diwali gets even brighter when you give your friends these high-quality photo prints.  
Any reader would love a personalised photo bookmark with them as they enjoy their reading. Made with good quality material, these can be made when ordered, yet they are an affordable Diwali gift.  
Diwali Gift Set or Bundle to Get  
Why follow some of the old Diwali gift ideas when you can give new and cool things and at the same time save more? Visit our custom, and unique Diwali gift offers page and check out unlimited deals on Diwali gifts. Unique Diwali Gift Offers are waiting for you. Just use the coupon codes correctly.  
Diwali Gift Certificate  
Have you not met your relatives for a long time and are unsure what to give them on Diwali? Don't think much; just customise Diwali Gift Certificate and let them choose independently.  
FAQs on Diwali Gift   
What To Gift on Diwali? 
The festival of lights is just around the corner, and so is our go-to list for Diwali gifts. This Diwali, give a customised gift to your loved ones like a Photo 3D lamp, canvas prints, sequin pillow, woven blanket, and more. The list is endless, just like your love and care for them.  
What Is an Appropriate Gift for Diwali  
There is nothing like an appropriate gift for Diwali, but there are some unique gifts that you buy for your close ones. If you are looking for a unique gift, visit CanvasChamp and get your dearest friend or relative - custom yoga mats, wall murals, family photo tiles, family pillows and more.  
Do You Exchange Gifts for Diwali  
Yes, after all, Diwali gifts are all about sharing your love and joy with people who matter. Make their Diwali more special by buying them customised gifts from CanvasChamp. Here you can find gifts like Triangle canvas, power banks, 3D crystal cubes, and more - select the one that best fits your personality.  
How To Send Diwali Gifts Online 
CanvasChamp is here to rescue you! With us, you don't need to worry about how to send your gifts to your loved one. You just need to visit the site, select the best Diwali gifts for your loved one, personalise them as you like, and add an address. We will deliver their bundle of happiness to their doorsteps.  
What Is an Excellent Gift to Give for Diwali  
Giving sweets or dinner sets are a thing of the past. If you want to give your precious ones an excellent gift, you can visit CanvasChamp. Here you will find various customised gifts like Family collage gifts, bus rolls, and 3D photo prints to make them feel loved.  
What Are the Best Diwali Gifts for Employees? 
Look at some of our suggestions for the best Diwali gifts for employees - digital oil paintings, wall clocks, photo mugs, custom flash drives, and mobile stands. You can buy and personalise all these gifts from CanvasChamp and show gratitude towards your employees.  
What To Buy for A Diwali Gift  
A tricky question indeed! With so much variety, choosing the best gift for your beloved ones becomes tough. But not anymore! CanvasChamp brings you personalised gifts that match the taste of your recipients. You can buy - wall clocks, magic mugs, photo pillows, photo 3D lamps and more.  
What To Gift Boyfriend on Diwali  
Give your boyfriend a memento that he will cherish throughout his life. Gift him something special - a favourite memory or a gift they are interested in, like photo blankets, light switch panels, magic mugs, and playing cards.  
What To Gift My Girlfriend on Diwali  
Make your girlfriend's Diwali more romantic and unique with gifts that cherish your beautiful memories together. You can give her photo blankets for cosy nights, family collages for when she misses her family or photo 3D lamps. Also, you can buy all these gifts from CanvasChamp- your one-stop destination for customised gifts.  
What To Gift My Husband on Diwali  
Here is a list of must-have Diwali gifts for your husband - woven blankets for cold nights, power banks when travelling, yoga mats to have a healthy lifestyle, and family wall displays to always make a corner of your home cosy and lively.  
What To Gift Someone for Diwali  
Diwali is a special occasion where you light up people's lives with a unique gift. Make your loved ones feel your gratitude with customised gifts that help them recollect their cherished memories with you. Gift them photo mugs, magic mugs, woven blankets, wall displays, and more.  
What To Gift My Wife on Diwali  
Give your spouse a gift they will cherish throughout their life. Gift them a wall mural, 3D photo's lamps, family collage gifts, photo frames, magic mugs, family pillows, and sequin pillows to make each moment special.  
What To Gift Your Boyfriend on Diwali  
On the occasion of Diwali, give your boyfriend fun and exciting gifts to make their day more enjoyable. You can gift them customised playing cards, sequined pillows, canvas prints, wall clocks, yoga mats, magic mugs, and anything up their alley. Buy all these gifts from CanvasChamp.  
What To Give Diwali Gifts for Friends  
Enjoy a beautiful and fun Diwali night with your friends, and buy them beautiful personalised gifts that suit their personalities and taste. Here are some suggestions - playing cards, wall clocks, canvas prints, wall murals, and more.  
Are There Specific Gifts for Diwali  
Diwali is all about laughter, joy, sweets, gifts, and cherished moments with your loved ones. There is no specific gift for Diwali. However, if you want to give something special to your spouse, family, friends, or children, you can visit CanvasChamp. You will find various gifts like playing cards, murals, triangle canvas, and family wall displays. 
How Much to Gift for Diwali India  
That depends on you! Yes, you can choose how much, how many, and on what budget you would like to buy gifts. There is no hard and fast rule to it. However, if you want to shop for various personalised gifts, visit CanvasChamp. Here you will find gifts for all budgets.  
Do You Think Sending Online Diwali Gifts Is Safe?  
It entirely depends on the authenticity of the seller. However, if you buy gifts from CanvasChamp, we promise that all your gifts will safely reach their destination. You will be given a proper timeline and tracking code to ensure your gifts reach your customers on time.  
Do Gift Cards Sound Like a Good Idea for Diwali Gifting?  
Of course, if you are confused by the variety of gifts, you come across in CanvasChamp, you can select a gift card instead. It gives freedom to your favourite person to buy the gift they desire the most.  
How Do You Gift Your Loved Ones This Diwali 2022?  
On this Diwali, buy personalised gifts for your beloved ones with the most cherished moments of all year. Gift them panoramic canvas prints, 3D crystal cubes, large metal prints, family hexagon canvas prints, family photo tiles, and more.  
Why Should You Gift on the occasion of Diwali?  
Diwali is a unique festival for every Indian. But gifts make it more special as much thought goes into choosing the right gift. Thus, visit CanvasChamp and check out their Diwali collection, which includes various gift items. Some of them are wall clocks, magic mugs, wall canvas prints, wall murals and 3D photo lamps.  
Where Can I Order the Best Diwali Gifts Online in India?  
CanvasChamp is hands down the best place to buy Diwali gifts in India. With fast Delivery, high quality, and low prices, it's an all-in-one package. Buy your best Diwali gift today and make every moment memorable. 
Where Can I Buy Diwali Gifts Having the Best Discounts and Offers?  
Buy the best gifts at the best prices at CanvasChamp. We spread happiness, be it for your close ones or pocket. You can choose the best Diwali gifts from our collection at the best prices.  
Where Can I Order Diwali Gifts at The Best Price in India?  
CanvasChamp is your destination to order Diwali gifts at the best prices in India. Not only are we affordable, but we provide you with the best-personalised collections that you can cherish for a long time.  
Which Is the Best Place to Order Corporate Diwali Gifting?  
CanvasChamp is your go-to place to order the best corporate Diwali gifts for your employees and business partners. We allow customisation so that apart from spreading love and showing gratitude, you can also market your company with your brand logo and colour theme.  
Which Is the Best Diwali Gift for Kids?  
The best Diwali gifts for kids are awaiting you at CanvasChamp. Make kids' days special with gifts that intricate their curiosity or help them in everyday life, like - magic mugs, sequin pillows, clock walls, digital oil painting, photo bookmarks, and woven blankets.  
What Are the Best Gift Ideas to Celebrate This Diwali with?  
The best gift ideas to celebrate this Diwali should be around customised gifts to share the warmth and love you have for the people around you. Here are some of the gift items you can order - Photo 3D lamps, digital oil paintings, family photo frames, family photo displays, and many more. 
What Are The 10 Best Diwali Gift Ideas For 2022?  
Diwali is the season for gifting your near and dear ones. Sweets have become outdated, and you must come up with good gift ideas to impress your friends or relatives. You can gift them - wall clocks, magic mugs, photo pillows, photo 3D lamps, or digital oil paintings to show that you have invested your love and thought into gifting them.  
What Are the Best Diwali Gifts to Buy In 2022?  
There can be a plethora of gifting ideas but make sure that your beloved ones love the gift you give them. To enlighten their mood and day, lights and sweets are not enough. Make your loved ones happy by gifting them photo mugs, magic mugs, woven blankets, wall displays, and more. 
What Are Some Exciting Gifts to Give Employees This Diwali?  
You must ensure that you give modest and appreciable gifts to your employees. You can give them clocks, photo mugs, calendars, custom flash drives, Caricature Photo Stand, and mobile stands. CanvasChamp provides options for personalised gifts that you can give your employees.  
What Is the Best Diwali Gift You Can Ever Give to Your Parents?  
Putting thoughts into a gift is very personal, and when it is your parents, you need to gift them the best thing. You can try gifting Family Photo Blanket, Family Photo Mug, Family Photo Album, Family Fridge Magnet, Family Double Layer Acrylic Frame, Family Photo Calendar, and many more such beautiful gifts.  
What Are The Best Diwali Gift Ideas for Your Family and Friends?  
Festivals are a season for showering love on your family and friends. But you do not have to worry about gifting ideas to them. CanvasChamp has got you covered with its wide range of beautiful Diwali gifts. You can give them photo blankets, light switch panels, magic mugs, family collages, woven blankets, wall displays, and many more such thoughtful gifts.  
What Can Be an Ideal Diwali Gift for Business Associates?  
Business relationships sometimes need showering of gifts. What could be a better occasion than Diwali? CanvasChamp has a wide range of beautiful gifts that can flourish your business relationships. You can try gifting your business partners with Photo Coaster, Mobile stand, Magic Photo Mug, Photo frames, Digital Oil paintings, custom diaries, and others.  
What Is the Diwali Gift for My Family Members?  
Family members are important during occasions like Diwali. Being the festival of love and lights, try showering some love on your family members with gifts from CanvasChamp. Try gifting them with Canvas Photo Collage, Caricature Photo Stand, Photo Blanket, Family Photo Frame, Family Canvas Prints, and Family Photo Mug.  
What Are Some Corporate Diwali Gift Ideas?  
Diwali is for celebration, and gifts are a must. CanvasChamp has got you covered with its exclusive varieties of Diwali gifting options. For some corporate Diwali gift ideas, you can try Magic Photo Mugs, Custom Rubik's Cube, Photo Socks, Playing Cards, Light Switch Panels, Moon Lamp, and Photo Puzzle. 
What Are the Best Corporate Gifts for Diwali?  
Corporate Diwali Gifts are a fantastic way for businesses to show appreciation for their staff, customers, and other important contacts during the festival of lights. You can give them 3D photo printing. Panoramic Canvas Prints, Wood Prints, Photo 3D lamps, and Wall Murals.  
What Are the Last-Minute Diwali Gift Items?  
Giving gifts is an integral part of the Diwali celebration, so if you've either neglected to do so or haven't been able to carve out the necessary mental space to consider suitable presents, we're here to help. You can try gifting them large metal prints, wall murals, Power Bank, Yoga Mat, or Woven Blanket.  
What Are the Top 5 Corporate Diwali Gifts to Buy In 2022?  
Exchanging presents during Diwali is not just a kind gesture but also the norm. If you want stronger and better professional relationships, you need to shower them with presents and treats every once in a while. You can gift them Digital Oil Paintings, Wall Murals, Canvas, and 3D photo Printing. Share the joy of Diwali with your colleagues by giving them one of these thoughtful and practical business Diwali gifts.  
Top 5 corporate Diwali gifts to buy in 2022? 
The top 5 corporate Diwali gifts that would prove to be the best of all during the year 2022 include:  
- Digital Oil Paintings 
- Wall Murals 
- Canvas prints 
- 3D photo Printing 
What Are the Best Diwali Gifts to Buy In 2022?  
Diwali is the time for celebration and partying. Need a present for the upcoming Diwali holiday? We have got you covered. Some unique and best Diwali gifts include large canvas prints, banners, flip-flops, heart-shaped moon lamps, and wall displays. You may make them feel extra special with this collection of amazing, considerate, and beautiful presents. 
What Are the Best Diwali Gift Ideas for Employees at Corporate?  
You know your employees are waiting for their gifts. One of the most important things a business can do for its success is to ensure its employees know they are appreciated and cared for. You need to give your thoughts on buying good gifts. CanvasChamp has covered you because you can try gifting a Photo Board, Moon Lamp, Photo Puzzle, Photo Mosaic and Wall Clock.