5+ Unique Personalised Diwali Photo Gifts For Family & Friends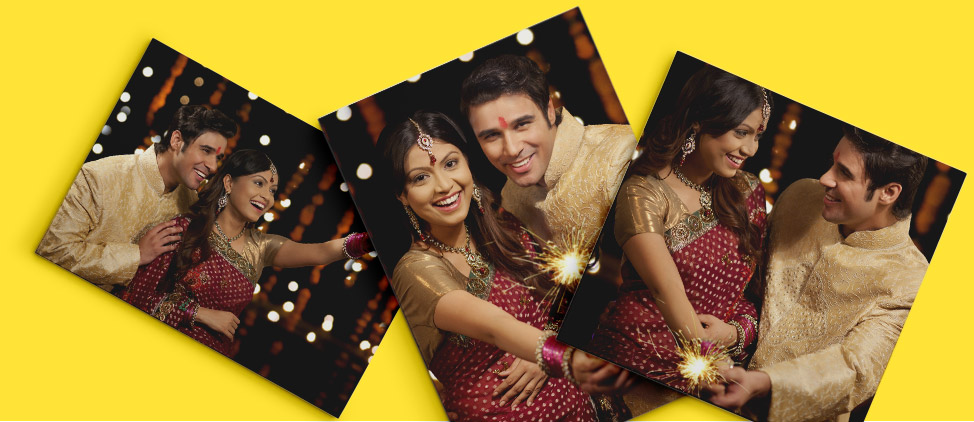 With Diwali right around the corner, choosing a perfect gift for your loved ones might be a hefty task for you. However, your loved ones deserve more than just a last-minute gift from a general store or a high-end shop. So this Diwali, warm the heart of your loved ones with a gift that has a secret message and a string of memories attached to it for you to share.
From your parents to your lover, give a loving memory and customised gift to all of them! Not sure what should be your perfect gift idea or accessory for this Diwali season? Well! We have something in our minds - personalised Photo Gifts! So hand-pick a perfect customised gift for your close ones so that their smiles never leave their faces.
Why Give A Custom Photo Gift This Diwali?
Your happiest memory, captured in a customised photo gift, will melt the heart of anyone who receives it. Think of acrylic photo blocks or a customised yearly photobook as a perfect way to rekindle memories of your last family reunion. Your family will appreciate these personalised photo gifts, and they will become a precious part of their loving memory and home.
We will now look at the 5 personalised Diwali photo gifts you can use to gift your special someone! 
5 Personalised Diwali Photo Gifts To Try This Year:
Make this Diwali a "Happy Diwali" for all your loved ones with customised gifts and a memory lane they would love to travel. Make them feel your love with these fantastic personalised photo gifts!
Moon Lamps
Light up the world of your loved ones with these moon lamps that can be customised to heart-shaped moon lamps. It is a perfect gift for people who love the night sky. 
With this moon lamp at their bedside, they will never feel lonely in the darkest nights. Your photo will help them see the light and motivate them when they are disappointed. Further, it will help in illuminating the dark corners of their home and enhance their decor.  
Acrylic Photo Blocks
This Diwali season, add custom acrylic photo blocks to your shopping carts. This turns out to be a great custom photo gift as it can be used in both formal and informal settings.  You can customize these photo blocks with custom and photos to make them a perfect gift for friends and family. 
If not for gifting, you can put them on your shelves and cupboards to enhance the decor of your home. They are also useful as office desk paperweights. These stunning acrylic photo blocks have an eye-catching design ideal for gift-giving.     
Photo Puzzles
On the occasion of Diwali, enjoy fun games with your family in the comfort of your home. Create a customised photo puzzle for your family and peers with loving memories. 
Celebrate a Diwali full of laughter, love and joy with photo puzzles and make new memories. Enjoy a memorable night with your kids, friends, partner and family while putting the right piece of the puzzle together. You can also design a 1000-piece photo puzzle and turn this great gift idea into reality for those who enjoy spending time with loved ones.
3D Photo Lamp
Give a gift that inspires creativity, just like a 3D photo lamp. This unique yet unusual gift will make your loved ones' night brighter and day better. It's not like other trivial gifts in the market; you can get them customised the way you want. 
The LED light will give a special effect to your image and make it look more stunning. In the darkest hours, it will light up your home beautifully.   
Magic Mugs
This festive season, add a little magic to the tea and coffee mugs of your dear ones. If you would like to share a special memory with them, give them a magic cup that has your favourite photos printed on a mug. 
Let your magic mug showcase the love you feel for them when they pour a hot beverage into the mug. Magic mugs will remind them of the magical experiences they always dreamed of having as a child.  
So now you know the best ideas out there to make personalised Diwali gifts for your friends and family. Are you ready to make a choice or share the ones that you have in mind? We would love to know about it! 
Still, confused? 
The Following Are Popular Diwali Gifts To Give To Your Family And Friends:
Custom Photo board

Photo Ornaments
Make Your Loved Ones Smile During Diwali With Photo Gifts
CanvasChamp offers you a variety of personalised photo gifts like moon lamps, acrylic photo blocks, photo puzzles, 3D photo lamps, magic mugs, photos and more for your loved ones. With us, you can access quality goods, best-printed images and timely delivery of your products. 
Design your perfect gift for your loved ones on CanvasChamp and get access to fully customise your products from design, photo, shape, colour and more. We've made it easy for you to order photo gifts for friends and family from the comfort of your own home this Diwali.