7 Best Home Decor Ideas to Make Your House Look Perfect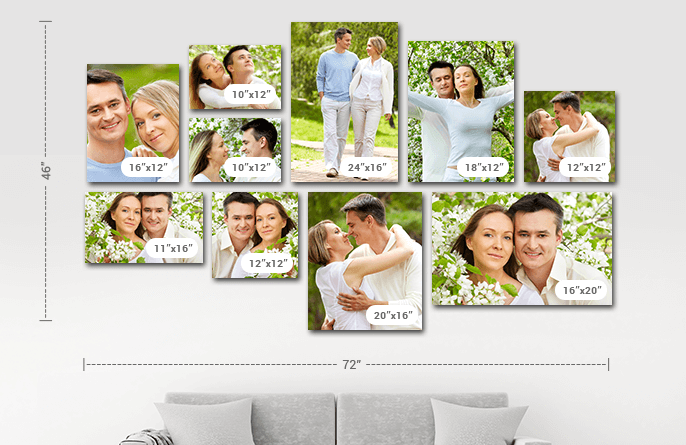 No one ever said that decorating your home would be easy. Especially if you are getting a new home, then creating an interior living space out of scratch takes a lot of effort and money. 
But with online shopping, you can't imagine the kind of interiors you can manage even at a low budget without any help from expensive interior designers and professional decorators.
CanvasChamp brings you 7 such home wall decor tips with which you can not only hang your favourite memories but also your most favourite famous paintings! You can design your chosen photos in an artistic way in these 7 photo products to have your own masterpieces for your home. Here's how: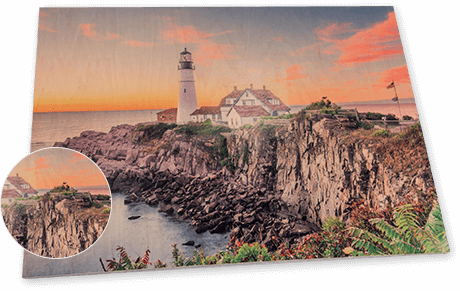 Wood prints: If your interiors are mostly based on minimalistic look i.e. white walls and warm-coloured wooden furniture, then you need to have wood prints hanging on your walls to complete the look.

Wood prints give a warm tinge to any photo printed on it. Hence, photos from your wedding or anniversary would look the best on it.

If you are a nature's lover then you can also find the best floral or natural landscape to print on wood prints. White walls will give a fresh splash of colour in general with such photos.
Canvas prints: With a home that already has too much furniture or decor items in the display, a canvas print showcasing your family photo would be the perfect way to declutter everyone's view of your space.

Framed prints: Showcase any special occasion that you believe deserves a space on the wall like your Haldi moment, your engagement, your kid's graduation, or even your proposal to your spouse.

Framed prints can help accent your favourite moments and bring out the best highlights of your photo!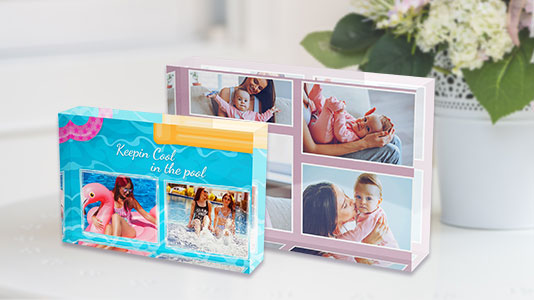 Acrylic photo blocks: If you have shelves and coffee tables that are usually empty then you can even decorate those with random moments you had with your partner, friends or even kids.

Acrylic photo blocks are basically a glass block made of plexiglass and they reflect light instantly making your photos shine like in a diamond. So, wouldn't it be great to highlight that first close-up moment you had with your baby? Or that portrait of your spouse which you love to feel like home to?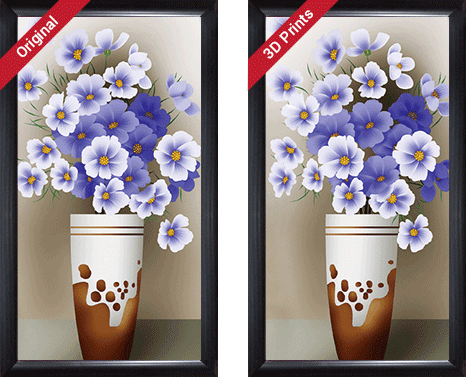 3D photo prints: You have to be very careful while trying to choose the right photos for your walls because if they don't match with the overall vibe of the room then it would look chaotic. Luckily with 3D photo prints, you can make any photo look realistic as it brings out any subject from its background in a photo.

3D photo prints would be perfect for stairs or even a small wall that usually sits empty. Try to choose pictures for this one that has a brighter subject than its background.



Custom caricature: If you have a teenager or kids room that needs some cool yet funny decorations then a custom caricature would be an amazing boost to their self-esteem and confidence.

Get to customise their best photo into a custom caricature for their walls or shelf and make their room a happy little place for them.

Canvas photo collage: Huge walls are the hardest to cover with artworks. Because you can either try to get a large wall art or adorn it with smaller pieces of artwork clustered together. 

But both may seem out of place if your home is neither too small nor too big. Instead, we suggest trying out a canvas photo collage to highlight a story or a time with all the photos in one giant canvas. 
Not only does it look nice to see but it will give a smooth flow for a viewer following through the moments and the story that you print on it via the photos.
So, these were the 7 best home decor ideas for you to try out at CanvasChamp. With our online design tool, you can even try out how your photos look on each of these before deciding on which one will look the best for your home.
Get to say bye-bye to those expensive interior designers and become a decorator of your own home!