How To Customize A Heart Shaped Moon Lamp On A Shoestring Budget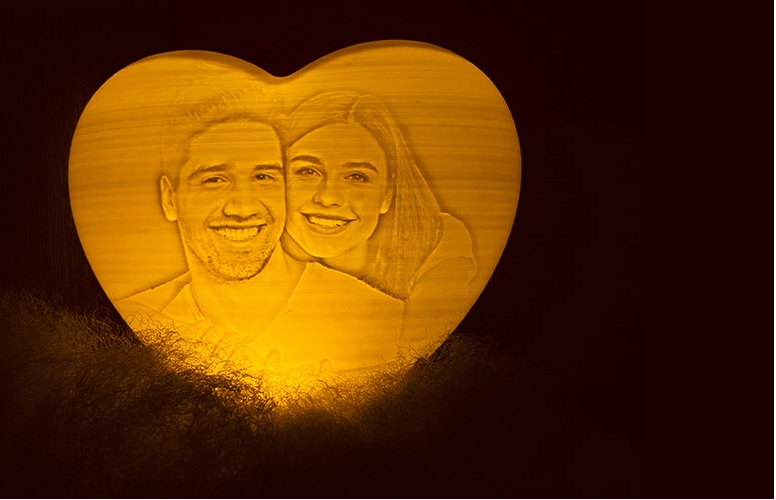 Want to say I love you to the moon and back to someone special but tight on budget? Or, if you are already married, it's time to let your spouse know how much you care!
Celebrate any special occasion, day, event with something personal like a custom heart-shaped moon lamp!
Now learn how to customise a heart-shaped moon lamp online on CanvasChamp through this blog and win the heart of the one you admire.
How to Customize Custom Heart-Shaped Moon Lamp on CanvasChamp?
Thinking about how you can get this personalised heart-shaped moon lamp? Don't overwhelm yourself too much!
CanvasChamp offers an easy-to-use designing tool to customise the lamp as per your desires and surprise your loved ones. However, the story doesn't end here - you can design the front and the back of this moon lamp in a specific size and colour, depending on your requirements.
Let's uncover how you can customise your moon lamp within a few seconds! Follow the below-mentioned steps and let your room and your relationship's lights shine so brightly:
#Step 1: Choose the Size You Desire
Want to place it on a side table, decorate it in the living room, or showcase a custom moon lamp at the entrance of your home? Choose a size as per your needs from three sizes available for you at CanvasChamp:
The small moonlight lamp comes in 100 mm diameter, a medium in 150 mm diameter and, a 200 mm diameter.
#Step 2: Pick Colour To Complement Your Room
Colours add an extra charm to your room. If you are very sophisticated with picking a colour, you can opt for:
Touch 2 colours

Tap 3 colours
But, if you want more, or if you are experimenting with your colour choices, you can go with remote control of 16 colours. So, enjoy changing the colours of this moonlight lamp as per your mood.
#Step 3: Add Picture You Like and A Special Message or Quote of Your Choice:
Now it's time to design the best part of this moon lamp, i.e. upload your most liked picture from your gallery, cloud of any device, including smartphone, computer, laptop. All types of image formats are accepted here, so don't worry; there is no room for any left out memories. First, choose an image in a form such as:
You can also share your feelings and emotions in the form of words engraved in this personalised moon lamp. Just write the text in the box, choose your font and make your person feel special.
#Step 4: Why Limit To The Front Side? Customise Back:
Creativity has no limits, and when it comes to expressing your love, you can't limit yourself with a single photo or in a single line. For showering more love, CanvasChamp allows you to customise the back of the heart-shaped moon lamp with the exact process followed in customisation of the front side.
Is it that easy to please your angry husband, say I love you, show that you care, save a relationship? Yes, why not! Just follow the steps mentioned above and get your customised moon lamp to your preferred location.
What's Unique About These Heart Shaped Moon Lamps?
A personalised heart-shaped moon lamp's heartwarming 3D design allows you to restore the beauty and essence of a moon right in your room. And the best part is, you can change the colour of heart-shaped moon lamps according to your mood and stimulate a relaxing experience of the precious lunar landscape.
CanvasChamp's Heart Shaped Moon Lamps Are:
Available in Soothing Colours
A personalised heart-shaped moon lamp comes with two radiant colours that soothe your room decor. These colours enable you to tune your room's atmosphere as you want. For example, if you're going to plan a romantic evening dinner with your loved one, you can opt for yellow moonlight or get the white light to fill the air of love and positivity in your room.
Rechargeable with USB cable
Don't worry about its power supply! Or, take it onto the terrace and have a moonlight dinner. This heart-shaped moon lamp comes in a rechargeable design. Just connect its USB cable with the power socket and recharge its battery that lasts up to 12 hours.
Eco-Friendly 
This moon lamp is made with eco-friendly material, and its soothing moonlight keeps you closer to nature. In addition, this exclusive heart-shaped moon lamp comes with a wooden stand so that you can place it anywhere.
The Parting Note:
Whether you want to decorate your room, express your feelings to your loved one or please someone, this personalised heart-shaped moon lamp delivers your message creatively. Just customise the moon lamp with CanvasChamp and relax!
Now quickly revive all your cherishable moments on both the moon and heart. Simply engrave your picture on this customised heart-shaped moon lamp and admire them forever! Also, you can use this multipurpose moon lamp to allure your space by spreading magical moonlight all over the area.
Happy Customising on CanvasChamp!