7 Items You Can Personalise with Photos for Gifting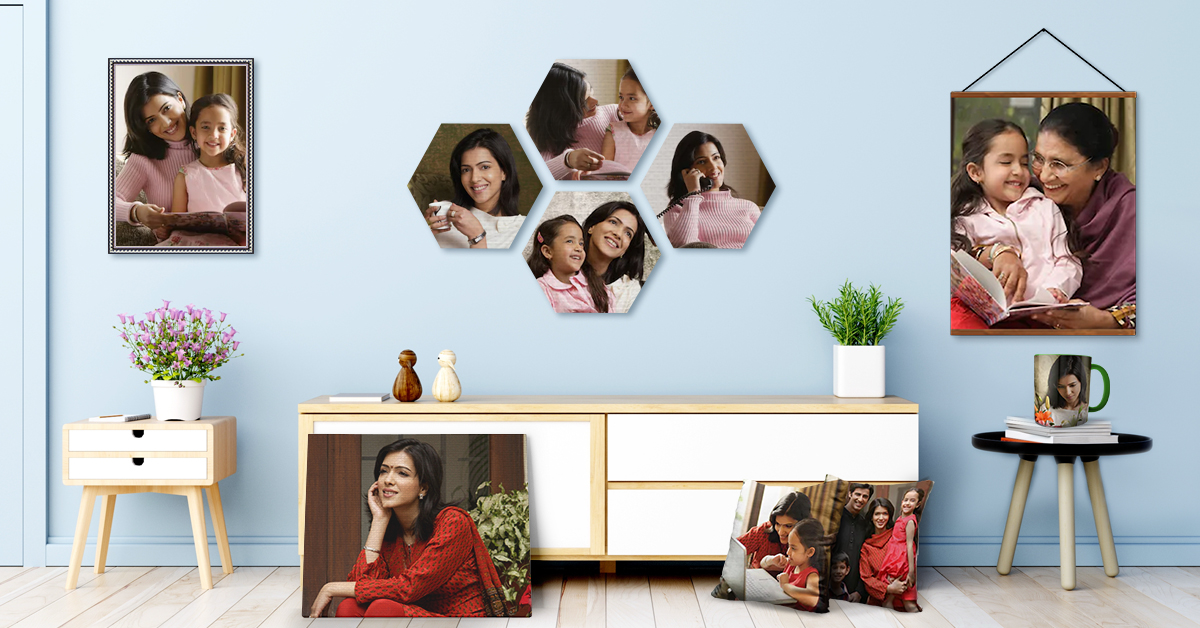 Did you know it could be effortless to make a unique and personalised gift for someone if you just had his or her photos with you? You'll just need to do a little bit of customising with the recipient's picture, and you will get something truly personalised.

We are going to guide you about photo gifts like photo mugs, calendars and puzzles. Here is a list of such highly personalised photo gifts, which you can gift to anyone, anywhere and on any occasion.


Photo Calendars: Make a personalised and practical photo calendar for the receiver! Get a dozen or two dozen photos of the recipient, to print for each month. Decide each of these photographs to each month in a way to make them look systematic and create the calendar, all by yourself with us!. If you have an extra image, you can use it to make a glamourous cover page of the calendar with it! Get to add quotes and messages along with each photo used on the month. Wouldn't it be a perfect personalised photo gift?


Photo Mugs: One of the most common and popular personalised photo gifts of all are mugs as they are given during just any occasion. Just bring one photo or four of the recipient to us on our online editing tool and choose the kind of photo mug you want to be print it on! Print the photo as a single stand-alone picture on the mug or print a beautiful collage with different layouts. Our distinct personifying options are what probably makes photo mugs a popular item for gifting purposes on CanvasChamp.


Photo Puzzles: Does your recipient love playing puzzles during their free time? Then personalised photo puzzles are an ideal gift for him/her. Customise a regular puzzle board with a photo of the recipient. Either you can use one single picture to print on the puzzle, or you can choose up to four images to create a collage. Get to choose from 6-piece puzzle for toddlers to 1000-piece puzzle for the adults!


Photo Coasters: Here is another personalised photo gift option, this time with the help of simple photo coasters! Find the perfect shaped coaster on our site and get the recipient's photo printed on it. Make a set of such personalised photo coasters and gift the recipient to protect their furniture from water rings!. This gift is not only personalised but also functional and useful.


Photo Magnets: We can no way leave photo magnets behind out from the listing. As usual, you can print either a single picture or make a collage of up to four photos on the picture magnets. If you can add some messages or quotes to go with the images, it will make the photo printed magnet gift more exciting on the fridge.
Canvas Prints: Today, everyone is busy clicking photos, but nine out of ten times, these photos don't make it out of the phone's gallery or even the computer storage. So, be different here, take a picture of the giftee out of the computer or phone and get it printed on a canvas. Rather than deciding on a single photo, you can print a collage of up to as many images as you want on canvas prints. Gift canvas prints to be treasured forever as an artistic piece of home decor!

Acrylic Photo Blocks: Everyone has that one single photo that they want to make it shine like a jewel. You can capture such shiny moments and print them on acrylic photo blocks to gift! It will turn out to be the most valuable memory and a unique gift.
If you can filter the photo well, then it will be admired even more. Come up with some creative ideas to make the acrylic block look more than just another regular photo-in-glass.

See? You can use something as simple as a photograph and make a truly personalised gift out of it! So, next time, when you think about gifting someone, think about photo gifts or try to come up with similarly original of your own. After reading this article, you should feel confident about coming up with some artistic ideas. Give it a shot and don't forget to tell us about it!