5 Impressive Custom Umbrella Gift Ideas To Grab Attention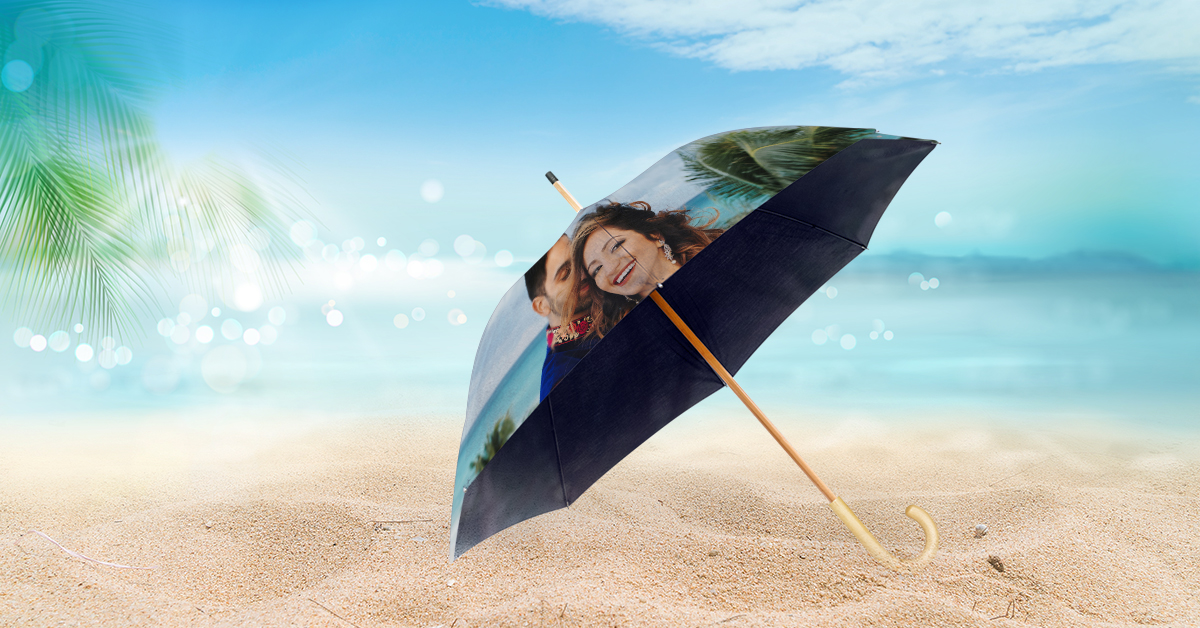 The trend of giving personalized gifts is ever increasing. From photo gifts to utility custom items, the choices are endless. But we understand that you are bored of giving common gifts like coffee mugs and engraved pens! That's why we have something different for you, which is perfect for any occasion and makes special days even more memorable - custom photo umbrellas.
Photo umbrellas are just fantastic. From heavy rains to sunny days, a day out without umbrellas is impossible to think about. And when something is so meaningful, why should it be plain and elementary? 
Check out some of the latest custom umbrellas ideas, which are easy to design, fun to carry, full of utilities, and easy on the pocket. 
Top Ways to Customize An Umbrella
Design personalized photo umbrella for walking under the Sun, Rain, cloudy days
Do you want to go on a morning walk on a rainy day? But both hot weather and rainy days make you skip your workouts. 
Don't worry! 
Now carry a personalized photo umbrella embedded with your favourite picture or memory imprinted on it. And enjoy the breezy, rainy day with your beloved one. Go out whenever you like, share the umbrella with your partner and hold hands to make the day more romantic.  
Similarly, nothing should stop you from stepping out on a sunny day. Use these personalized photo umbrellas specially designed to use as a sunshade that protects you from striking sunlight and saves you from sunburn.  
Whether sunny, rainy, or cloudy, enjoy every weather and live happily every moment of life.  
Customized umbrellas for home, office, and party decor
Be it Indian weddings, mehndi and sangeet ceremonies, garden areas, or office space; custom umbrellas are the newest decor trend. Decor your wedding ambience with an embellished umbrella and customize it as per your wedding theme with CanvasChamp.
You can also give a breathtaking look to your Mandap by putting a bunch of personalized umbrellas on the ceiling with your pre-wedding photos and let your guests feel amazed! 
Decorate it with flowers so that the photographers can take some mesmerizing photos with different creative angels that last forever.
Colourfully welcome your guest by designing an entrance to your party, whether hosted in a home or office. Just match the umbrellas with your theme and get ready to hear compliments from your guest.
Plan it as a gift for special occasions
Let the memories of every special occasion revive on an
rella. Occasions like Fathers day, Mother's day, daughter's day, birthdays, anniversaries keep coming around. Now, don't stress yourself with finding unique photo gift options!
Gift your family and friends a unique present - a custom photo umbrella and print your childhood pictures with your 'Papa, Mumma, and loving brother". 
Celebrate his/her special occasion such as birthday, anniversary, congratulations day, Rakshabandhan gift, or any other special event for you and your loved one. Infuse your love in a customized umbrella and make your bond stronger.
Win customers by using a custom umbrella as Promotional Tool
For the success of any marketing strategy, brand recognition plays a significant role. The more you expose your brand in front of a potential audience, the more the audience gravitates towards you. 
Just put your brand's logo on custom promotional umbrellas and use it at your corporate show and other parties to leave an everlasting impression in the eye of customers. 
You can also create a safe space with custom umbrellas that imprint a company's logo and provide a soothing feeling under the shade, and your customer has more time to cognize your brand.
Use it as a prop to flaunt your wedding, honeymoon, and summer vacation photographs
Reflect your creativity in your photography by using a custom photo umbrella as a prop in your wedding and honeymoon to gain more likes on Instagram. Capture the candid moment of your summer vacation and highlight your picture using this photo-printed umbrella. 
And, if you are a father looking to give something beautiful to your daughter who is expecting, give her a photo umbrella of her childhood pictures which she can use for her baby shoot props. In this way, you can tell her that the feeling of becoming a parent is inevitable. 
Conclusion:
Surprise anyone who holds a special place in your life, with the favourite memory engraved on it. Just give wings to your imagination and design custom umbrellas on CanvasChamp. It offers you to print anything on it, including pictures, text, brand's logo, company's taglines etc. 
Start thinking out of the box and use it differently, and when it's raining, don't forget to keep yourself dry with custom-made photo umbrellas.