5 Best Prints To Make A Custom Rubik's Cube Look Irresistible!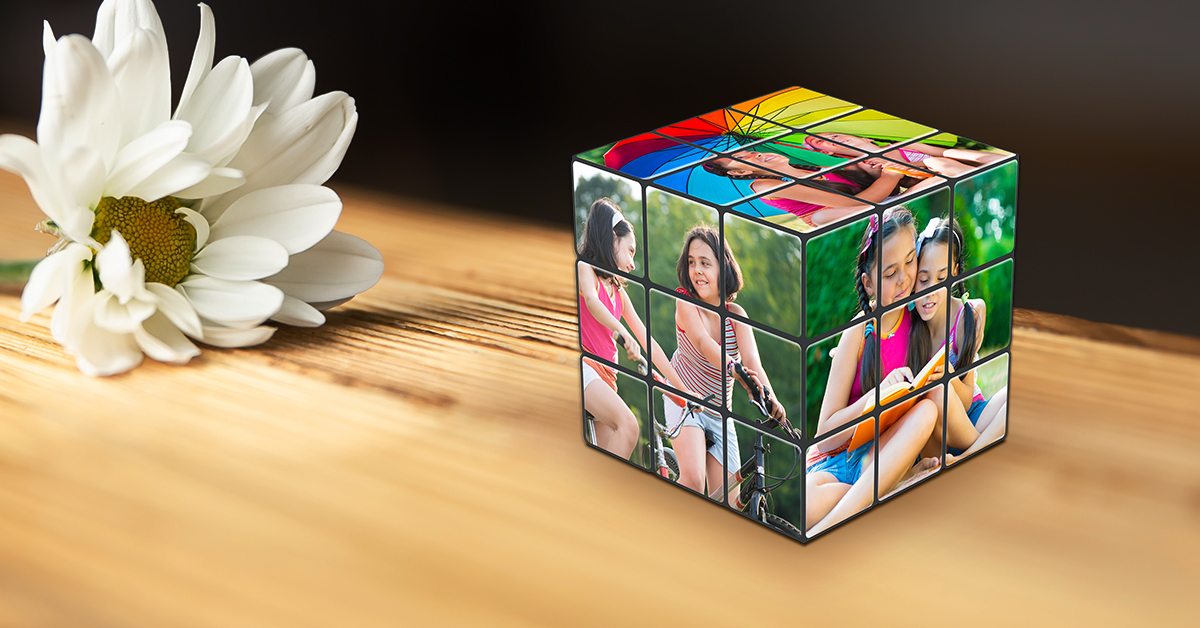 Are you tired of seeing the boring frames hanging on walls and gifting mundane gifts like dinner sets, bedsheets, and other items? Now give something unique, personal, handy, and full of sweet challenges.
It even works as a unique way of expressing your love by getting it! Design your own personalised Rubik's cube on CanvasChamp with your most memorable pictures, text quotes on it.
Not only your pictures, but you can also engrave many things on this 3D rotational Rubik Cube.
Let's discover what you can print on a Rubik's cube to make it more personal and exciting!
5 Things You Can Print On Rubik Cube to Surprise Anyone
Print your cherishable moments on this personalised Rubik cube that lasts forever in your hands! Also, you can display your artwork and photography with style and admire them every time with every rotation of this Rubik cube. You can print anything on this cube, depending on your desire.
Here we have concluded seven significant prints that customers frequently print:
#1 Childhood Memories
The world is too large to get lost in it! And after a tiring schedule, bad or a long day at work, and thinking about never-ending struggles, it's easy to crib and say - why did I grow old… I was happy as a kid!
But, the fact is no one can go back to the childhood period! But, when growing old, the next best alternative is to relish and summon all the happy childhood memories. And, in this journey, CanvasChamp is with you - we help you club your precious childhood memories on your favourite childhood toy - Rubik's Cube.
Take the best memory from your past albums and imprint it on a custom Rubik's cube with CanvasChamp.
You can print pictures of your very first:
Picnic with your parents, siblings, or schoolmates

Drawing or sketch you or your kids made

Your tiny footsteps

Playing a game with your friends and family

Learning how to eat with your grandparents
Memories have no limits; you can print anything you want on our exclusive custom print Rubik cube.
#2 Family Generation
In India, family trees are dear to everyone's hearts, and that's why the pictures of grandparents and great grandparents are framed on the living room's wall!
Having a big family is the luckiest thing in the world. So, now instead of hanging frames, you can insert the pictures of your family generations on Rubik's cube and palace them elegantly in your drawing rooms.
When you print all these everlasting pictures on a single Rubik cube, this must be a great way to express your love for your family. And, when your kids or your grandkids see the cubes, they won't be able to stop themselves from solving the puzzle.
Things you can do on Rubik's cube:
Print all the important people you are related to in the family

Customise it with family member's pictures and gift it to your sister on her wedding

Print pictures of your natives and gift them

Print photos of every new member of the family
Let your family members know more about the ancestors and pass on the cubes to the next generation.
#3 Scenic Natural Pictures
Are you a nature's lover and love to click pictures of nature's beauty, wildlife adventures, and animals? Then why limit the photos on your phone? Instead, customise them on a Rubik's cube and carry the precious pictures with you to your next destination.
Things you can print on Rubik's cube:
Wildlife pictures

Beautiful mountains

A rock with multiple colours

Waterfalls

Boat on a river
Now you can customise a Rubik's cube at CanvasChamp that allows you to print with all your nature snapping and wildlife photography. All you need to do is upload a high-quality picture of nature's beauty you like on our easy to use design tool, and that's all! Then, we will deliver it to your preferred location.
#4 Special Moments
The most beautiful moments always make you feel refreshed and alive; you must keep them near to you as long as possible.
Print your special moments on this custom photo Rubik's cube and keep it for yourself. Or you can also gift it to your beloved partner and revive all your cherishable memories that make him/her feel special.
You can also try solving the cube with your partner, and each rotation of this Rubik cube will add more romance, spice, and surprise, thus adding extra gear to your relationship.
Special Moment's Pictures You Can Print Right Now:
Your first date's pictures

Your 25th marriage anniversary pictures

Valentine week's special seven days

Your pregnancy's first, second and third trimester's pictures

Birthdays, retirement day's celebrations

Convocation ceremony pictures
Not only to the loved one, but you can also gift this personalised Rubik's cube to your sibling, friend, co-workers on their birthdays, anniversaries, or any other special day.
#5 Iconic Quotes
We all had a hard time and need a kick that restarts our mind and fills our heart with positivity. So when you feel unhappy and find that you are losing out or need some motivation - don't wait for someone to come and change things for you!
Instead, get a personalised Rubik's cube with a photo of your favourite quote, and things will change! Reading an inspirational quote leads you to keep yourself motivated, and when you start solving the puzzle, your mind also diverts!
Things You Can do to customise your Rubik's cube:
Speaker quotes

Book quotes

Famous quotes

Inspirational quotes

Love quotes

The business goal, vision, and mission quotes

Product punchlines and branding taglines
Now, you can easily carry your motivation with you and never forget the goals you want to achieve. Simply imprint your most encouraging quotes and plans on the Rubik's cube and make it personalised just for you! Then, you can keep it on your office desk and start solving it when feeling low or demotivated. It will keep you energised all day long and prompt you to take actions towards achieving your goals.
The Parting Notes
There are so many ways to make your own personalised Rubik's cube. Not only the personal prints, but you can also print any promotional picture in this customised Rubik's cube. Promotional prints include your brand's logo or your campaign logo based on your requirement.
CanvasChamp offers an easy-to-use designing tool that prints your favourite picture or design on Rubik Cube within a few minutes and delivers it to your doorstep in no time.