What Is A Metal Print? Learn Everything About Them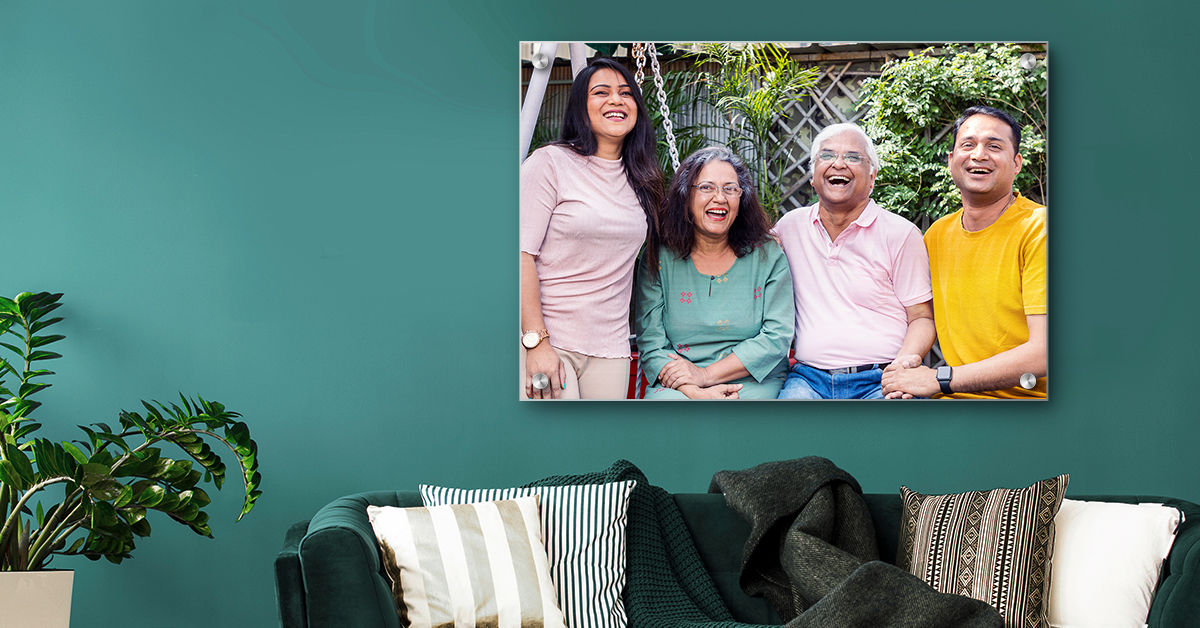 The days when prints were produced in darkrooms with the film have long since passed. Nowadays, printing can be performed on many surfaces now, including wood and metal.
Metal prints provide a distinctively modern aesthetic while enhancing and presenting your picture in spectacular high clarity, brightness, and shine. When you print on metal, you don't even need a frame, and there are several mounting choices to fit any style.
But before you opt for these fantastic custom metal photo prints to enhance your home decor, you need to grasp an understanding of what are metal prints? Things to look out for when buying these.
What Is A Metal Art Print?
Metal print art is the process of printing your memories on metal. It is an innovative and trendy method to show your work without framing it. Instead, you can exhibit your favourite memories on a photograph with personalised metal prints. 
Artwork on metal is printed using dye-sublimation, which embeds the ink within it rather than printing it on top.
The ink is injected into the surface of the metal and hardened with heat to ensure longevity. It adds a modern feel to a current or rustic setting while influencing the photo's tone you combine with it.
Process Of Making A Metal Print
Metal picture prints are a fantastic way to exhibit all of your favourite photographs in high definition. They turn out to be eye-catching and just what you're seeking. 
So, if you're ready to show off your amazing photos, let's learn how metal prints are created.
Decide on a photo that you'd like to cherish all your life. 

Unlike photo frames, metal photo frames cannot be changed once made. 

It is advisable to pick a high-resolution image to avoid any blurriness or distortions.

As a next step, choose a template/layout according to your choice. 

Many options, ranging from lyrics on metal to split metal and from collage layout to single photo layout, are available on our website to choose from. 
Here's your chance to show off your creativity. Metal prints can be finished in a variety of ways.
Once you have finalised all the details, it's time to add this to your cart and be ready to receive your custom metal print.  
Why Choose Metal Art Prints Over Others?
Metal printing has the advantage of being individually crafted. Depending on the photo you choose to pair with a metal print, it can have a modern vibe, an industrial feel, or a rustic vibe. You are entirely in charge of how you want your print to look.
Because of the excellent picture quality inherent in metal art, you utilise a broad selection of pictures in a metal print. In addition, its dye-sublimation method results in more contrast and colour brightness than standard prints. 
There is a wide variety of shapes that you can select from. Kids' rooms or any room where you wish to introduce some quirkiness can benefit from these shapes. In addition to hanging them in picture clusters, you can divide your image into numerous prints that are evenly spaced apart.
Types Of Metal Prints
Although it would not be worth it if you did not know how to produce scratch metal prints, what type of art would you have to match prints? Image quality and image kind play a key influence in reducing your choices. Find out more about this in this blog and know the different types of metal prints that can make your wall inspiring:
Modern metal art

Framed metal art.

Outdoor metal art.

Split metal art.

Bedroom metal art.
Advantages Of Metal Prints:
Custom metal photo prints provide your image with an instant "memorable experience" effect – but it's just the beginning. There are many advantages of metal prints if you're searching for a fresh approach to getting your art.
They are long-lasting and durable.

Several options are available.

High-Quality finish.

Easy to clean.

They are scratch-resistant.

Light as a feather.

Heat resistant.
Conclusion
Metal prints always make an impressive impact in a living room, no matter what kind you choose.
This gorgeous artwork will be appreciated for the house décor and as a custom photograph for a lifetime. You cannot go wrong with our metal picture prints if you are searching for a photo choice that indeed turns your head. 
Vibrant and sturdy choices of metal printed are available. No frame is needed for metal picture prints that provide a sleek and elegant profile for your photographs, whether on the wall or the top table.
When you have finalised the best option available, go forth and produce personalised metal prints based on your preference from your favourite photographs.