The Perfect Personalized Wedding Gifts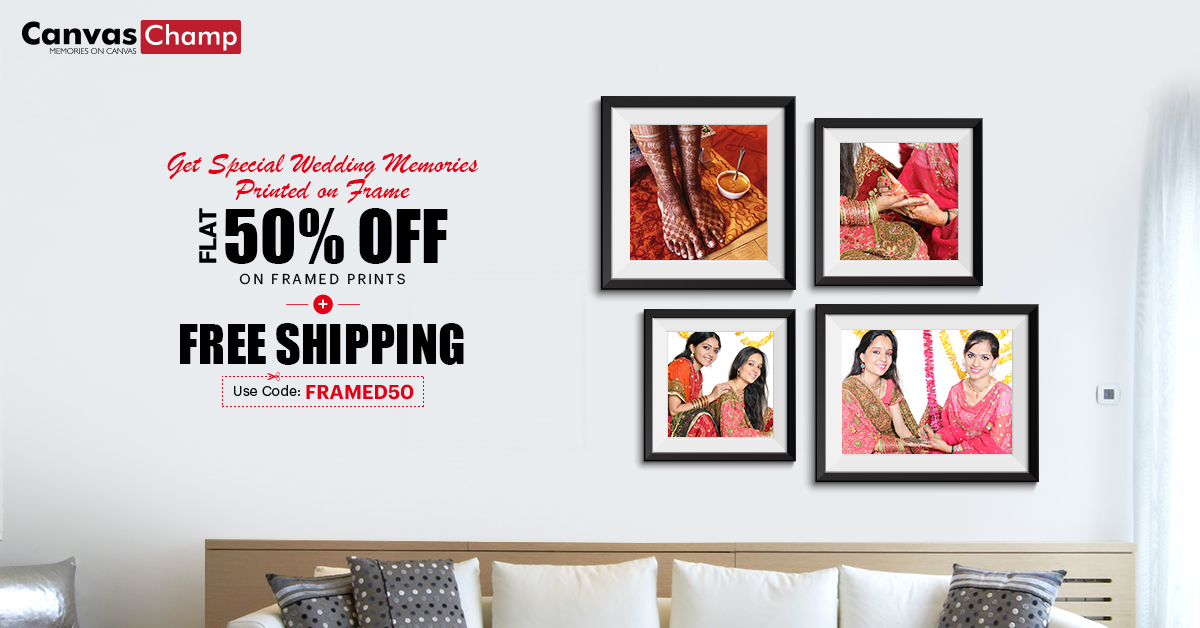 Have a wedding to attend, and you don't know what gift to bring? Don't worry, we've got you covered. Why give a dull, stereotypical wedding gift when you can give the bride and groom something unique and personalised just for them? That's where we come in! These are seriously some of the cutest ideas of personalised gifts that someone can give a newlywed couple. And we just made them possible from only two cheapest products - canvas and frames! Get some fresh ideas to be that guy or girl who gives the unique gift to the couple!

Canvas of Life
You can make some severe impressions with the help of canvas photo printing available online. All you will need is to acquire a few photos of the couple may be to print on the canvas, and you are ready to go!

Idea #1- Immortalise that special moment when the couple's met the first time! Get a hold of the constellation chart of where and when they met. Or choose a special occasion like their first date, first kiss, special trip, etc. and print it with the help of canvas printing to make such a thoughtful gift!

Idea #2- You can think of an art piece that can depict their first sight of coming together. An art piece on a canvas print will not only stand out but also blend well in their furniture or other wall items.

Idea #3- If the going-to-be-couple are geeky, nerds or simply love to quote dialogues from animated movies then pretty sure they must be a fan of the Lego movie too. You can create online lego figurines of the bride and groom and print them on canvas prints to gift!

Idea #4- One more idea is to map the place where they first met and put a little quote of the first words they said to each other. It could turn out to be truly special and personal if you know the couple well. So take a google map image of the place they met and print it on canvas prints.

Ideas #5- The first dance of the couple is always teary...sniff, sniff. And you an immortalise that magical moment by capturing a photo of it and writing the lyrics of the song on canvas. It could really become a beautiful gift that the couple might cherish forever in their bedroom or living room.

Frame it Like you Mean it
Frames can never go out of fashion. Here are some ideas with which you can creatively utilise framed printing and at a low price too:

Idea #1- You can go beyond a regular frame to gift the couple their favourite photo. Instead, with the help of framed photo printing, you can try out modern and mini framed art to gift. Wouldn't it be a cute wedding gift?

Idea #2-  With the help of framed prints, you can even convey a beautiful message and gift to them as they start a new journey full of riddles, turns and fun. Use your imagination or surf some amazing marriage quotes to give it the new couple.

Idea #3- Not every wedding gift has to be practical, sometimes it can be fun to look at too. Make a decorative frame reminding the couple of the first steps they took in their early wooing period.

Idea #4- Buying art even for yourself can be challenging to let alone buying it for a newlywed couple. But if you'd know the tastes and preferences of even one of the person from the couple, it can turn out to be a good present. Choose some hearty art that's not too cheesy but not too vague and get them print with the help of framed photo printing.

Idea #5- A framed print commemorating the crossing of the paths of the bride and groom will celebrate the time when their journey began. You can design two-path signs going in the different directions and name them with the name of bride and groom. It could turn out as a perfect visual for the hallways or porch of their new home.

Congratulate the Newlyweds from Us!
Hopefully, you have now made your mind to choose a wedding gift that will leave the groom and bride talking for years about your gift. We'll be happy to hear from you if you have any suggestions or comments, so please feel free to drop us a line. Visit out website to know more.