Photo Collage- Amazing Gifts for your loved Ones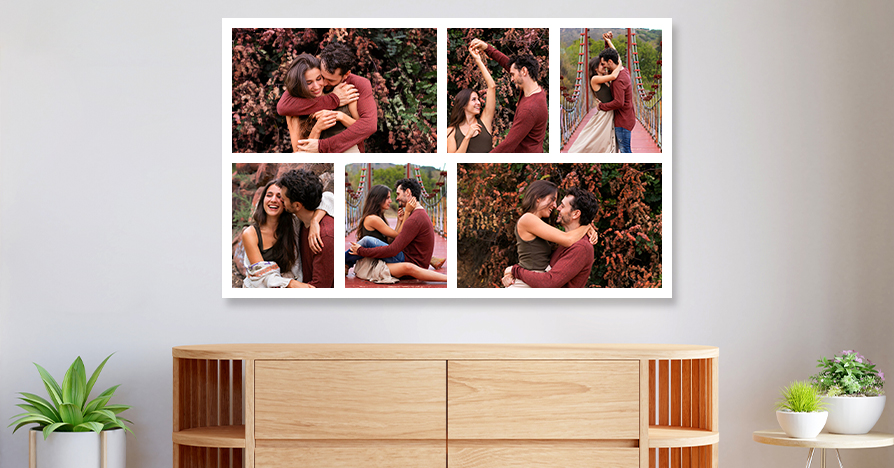 Gifts have always been an integral part of the society since ever. Be it festivals, celebrations, weddings, anniversaries, birthday parties, festivals or events, gifting is a very crucial aspect that can't be ignored. Canvas Champ Photo Products Includes various options – like the color, effect, frames and sizes. This makes canvas printing the best gifting options. Sometimes it is confusing to choose the right photo for someone while gifting them and it also makes you wonder if they would like it. At times one might be able to think of a very nice concept for gifting photos which may require one to get more than one photo to make the gift stand out.
Photo collage are a great way to get more than one pictures on a canvas print. Whenever you are confused which picture should be gifted to your loved ones, a Unique and best picture collages are the best option. A collage with an attractive frame would look very nice in your bedroom or living room. Gifting your loved ones a beautiful collage framing with photos will show the effort you have put into the gift and it would also make up for a perfect gift for any occasion. All you need to do is collect some amazing pictures and get them converted into a canvas photo collage. Canvas champ offers to make best photo collage online to create your wonderful photos
 Here are some wonderful ideas which you can use to create a photo collage Online:
Wedding pictures
The best one if you want to gift to your favorite couple. Get all their good wedding pictures together and make them into photo collage online. It will not only say a lot about their most special day but also help them have one of the fondest memories displayed in their homes.
Birthday pictures
Right from the cake cutting to the dinner party to the dancing, there are a lot of pictures which make a birthday special. A photo series will definitely look wonderful in a unique picture collage .
Holiday pictures
We usually see a lot of different places while on a holiday. Some beautiful places offer more than one special place and if we are lucky, we even get a lot of beautiful pictures. It's a great idea to have a wonderful best photo collage made with all the pictures that you captured during a memorable holiday.
Pet pictures
A pet is a special family member and we love it as much as any other member of our family. There is never just one cute picture when it comes to pets as they are bound to give many different cute poses everyday. Select the best ones and get a fantastic photo collage made with exotic filters and a wide range of frames to choose from. Your kids would totally adore this gift.
Farewell pictures
It is always very difficult to say goodbye to your loved ones. However, some of our loved ones bid adieu to us and often shift abroad or to some other part of the country for work or studies or some other reason. A wonderful photo collage with all memorable pictures would make up for a delightful and poignant farewell gift.
Baby pictures
Parents to newborn babies have a ball at every new move the baby learns. They not only follow each moment but also squeal with joy whenever their baby does something new. The first step, the first word, the first time the baby starts eating – all of these movements are very special to the parents. A collage is a beautiful memory to put it all together. You can even gift it to your partner on special occasions. The baby will surely be delighted to see it on growing up.