The Secret on How to Customize Your Mousepad Is Revealed!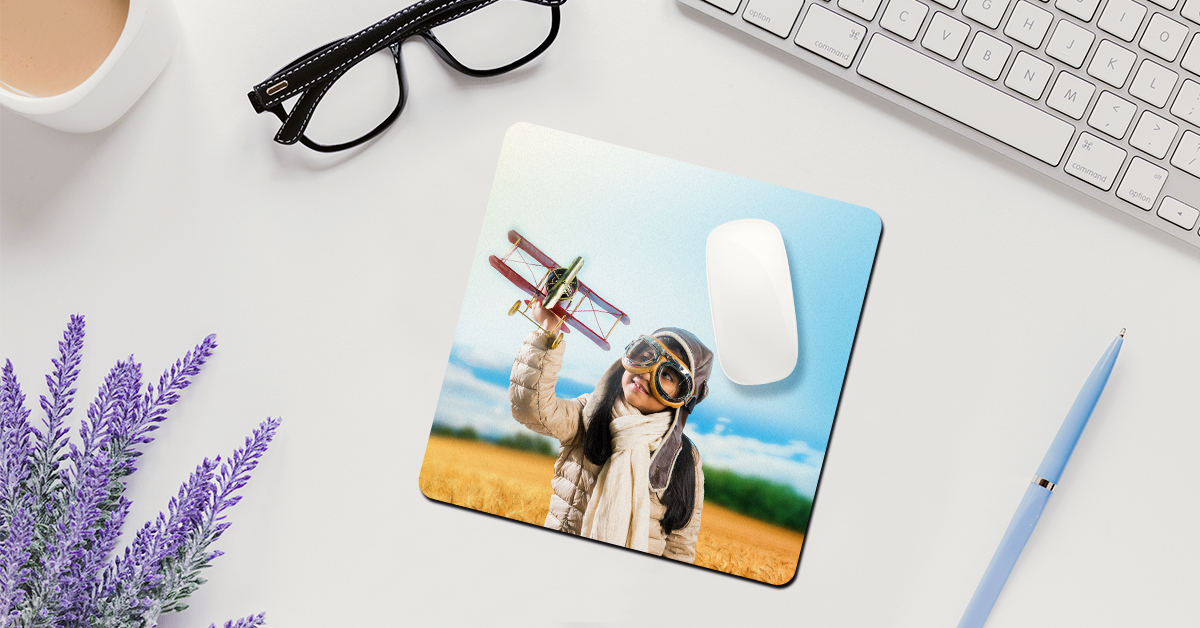 Are you among those who can't stay a minute away from your laptop or computers? Whether for work, playing games, or watching movies, now spending long hours on computers and laptops has become necessary. So why not think of something which allows your hands to relax and offer extra comfort while working.
For this, get a mouse pad that provides comfort to your wrist, enhances your computer accessory's lifespan, elevates your workspace. and keeps you motivated even on your bad day.
Let's Uncover How!
When you get a custom mouse pad for yourself, you add an extra charm to your dull and ordinary work desk. This personalised mouse mat is engraved with a picture of your loved one, your most ideal quotes or any other thing that encourages you to work more effectively.
Sounds exciting? 
We reveal the steps for you. Learn how to get your photo mousepads and create a soothing, stress-free and positive environment around your work area.
How to Customize Your Mouse Pad?
A mouse pad is a computer accessory that provides ease of working. When you place a mouse on a mouse pad, it becomes easy to rotate, move, use, and click the cursor of your mouse devices. And, the thick base of a mouse pad offers a sturdy base, allows less dust to enter, and ensures your device lives a long life.
Now, you can customise it as per your desire. You can print anything, including your most loved:
Personal pictures

Artwork

Quotes

Company's logo 

Product image

Business SOPs

Professional and personal goals 

Personalised messages

Movie characters
How To Customize And Deliver Your Custom Mouse Pad?
Just follow the steps mentioned below and get your personalised mouse mat at your doorstep with CanvasChamp.
Step 1: Choose Your Preferred Shape
CanvasChamp offers two shapes of customising mouse pad:
Circle Shape Personalised Mouse Mat
A Circle-shaped mouse pad looks elegant on a workstation and enhances the experience of browsing. Also, its rubber base material offers easy and friction-free gripping that allows you to move the mouse freely without any disruption.
When you select a circle-shaped mouse pad, the size- 8" X 8" is automatically updated in the designing tool of CanvasChamp.
Rectangle Shape Custom Mouse Mat
The rectangular-shaped mouse pad looks more professional and is the perfect pickup for gifting it to your employees or colleagues. In addition, it comes in a rubber material with 3 mm thickness, ensuring that your mouse pad sticks to the surface and allows you to work flawlessly.
If you opt for a rectangle-shaped mouse pad, your size box will automatically be shifted to the 7.48" X 8.86", and the thickness will remain the same at 3mm.
Select the shape that complements the theme of your room and elevate your work desk.
Step 2: Customize As Per Your Desire
After picking the shape of your mousepad, now it's time to put your most loved picture, quote or logo into it. For engraving, just click on the customise named box, and you will get two options:
Insert Image
Having your best moment right under your hand always makes you full of life and energetic all day long. And you can do it with the help of customising your mouse mat. Just:
Pick your best picture from the cloud, gallery your devices

Upload it in CanvasChamp's designing tool

Get your personalised photo mouse pad in no time.
Don't worry about the image format, as all the image formats, including JPG, PNG, BMP, and JPEG, are compatible at CanvasChamp.
Add Text
Had a bad day? Or want some instant motivation? Then print the most encouraging quote on your mouse pad that keeps you motivated all time whenever you read it. 
Type your quote in the insertion box and choose your preferred fond and get your motivational mousepad.
Why Do You Need a Customized Mouse Pad?
Are you looking for a gift to make your employees feel special or looking out for new ways yet budget-friendly ways to promote your brand? 
This quality mouse pad is a perfect pickup for you. You can use it for yourself or gift it to your loved one or employees on their special occasions such as:
Birthdays

Anniversaries

House warming parties

Performance appraisal of employees

Work anniversary gifts

Father's day gift

Friendship day gift

Women's day gift

Office opening

Trade show

Property Mela
This photo mouse pad is an excellent giveaway for various situations, including:
Gift it to your visitors at the grand opening of your store.

Present it to your employees for their hard work.

Promote your brand by imprinting a logo on it.

Perfect for your colleague's birthday.

Spread your product's awareness by printing its tagline.
In Final Words:
It might be so boring to give a simple mouse pad to your loved one. But now, you can make it more exciting and attractive by engraving your memories, pictures, and quotes on it. 
This quality mouse pad is the best promotional item for your business that makes your product stand out from the crowd and puts an impression that lasts forever. 
Get a stylish, memorable and unique customised mouse pad in a few steps mentioned above and enjoy the easy customising at CanvasChamp.