Gallery Wall Ideas For Any Living Space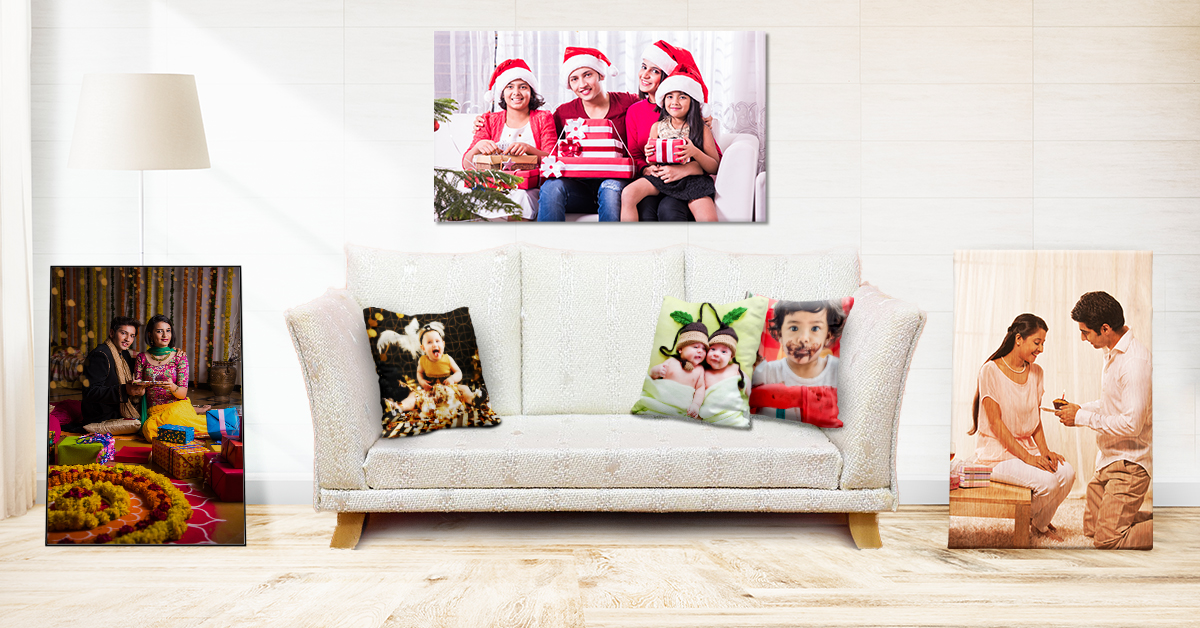 A captivating gallery wall can turn your dull, blank walls into a statement. The task of creating a gallery wall can be somewhat tedious. There's a lot to consider beyond just finding the right art pieces to include in your collection.
Armed with the right knowledge, creating a gallery wall with canvas prints can be fun and an exciting way to express yourself and grow your collection over time.
GALLERY WALL IDEAS
There's an overwhelming abundance of gallery wall ideas available, which makes it easy to find what you like. Trying to replicate the design in your own home may prove to be more difficult. Start with the area for your gallery wall and go from there.
Below, we offer a few simple yet impactful gallery wall ideas for different spaces in your home.
Staircase Gallery Wall
When working with a gallery wall in a stairway, start by deciding where your collection will start and where it will end. Marking off this space with masking tape can help you visualise the area you're working to fill. Consider art and items that are relatively flat like framed prints so your staircase can remain functional when you're carrying things up or down the stairs.
The staircase gallery wall mimics the incline of the stairs subtly, ensuring all pieces are visible from the ground floor.
Living Room Gallery Wall
Family room and living room gallery walls can be as big or as small as you like. Consider the space you're working with and how you want to fill it. Finding the theme or subject matter for your collection is vital. Do you want it to be all about family or the art you love? Your selection can be inspired by your travels, the music you like, nature, vintage pieces, a favourite hobby or pastime, or merely a vignette of your favourite photographs. Try them as framed prints to make them look like the centre of the whole area.
Create a family-themed gallery wall that features family photos, names, their home state map, zip code and a canvas print that includes all of the special moments a family of four shares together.
Kitchen Gallery Wall
A gallery wall in the kitchen or dining room can add a homey, relaxed feel. Alternatively, it can make a sophisticated and refined statement, depending on the style and art pieces you choose.
To achieve a formal, polished look consider a grid gallery wall with large statement pieces in a common theme. Look to create clean lines with modern frames, all arranged in a perfectly balanced or symmetrical composition.
For a more cosy, informal design go with a variety of fun, eclectic finds, like in our example below. Add visual interest with 3D objects, like the wooden spoon & fork, galvanised steel letters and decorative planters. Incorporate a chalkboard or a letter board that can be updated and refreshed regularly and other personal pieces your family will enjoy while you all sit down for your meals together.
Shelf Gallery Wall
A shelf, ledge or a mantel is the perfect space to experiment with a gallery wall without making it a permanent installation. You can easily swap and rearrange pieces according to the seasons, holidays or special occasions. You can install a ledge above a couch or bed, a desk or console table, or even multiple shelves on a blank wall.
A gallery wall on a ledge should include items of different heights, sizes and frame styles. Place the tallest piece in the back and work to add dimension with medium and smaller pieces in the front. A large unframed canvas print as a centrepiece of the mantel accented with a framed photo, personalised wall tag, wood wall art and other accents can make the place look fantastic. Feel free to add candles, plants, small sculptures and other decorative pieces to your collection.
Small Space Gallery Wall
A gallery wall can transform even a tiny space. The entryway, hallway, powder room or the areas between windows are all ideals for small gallery wall installations.
A linear arrangement is ideal for a small gallery wall, but a casual design can also work, depending on the items in your collection. Choose fewer pieces instead of all little things – a small space gallery wall shouldn't be a miniature version of a large gallery wall. Chose one large, vertical piece accented with three matted picture frames aligned in a grid for a clean and minimalist look.