6 Best Personalized Gifts to Give This Holi Festival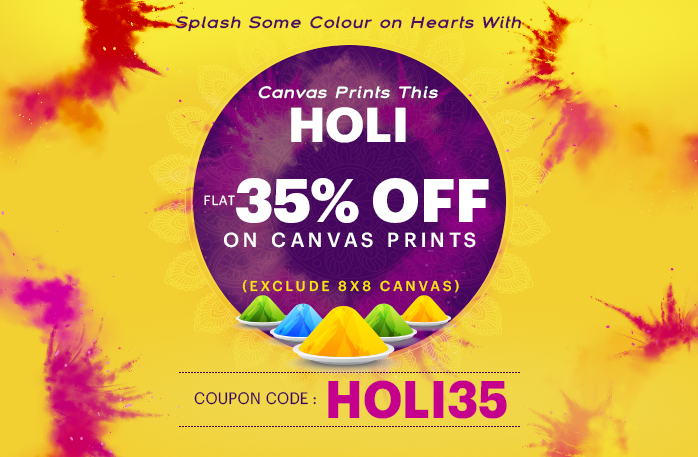 Summer is about to approach, but the festival of colors will approach even sooner! We all usually wait for Holi as it gives a perfect opportunity to meet our family, relatives and friends in the most mischievous mood. On this day, no one is going to say anything for being a menace, because 'Bura na maano, Holi hai!' This Holi, do something different for your loved ones apart from splashing colors on each other and enjoying delicacies of the festival. Usually, Holi season welcomes summer and says goodbye to winter chills but this festive season, give away personalized photo gifts to your loved ones!
Canvas Champ has prepared a list of different custom photo gifts that you can gift this eventful day to anyone you want to dedicate happiness. We present you six best-customized photo products that you gift to literally anyone you want! Since the festival of Holi is all about shrugging off winter numbness, get to delight your family and friends with gifts other than enjoying colors.
Here's a list of all the people you can gift something that we would love to personalize for you!
Parents take care of you selflessly, and it is almost impossible to pay back even a fraction of what they do. But, you can always bring a smile on their face by gifting one of our Holi gifts as a token of respect and gratitude.
A husband does so much for his family and tries his best to keep loved ones happy and safe. So, give your husband a Holi gift and let him know you care and will always do.
A wife is a partner for life, be it joy or sorrow; she stands by you. Make this Holi special for her by giving her a unique Holi gift.
Friends make every occasion unique and fun. So, bring back all those cherished memories over hot cups of tea and treat them with unique Holi gifts.
Photo Puzzles for Grandparents
Give your grandparents a new hobby this Holi season! Get your colorful photos of the family printed on photo puzzles and gift them this festive season to start a new pastime with you for the coming summer holidays!
The best time is dirtying up your siblings during Holi. But sometimes things get rough while having fun and one of you end up calling the referee (mom or dad, lol). Instead, this Holi festival, play your hearts out with printed photo pillows! Gift colorful photos of you and him/her printed on photo pillows and start a pillow fight! See how fun and happy things will become instantly!